Tacoma, Washington
City in Washington, United States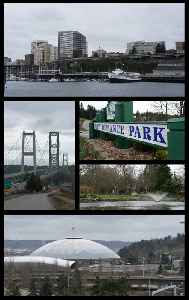 Tacoma is a mid-sized urban port city and the county seat of Pierce County, Washington, United States. The city is on Washington's Puget Sound, 32 miles (51 km) southwest of Seattle, 31 miles (50 km) northeast of the state capital, Olympia, and 58 miles (93 km) northwest of Mount Rainier National Park. The population was 191,704, according to the 2010 census. Tacoma is the second-largest city in the Puget Sound area and the third-largest in the state. Tacoma also serves as the center of business activity for the South Sound region, which has a population of around 1 million.


Before the Death of Manuel Ellis, a Witness Told Police: 'Stop Hitting Him'
The mayor of Tacoma, Wash., called for the firing and prosecution of officers involved in the arrest of Mr. Ellis after video clips of the encounter emerged.
NYTimes.com - Published
Another Man Who Said 'I Can't Breathe' Died in Custody. An Autopsy Calls It Homicide.
Manuel Ellis of Tacoma, Wash., died in part as a result of how he was restrained, according to the medical examiner, who concluded that his death was a homicide.
NYTimes.com - Published
Man who attacked Tacoma immigration center was repeat assailant: authorities
Authorities in Tacoma, Washington, have named a man who was killed after attacking an immigration detention facility, and court records showed he had been previously arrested for assaulting a police..
Reuters - Published
Man Attacking ICE Detention Center Is Fatally Shot by the Police
The man was armed with a rifle and throwing "incendiary devices" on Saturday in Tacoma, Wash., officials said.
NYTimes.com - Published
Search this site and the web: