Native Americans in the United States
Indigenous peoples of the United States (except Hawaii)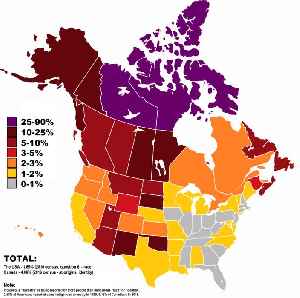 Native Americans, also known as American Indians, Indigenous Americans and other terms, are the indigenous peoples of the United States, except Hawaii. More than 570 federally recognized tribes live within the US, about half of which are associated with Indian reservations. The term "American Indian" excludes Native Hawaiians and some Alaska Natives, while "Native Americans" are American Indians, plus Alaska Natives of all ethnicities. The US Census does not include Native Hawaiians or Chamorro, instead being included in the Census grouping of "Native Hawaiian and other Pacific Islander".


Joy Harjo becomes first Native American poet laureate
What will the Harjo's job entail once she takes over the prestigious position in September?
CBS News - Published
California Today: 'It's Called Genocide': Newsom Apologizes to the State's Native Americans
Wednesday: What does an apology mean? Also: Facebook's cryptocurrency play and happy birthday to Theodore Payne.
NYTimes.com - Published
To save, not to kill: U.S. Army medic relives D-day
U.S. Army Medic and Native American Charles Shay relives his harrowing landing on the shores of Omaha Beach on D-Day, the day that changed the face of Europe 75 years ago. Rough Cut (no reporter..
Credit: Reuters Studio Duration: 01:40Published
Despite Objections, Senate Confirms Trump Court Pick Kenneth Lee
According to a report by Huffpost, on Wednesday, the Senate confirmed Kenneth Lee to a lifetime federal judgeship over the objections of both of his home-state senators and despite his past..
Credit: Wochit News Duration: 00:41Published
Joy Harjo Is Named U.S. Poet Laureate
The Oklahoma-born writer, a member of the Muscogee Creek Nation, is the first Native American to hold the post.
NYTimes.com - Published
California governor apologizes to Native Americans, cites 'genocide'
California Governor Gavin Newsom on Tuesday apologized to Native Americans for violence and other wrongdoings they suffered during the state's history and called their mistreatment genocide.
Reuters - Published
Congress addresses crisis of missing and murdered Native American women
Bipartisan lawmakers in Congress have introduced bills to address the crisis of missing and murdered Native American women. CBS News reporter Grace Segers joins CBSN from Washington with more.
CBS News - Published
Search this site and the web:
You Might Like