Palm Beach County, Florida
County in Florida, United States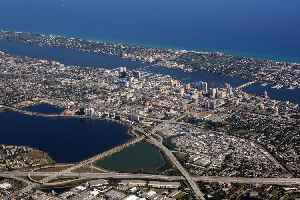 Palm Beach County is a county in the southeastern part of the State of Florida and lies directly north of Broward County and Miami-Dade County. According to a 2019 census report, the county had a population of 1,496,770, making it the third-most populous county in the state of Florida and the 25th-most populous county in the United States. The largest city and county seat is West Palm Beach. Named after one of its oldest settlements, Palm Beach, the county was established in 1909, after being split from Dade County. The county's modern-day boundaries were established in 1963.


Trump's County Of Residence To Mail Masks To All Households

Florida reported just under 9,000 novel coronavirus COVID-19 cases on Friday. That's a single-day record for the state. According to Business Insider, it's also the highest number for any state since..
Credit: Wochit News Duration: 00:45
Published
You Might Like
Florida boaters head out to celebrate 4th of July
The of Fourth of July restrictions didn't stop boaters from heading out in Palm Beach County, Florida. (July 4)  
USATODAY.com - Published
Florida boaters head out for the holiday weekend
The U.S. is headed into the Fourth of July weekend with many parades and fireworks displays canceled and several other restrictions, but it hasn't stopped boaters from heading out to sandbars in Palm..
USATODAY.com - Published
Palm Beach County restaurants reopen amid outbreak
Palm Beach County started reopening its businesses on Monday, joining other parts of Florida that began allowing restaurants and retail shops to open their doors this week under certain limitations...
USATODAY.com - Published
Fox News' Sean Hannity to interview President Trump before the Super Bowl
While the interview likely will be pre-taped, Trump is expected to fly in Palm Beach County Friday, then stay at his Mar-a-Lago estate.
USATODAY.com - Published
Judge clears record of 21-year-old jailed 10 days for oversleeping jury duty: 'Totally rehabilitated'
Deandre Somerville, 21, spent 10 days in jail after he overslept and missed jury duty. The Palm Beach County Circuit Judge since cleared his record.
USATODAY.com - Published
A school quiz allegedly referred to Trump as an 'idiot.' A pro-Trump parent was 'furious'
A teacher at Watson B. Duncan Middle School in Palm Beach County, Florida, has been reassigned. The school district is investigating the teacher.
USATODAY.com - Published
Police arrest potential serial killer using genetic technology
Police in Florida have arrested a possible serial killer using genealogy and DNA collected from a cigarette. Robert Haye was charged in Palm Beach County with first-degree murder for the death of one..
CBS News - Published
Daytona Beach serial killing suspect appears in court
Police in Florida say Robert Tyrone Hayes, 37, is linked to the murders of at least four women spanning a decade in Daytona Beach and Palm Beach County. Hayes, who has been charged with only one of the..
CBS News - Published
Catfish swims in flooded Florida street
A catfish swam along a street in Palm Beach County, Florida as heavy rain started to hit the area, flooding a nearby pond.
USATODAY.com - Published
Thousands shelter in place as Dorian eyes Florida
As Hurricane Dorian eyes Florida, there are mandatory evacuation orders in effect. In Palm Beach County, almost 3,000 people are in shelters. Janet Shamlian reports from Jensen Beach.
CBS News - Published
Florida coast braces for Hurricane Dorian
With Hurricane Dorian essentially stalling to the east, parts of the Florida coasts are bracing for what Dorian could bring. Schools are closed throughout Palm Beach County, the West Palm airport is..
CBS News - Published