Ilhan Omar
U.S. Representative from Minnesota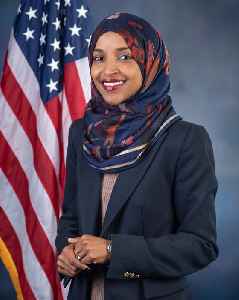 Ilhan Abdullahi Omar is an American politician serving as the U.S. Representative for Minnesota's 5th congressional district since 2019. She is the first Somali-American, the first naturalized citizen from Africa, and the first woman of color to hold elective office from Minnesota. She is also one of the first two Muslim women to serve in Congress. She is a member of the Democratic–Farmer–Labor Party.


Omar Slams Israel And Saudi Arabia

A new interview with the Sunday Times of London has gotten Ilhan Omar into more hot water. According to the Times of Israel Omar likened Saudi Arabia's influence on the Trump administration to..
Credit: Wochit News Duration: 00:41
Published
Ilhan Omar Back Tracks On Biden

According to ABC News Rep. Ilhan Omar will still support Joe Biden for the presidency. Omar also thinks it is important to believe survivors of sexual assault. That includes Tara Reade, the woman who..
Credit: Wochit News Duration: 00:37
Published
Ilhan Omar Believes Tara Reade, Wants Biden Out!

Democratic Rep. Ilhan Omar said she believes the sexual assault claims leveled at Joe Biden by former Senate staffer Tara Reade. Omar told the Sunday Times of London "I do believe Reade,"..
Credit: Wochit News Duration: 00:27
Published
You Might Like



Ilhan Omar, Joaquin Castro demand removal of USAID religious freedom adviser for social media posts

"Mark Kevin Lloyd, who has a long history of promoting hateful, Islamophobic rhetoric has no business promoting religious freedom abroad," said Omar.




USATODAY.com - Published





Rep. Ilhan Omar's Father Dies From Complications of Covid-19

Ms. Omar, Democrat of Minnesota and one of the first two Muslim women in Congress, sought asylum in the United States with her father in the 1990s.




NYTimes.com - Published

Also reported by •USATODAY.com


Rep. Ilhan Omar's father dies due to coronavirus

Father of Somalia-born U.S. Representative Ilhan Omar died on Monday night of complications from the novel coronavirus, local media reported.




Reuters - Published





GOP groups cut ties with congressional candidate who called for Ilhan Omar, Democrats to be hanged

National Republican Party groups moved to distance themselves from Florida congressional candidate George Buck.




USATODAY.com - Published





Twitter Permanently Suspends Accounts of Ilhan Omar's Potential Challenger

Danielle Stella, a Republican, suggested on Twitter that Ms. Omar be tried for treason and hanged.




NYTimes.com - Published





Ilhan Omar GOP challenger banned from Twitter after saying she should be "tried for treason and hanged"

Danielle Stella campaign account also tweeted a picture of a stick figure being hanged with a link to a blog post about her comments.




USATODAY.com - Published





Rep. Omar asks judge for 'compassion' when sentencing man who threatened to kill her

Rep. Ilhan Omar wrote that she acknowledges the crimes Frank P. Carlineo pleaded guilty to are "grave" and were a "threat against an entire religion."




USATODAY.com - Published





Man pleads guilty to threatening to kill Democrat Ilhan Omar

Prosecutors say the man told a staffer the congresswoman was a "terrorist" and threatened to kill her




CBS News - Published





Ayanna Pressley breaks with "Squad" to endorse Elizabeth Warren

Fellow House progressives Alexandria Ocasio-Cortez, Rashida Tlaib and Ilhan Omar have chosen to endorse Bernie Sanders




CBS News - Published





Booker says Ilhan Omar "does not deserve these ... hate-filled attacks"

2020 Democratic hopeful Sen. Cory Booker said U.S. Rep. Ilhan Omar "does not deserve the kind of vicious, hate filled attacks that she's experiencing" after President Trump and other prominent..




CBS News - Published





Open: This is "Face the Nation," September 15

This week on "Face the Nation," Margaret Brennan talks to Rep. Ilhan Omar, Rep. Adam Schiff, U.S. Citizenship and Immigration Services acting director Ken Cuccinelli, former Secretary of State..




CBS News - Published




Representative Omar says Supreme Court asylum decision is "legally and morally wrong"

Representative Ilhan Omar, D-Minnesota, joins Margaret Brennan to discuss the Supreme Court's decision to uphold the Trump administration's asylum policy.




CBS News - Published




Ilhan Omar responds to criticism for her 'present' vote on Armenian genocide resolution

Ilhan Omar, D-Minn., said she doesn't disagree with the resolution's contents, to recognize the Armenian genocide, but does disagree with its timing.




USATODAY.com - Published





Alexandria Ocasio-Cortez Is Endorsing Bernie Sanders. Will That Matter?

Mr. Sanders, in his first rally since his heart attack, will appear in Queens with Ms. Ocasio-Cortez. Ilhan Omar has also endorsed him.




NYTimes.com - Published

Also reported by •CBS News


White House hopeful Sanders gets endorsements from star progressives

High-profile progressives Alexandria Ocasio-Cortez and Ilhan Omar threw their support behind Bernie Sanders' campaign for president as the U.S. Senator held his own on Tuesday during a three-hour..




Reuters - Published





Protests await Donald Trump in Minneapolis as he holds his first rally since impeachment inquiry's launch

Ahead of his visit Minneapolis, Donald Trump has amplified his attacks on Rep. Ilhan Omar and local Mayor Jacob Frey, a vocal critic of the president.




USATODAY.com - Published





'Minnesota stands for peace': Ilhan Omar responds to Trump tweet bashing Dems over Minneapolis rally

Donald Trump has set his sights on Minnesota Rep. Ilhan Omar and the Democratic Minneapolis mayor for "hurting" Trump rally-goers.




USATODAY.com - Published





Ilhan Omar responds to Trump tweet about her, says he spreads 'lies that put my life at risk'

"The President of the United States is continuing to spread lies that put my life at risk," Rep. Ilhan Omar wrote on Twitter.




USATODAY.com - Published





9/15: Adam Schiff, Ilhan Omar, Ken Cuccinelli

This week on "Face the Nation," Margaret Brennan talks to Rep. Ilhan Omar, Rep. Adam Schiff, U.S. Citizenship and Immigration Services acting director Ken Cuccinelli, former Secretary of State..




CBS News - Published





Republicans slam Ilhan Omar's comments about 9/11 following 'Face the Nation' interview

"It shouldn't be this difficult for Ilhan Omar to understand why her "some people did something" comment was so offensive," wrote Ronna McDaniel.




USATODAY.com - Published





Full transcript of "Face the Nation" on September 15, 2019

Rep. Ilhan Omar, Intelligence Committee Chairman Rep. Adam Schiff, Acting Director of USCIS Ken Cuccinelli, former Secretary of State Condoleezza Rice, former U.S. Ambassador to the UN Samantha Power..




CBS News - Published





Transcript: Representative Ilhan Omar on "Face the Nation"

The following is a transcript of the interview with Democratic Representative Ilhan Omar of Minnesota that aired Sunday, September 15, 2019, on "Face the Nation"




CBS News - Published





Sunday: Omar, Schiff, Cuccinelli, Rice, Power

Rep. Ilhan Omar, Intelligence Committee Chairman Adam Schiff, Acting Director of U.S. Citizen and Immigration Services Ken Cuccinelli, former Secretary of State Condoleezza Rice and former U.S...




CBS News - Published





Son of 9/11 victim addresses Rep. Omar during memorial

The son of a 9/11 victim addressed Congresswoman Ilhan Omar's controversial statement while wearing a shirt that said "Some people did something?"  




USATODAY.com - Published





Echoing Trump, speaker at 9/11 ceremony questions Muslim congresswoman's patriotism

A speaker at New York City's Sept. 11 commemoration ceremony on Wednesday assailed U.S. Representative Ilhan Omar, a Muslim member of Congress who has often been the target of false slurs by President..




Reuters - Published





Son of 9/11 victim addresses Ilhan Omar during memorial: 'Show respect in honoring them, please'

Nicholas Haros Jr., the son of a victim in the World Trade Center, wore a T-shirt with the words "Some people did something" at Wednesday's ceremony




USATODAY.com - Published





Omar tweets she received death threat targeting her at the Minnesota State Fair

"I hate that we live in a world where you have to be protected from fellow humans," said Omar, a Democrat from Minnesota.




USATODAY.com - Published





Group files FEC complaint against Ilhan Omar as she denies latest accusation about her personal life

The right-leaning National Legal and Policy Center filed an FEC complaint against Omar on Wednesday citing the money paid to Tim Mynett's firm.




USATODAY.com - Published





Echoing Trump, Roy Moore tweets that Rep. Ilhan Omar should go back from 'whence she came'

Roy Moore, a 2017 Alabama GOP Senate candidate who lost after being bogged down by decades-old allegations of sexual misconduct, told the progressive congresswoman that he agrees with President Donald..




USATODAY.com - Published





Omar fires back after Alabama GOP calls for her expulsion

"If you want to clean up politics, maybe don't nominate an accused child molester as your Senate candidate?" Omar tweeted




CBS News - Published





Rep. Ilhan Omar holds forum on immigration

Democratic Congresswoman Ilhan Omar on Tuesday held a community forum in Minneapolis on immigration to discuss Department of Homeland Security's current practices for detention and deportation of..




USATODAY.com - Published





Alabama Republicans are urging Rep. Ilhan Omar's expulsion from Congress

A resolution passed by the Alabama Republican Party says Democratic Rep. Ilhan Omar "has engaged in rhetoric that explicitly runs counter to American values and patriotism." Omar responded on Twitter..




USATODAY.com - Published




Trump: Jews who vote for Democrats show "lack of knowledge or great disloyalty"

During a wide-ranging press conference Tuesday, President Trump mentioned Representatives Rashida Tlaib and Ilhan Omar following their own press conference Monday to discuss Israel's controversial..




CBS News - Published





Rashida Tlaib and Ilhan Omar hold press conference after being barred from Israel

In a press conference on Monday, freshmen Democratic congresswomen Rashida Tlaib of Michigan and Ilhan Omar of Minnesota, addressed the Israeli government's decision to bar them from entering the..




CBS News - Published





8/19/19: Red and Blue

Rep. Omar and Tlaib address Israel controversy; Texas Democrats trying to oust Sen. Cornyn




CBS News - Published





Reps. Rashida Tlaib and Ilhan Omar address Israel travel controversy

Standing side by side, Democratic Reps. Rashida Tlaib and Ilhan Omar forcefully denounced the controversial decision by the Israeli government to deny them entry into the country, casting the travel..




CBS News - Published





After blocked visit, Tlaib gets emotional as Omar questions whether Israel is an ally

Reps. Ilhan Omar, D-Minn., and Rashida Tlaib, D-Mich., blasted both President Donald Trump and Israeli Prime Minister Benjamin Netanyahu during an emotional news conference Monday.




USATODAY.com - Published





Tlaib and Omar hold press conference about scrapped Israel trip

The Democratic lawmakers were barred from visiting Israel because of their support for boycotting the country




CBS News - Published





Politics week in review: Israel's travel ban on "Squad" members; Trump wants to buy Greenland

President Trump's battle against members of the so-called "Squad" of Democrats reached the international stage this week. On Thursday, Israel barred Reps. Rashida Tlaib and Ilhan Omar from visiting the..




CBS News - Published





"More than anything, I'm a granddaughter": Tlaib tells supporters

Irael upended diplomatic norms earlier this week by barring her and fellow freshman Congresswoman Ilhan Omar from joining a trip attended by other lawmakers




CBS News - Published





Trump, Netanyahu relationship erodes core values of U.S.-Israeli bond: Today's talker

Netanyahu barred Reps. Omar and Talib from entering Israel after Trump urged him. This was a mistake for Israel.




USATODAY.com - Published





8/16: CBSN AM

Israel to allow Rashida Tlaib to visit country. Government relents on Michigan representative, Ilan Omar still barred after president's tweet. Police evacuate New York subway station. Suspicious..




CBS News - Published





Israel will allow Rashida Tlaib to enter country but maintains ban on Ilhan Omar

Israel's government changed its mind overnight and will allow a visit from one of the two Democratic congresswomen it barred from entering the country. Rashida Tlaib will get a humanitarian pass to..




CBS News - Published





Israel Says Rashida Tlaib Can Visit to See Her Grandmother

Israel had denied entry to two Congress members, Ms. Tlaib and Ilhan Omar, for supporting a boycott movement. The government now says Ms Tlaib can enter.




NYTimes.com - Published





On Politics: Israel Denies Entry to Congresswomen

Israel on Thursday barred Representatives Rashida Tlaib and Ilhan Omar from visiting the Israeli-occupied West Bank, after President Trump's urging.




NYTimes.com - Published

Also reported by •CBS News


Israel blocks visit from Democratic Congresswomen who are Trump targets

President Trump's battle against the"Squad" Democrats reached the international stage on Thursday when Israeli leader, Benjamin Netanyahu, barred U.S. Reps. Rashida Tlaib of Michigan and Ilhan Omar of..




CBS News - Published





8/15/19: CBSN Evening News

Israel blocks Omar, Tlaib from entering country; Astronomers investigate flash of light




CBS News - Published





2020 Daily Trail Markers: Dems rally to Tlaib, Omar over Israel ban

Trump tweeted that the Israeli government "would show great weakness" if it allowed Reps. Ilhan Omar and Rashida Tlaib into the country




CBS News - Published