Vladimir Duthiers
American television journalist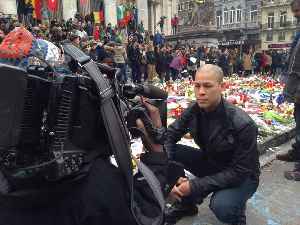 Vladimir Duthiers is an American television journalist who has been a correspondent for CBS News since 2014 following five years at CNN. He was a member of the CNN team that won two Emmy Awards for its coverage of the 2010 Haiti earthquake, and he won a Peabody Award for his coverage from Nigeria of the kidnapping of the schoolgirls by Boko Haram.


Celebrated fashion designer Gloria Vanderbilt dead at 95
Gloria Vanderbilt has died at the age of 95 after being diagnosed with cancer. She first became famous as an heiress, then made her mark as a fashion designer, author, artist, actress and an icon...
CBS News - Published
North Carolina mom uses Find My Friends to locate daughter trapped in ravine
A North Carolina mother says a location-sharing app helped her rescue her 17-year-old daughter after she crashed her car and landed at the bottom of a 25-foot ravine. Vladimir Duthiers reports.
CBS News - Published
Elaine Welteroth on her new memoir, career and being "more than enough"
Former Teen Vogue editor Elaine Welteroth is known for breaking barriers, rising through the ranks of the fashion and beauty industries. Now she's out with a new memoir, titled "More Than Enough:..
CBS News - Published
Elaine Welteroth: Don't allow yourself to stay with anyone who requires you to shrink yourself
Elaine Welteroth sat down with Vladimir Duthiers to discuss her new book "More Than Enough" and her message to people who are in dysfunctional relationships.
CBS News - Published
Alexandria Ocasio-Cortez criticizes Trump administration on census citizenship question
The Trump administration is using executive privilege to prevent Congress from getting ahold of crucial documents on a decision to add a citizenship question to the 2020 census. Democratic New York..
CBS News - Published
6 convicted in rape, murder of 8-year-old girl in India
In India, six Hindu men have been convicted in the kidnapping, rape and murder of an 8-year-old Muslim girl. The case sparked outrage worldwide and raised tensions between Hindus and Muslims. Vladimir..
CBS News - Published
You Might Like