Donovan Mitchell
American professional basketball player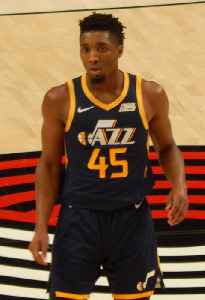 Donovan Vernell Mitchell Jr. is an American professional basketball player for the Utah Jazz of the National Basketball Association (NBA). He played college basketball for the Louisville Cardinals. He was selected by the Denver Nuggets with the 13th overall pick in the 2017 NBA draft and was later traded on draft night to the Utah Jazz. During his rookie season, Mitchell was named to the NBA All-Rookie First Team and won the 2018 Slam Dunk Contest.


Mitchell scores 30, Jazz pound Knicks 137-116
Donovan Mitchell scored 30 points, Rudy Gobert made all seven shots and added 18, and the Utah Jazz romped to their fifth straight lopsided victory by beating the New York Knicks 137-116
USATODAY.com - Published
Gobert, Mitchell lead Utah in 116-95 rout of Washington
Rudy Gobert had 14 points and 14 rebounds, Donovan Mitchell scored 19 and the Utah Jazz won their fourth straight by beating the Washington Wizards 116-95
USATODAY.com - Published
Donovan Mitchell surprises fourth-grade teacher with scholarship
Donovan Mitchell surprised his fourth-grade teacher and her daughter with a $25,000 scholarship check after the Jazz's game against the Hawks on Thursday night.
Credit: Sports Illustrated Duration: 00:27Published
De'Aaron Fox and Kyle Kuzma Join Ben Simmons, Jayson Tatum, Donovan Mitchell as Top Sophmores of 2018-19
De'Aaron Fox and Kyle Kuzma have been bright spots for their teams this year, but have they improved enough to be in the same conversation as Ben Simmons and Jayson Tatum? The Crossover's Rohan..
Credit: Sports Illustrated Duration: 02:12Published
Donovan Mitchell Reveals His Reaction to Receiving Signature Adidas Sneaker
Utah Jazz star and 2018 NBA slam dunk champion Donovan Mitchell reveals his first signature shoe, for more Crossover TV, subscribe to SI TV.
Credit: Sports Illustrated Duration: 07:18Published
Mitchell, Crowder help Jazz crush tired Timberwolves 120-100
Donovan Mitchell scored 24 points, Jae Crowder had 18 and the Utah Jazz beat the travel-weary Minnesota Timberwolves 120-100
USATODAY.com - Published
Mitchell, Gobert propel Jazz to 114-97 win over Suns
Donovan Mitchell scored 16 of his 26 points in the second half, leading the Utah Jazz to a 114-97 win over the Phoenix Suns
USATODAY.com - Published
Search this site and the web:
You Might Like