Israel
Country in Western Asia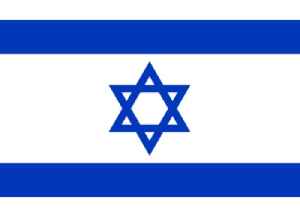 Israel, officially known as the State of Israel, is a country in Western Asia, located on the southeastern shore of the Mediterranean Sea and the northern shore of the Red Sea. It has land borders with Lebanon to the north, Syria to the northeast, Jordan on the east, the Palestinian territories of the West Bank and Gaza Strip to the east and west, respectively, and Egypt to the southwest. The country contains geographically diverse features within its relatively small area. Israel's economic and technological center is Tel Aviv, while its seat of government and proclaimed capital is Jerusalem, although recognition of the state's sovereignty over Jerusalem is limited.


Israel says UAE visit "making history'

In a historic first visit by a Gulf Arab nation, a United Arab Emirates delegation arrived in Israel on Tuesday, accompanied by top U.S. officials, to cement a normalization deal signed last month...
Credit: Reuters - Politics Duration: 01:51
Published
Emirati officials pay first Israel visit after forging ties


Credit: FRANCE 24 English Duration: 02:23
Published
UAE government delegation arrives in Israel on first official visit


Credit: FRANCE 24 English Duration: 00:42
Published
Palestinian official Erekat hospitalized with COVID

Chief Palestinian negotiator Saeb Erekat was taken by ambulance to a hospital in Israel on Sunday for treatment of a worsening case of COVID-19, the Palestine Liberation Organization said. Soraya Ali..
Credit: Reuters - Politics Duration: 01:07
Published
This is the U.S. campaign, on Israeli streets

"You have to thank Trump" posters in Hebrew suddenly started appearing on minibuses in Tel Aviv this week, as Republican ads brought the race for the White House onto the streets of Israel. Democrats..
Credit: Reuters Studio Duration: 02:07
Published
Palestinian ventriloquist talks heritage and history

Ventriloquist Abed Alsalam Abdo and his nearly life-sized puppet both donned red fez hats as they sang this week in a street festival in the Israeli-occupied West Bank aimed at preserving Palestinian..
Credit: Reuters Studio Duration: 01:17
Published
Lebanon, Israel launch talks over maritime border dispute

Short session held on Wednesday, with state media reporting second round to take place on October 28.
Credit: Al Jazeera STUDIO Duration: 02:40
Published
Lebanon, Israel hold talks on disputed sea border

Markers out at sea show the maritime border between Lebanon and Israel. The two countries, still formally at war after decades of conflict, have launched talks to address a long-running dispute over
Credit: Reuters Studio Duration: 01:43
Published
Israel-Lebanon talks: Long-time foes hold indirects talks on maritime border


Credit: FRANCE 24 English Duration: 01:38
Published
Lebanon-Israel nagociations: US-mediated talks open over disputed sea border


Credit: FRANCE 24 English Duration: 04:18
Published
Lebanon, Israel begin indirect talks over maritime border


Credit: FRANCE 24 English Duration: 00:58
Published
Israeli company unveils next-gen EV platform

Israel's REE Automotive, developer of a rolling chassis for electric vehicles, sees its platform as the future market-standard for the global auto industry, after a test drive showcasing three of its..
Credit: Reuters Studio Duration: 01:47
Published
Once unthinkable, cargo from Dubai arrives in Haifa

One of the first cargo ships to arrive from the UAE to Israel docked in Haifa's port on Monday. Eight containers filled with electronics, cleaning supplies, iron and firefighting equipment were..
Credit: Reuters Studio Duration: 01:08
Published
Mothers suffering increasing anxiety and insomnia during Covid-19 pandemic

Researchers at Ben-Gurion University of the Negev and The Max Stern Yezreel Valley College in Israel focused on the consequences of the coronavirus outbreak, and the subsequent restrictions, on..
Credit: Cover Video STUDIO Duration: 01:21
Published
Israel: Tens of thousands call for PM Benjamin Netanyahu to resign

Protesters say the prime minister is unfit to rule while on trial for corruption charges and accusing him of mismanaging the nation's coronavirus crisis.View on euronews
Credit: euronews (in English) Duration: 01:00
Published
E-Vehicle Company Show Off Fully Modular, Next-generation EV Platforms

A cutting-edge e-vehicle company have shown off three prototypes of its next-generation EV Platforms. Israeli firm REE Automotive (REE) say their electric vehicle platforms offer customers the freedom..
Credit: Cover Video STUDIO Duration: 01:05
Published
Steve Clarke changes plans after Covid-19 deprives him of three key players

Steve Clarke turned quickly to plan B after Covid-19 deprived him of three keyplayers for Scotland's Euro 2020 play-off semi-final against Israel at HampdenPark on Thursday night. The national..
Credit: PA - Press Association STUDIO Duration: 01:30
Published
Future sparkles for UAE-Israeli diamond trade

Diamond traders in Dubai say they have been inundated with enquiries from Israelis, who traditionally do their business in Belgium's Antwerp -- the world's biggest centre for traders of rough and..
Credit: Reuters Studio Duration: 01:51
Published
Nagorno-Karabakh conflict: Israel under diplomatic fire over arms to Azerbaijan


Credit: FRANCE 24 English Duration: 05:09
Published
Top Israeli rabbis and U.S. envoy pray for Trump

Support for Trump is strong in Israel. The announcement that he and First Lady Melania Trump had contracted the coronavirus coincided with the Jewish high holy days, a time of reflection and penitence..
Credit: Reuters Studio Duration: 01:43
Published
Watch: Israelis protest Netanyahu despite emergency regulations

Israelis opposed to Prime Minister Benjamin Netanyahu protested in Tel Aviv in defiance of a COVID-19 lockdown. View on euronews
Credit: euronews (in English) Duration: 00:50
Published
You Might Like



Manslaughter Charge Urged for Israeli Officer in Killing of Autistic Palestinian

Palestinians assail the failure to recommend a murder charge in the case, which has become a cause célèbre in the fight against police brutality.




NYTimes.com - Published





AP Top Stories October 20 P

Here's the latest for Tuesday October 20th: DOJ sues Google on antitrust concerns; Turkish troops withdraw from Syria; Pope Francis conducts mass in mask; Israel uncovers militant tunnel in Gaza..




USATODAY.com - Published




Yom Kippur Zoom reunites Holocaust survivors

Holocaust survivors Ruth Brandspiegel and Israel "Sasha" Eisenberg parted ways in 1949 after befriending one another in a post-World War II displaced persons camp in Austria. They were reunited 71..




USATODAY.com - Published





Gal Gadot cast as Cleopatra, draws criticism as 'very bland looking' Israeli playing the queen of Egypt

"Wonder Woman" star Gal Gadot announced she will star as Cleopatra, the Queen of Egypt, in a new film, which heralded controversy on Twitter.




USATODAY.com - Published





Israel's Coronavirus Lockdown Fuels Protests, Violence and Confusion

Last month, the country became the first to reimpose nationwide measures. But the decision has led to chaotic scenes and criticism of how its fragile coalition is handling the crisis.




NYTimes.com - Published





U.S. Prepares to Take Sudan Off List of States That Support Terrorism

Coming before the election, the move would give President Trump another chance to broker diplomacy on Israel's behalf. But it could be at the cost of compensation for terrorism victims.




NYTimes.com - Published




Israeli defense chief, Esper discuss military edge

Israeli Defense Minister Benny Gantz arrived at the Pentagon for talks with his U.S. counterpart on maintaining Israel's qualitative military edge in the Middle East. (Sept. 22)  




USATODAY.com - Published





Israel starts second lockdown as Europe braces for second COVID-19 wave

Coronavirus cases seem to be surging all around the world. Elizabeth Palmer has more on this imminent second wave.




CBS News - Published





Trump Seeks to Turn Israeli-Arab Accords Into Campaign Gains

President Trump's re-election campaign lost no time turning a White House ceremony into a television ad, as it targets Jewish and evangelical voters.




NYTimes.com - Published





Today in History for September 17th

Highlights of this day in history: The Battle of Antietam sets a bloody record during America's Civil War; Work ends on U.S. Constitution; Israel and Egypt's leaders sign Camp David Accords; Singer..




USATODAY.com - Published




Israel signs diplomatic accord with Arab nations at White House

President Trump called Israel's normalization of ties with Bahrain and the United Arab Emirates the beginning of a new era in the region. Paula Reid reports.




CBS News - Published





Trump oversees Israel, 2 Arab states sign pacts

President Donald Trump on Tuesday presided over the signing of historic diplomatic pacts between Israel and two Gulf Arab nations that he hopes will lead to a new order in the Mideast and help in his..




USATODAY.com - Published





Israel, UAE and Bahrain set to sign historic deal

President Donald Trump welcomes Israel's Prime Minister and the foreign ministers of two Gulf Arab nations - the United Arab Emirates and Bahrain - to the White House Tuesday to sign a historic..




USATODAY.com - Published





Israel to sign accord with United Arab Emirates and Bahrain at White House ceremony

Donald Trump's allies hope the accord will burnish his credentials as peacemaker as the U.S. presidential election nears.




USATODAY.com - Published





Watch live: Trump hosts Israel, Bahrain, UAE for deal signings

Mr. Trump will welcome Israeli Prime Minister Benjamin Netanyahu and the foreign ministers of Bahrain and the United Arab Emirates to the White House.




CBS News - Published





A White House Ceremony Will Celebrate a Diplomatic Win and Campaign Gift

The leaders of Israel, Saudi Arabia and the United Arab Emirates have a stake in President Trump's re-election and helped him become a peacemaker.




NYTimes.com - Published





In Arab States' Embrace, Israelis See a Reshaped Mideast

Normalized ties with the United Arab Emirates and Bahrain raise hopes in Israel that it is finally gaining acceptance in its volatile neighborhood.




NYTimes.com - Published





Covid-19 Live Tracker News

A 58-year-old college president in Georgia died of Covid-19. One member of Prime Minister Benjamin Netanyahu's cabinet resigned from Israel's government over a nationwide lockdown that coincides..




NYTimes.com - Published





Trump announces Israel and Bahrain will normalize relations

President Trump announced from the Oval Office on Friday that Israel and Bahrain have agreed to establish full diplomatic relations. Mr. Trump made the announcement on the anniversary of the September..




CBS News - Published

Also reported by •USATODAY.com


Bahrain and Israel agree to normalize relations, Trump announces

"The sand was loaded up with blood, and now you will a lot of that sand will be loaded up with peace," the president said.




CBS News - Published





Palestinians Rejected Tax Money to Slap Israel. It's Not Israel That's Hurting.

Palestinian families are suffering intensely as their government's tax protest continues, even though the cause — Israel's push to annex the West Bank — has been suspended.




NYTimes.com - Published





Guess Who This Doggone Cutie Turned Into!

Before this puppy loving princess was becoming an A-list actress and activist, she was just another doggone cutie growing up in Jerusalem, Israel. This ruff runt has been acting since she was a young..




TMZ.com - Published





Why California, Oregon and Washington State Are Searching for Help to Battle Fires

With millions of acres ablaze across the West Coast, states are having a tough time finding available fire crews. California resorted to calling in a team of firefighters from Israel.




NYTimes.com - Published





States Are in Desperate Search for Help Battling Record Wildfires

With millions of acres ablaze across the West Coast, states are having a tough time finding available fire crews. California resorted to calling in a team of firefighters from Israel.




NYTimes.com - Published





Middle East peace accord, economic recovery and space travel: There is still good news

Israel-UAE accord, economic gains and space travel are some of the good things going on in the world, even though there is a lot of grimness.




USATODAY.com - Published





Far-right Norwegian politician nominates Trump for Nobel Peace Prize

Lawmaker says "no matter how Trump acts at home," his work on UAE-Israel peace deal merits consideration for the prize.




CBS News - Published





Israeli's Coronavirus Czar Clashes With Ultra-Orthodox, a Netanyahu Ally

As he moved to slow the pandemic, Dr. Ronni Gamzu kept butting heads with ultra-Orthodox leaders. Then Israel's top virus fighter was suddenly undercut.




NYTimes.com - Published





Coronavirus live updates: US governors urge Labor Day vigilance, safety; Israel imposes overnight curfews; CDC to lead vaccine distribution

Republican and Democrat governors urge caution for Labor Day. Israel imposes overnight curfews. U.S. death toll nears 190,000. Latest COVID news.




USATODAY.com - Published




Far-right 'Boogaloo Bois' suspects charged in terror case; sought roles as 'mercenaries' for Hamas

Michael Solomon and Benjamin Teeter, self-avowed members of the violent, anti-government Boogaloos, are charged with attempting to provide material support for the anti-Israel terror group Hamas.




USATODAY.com - Published





WH touts brokered deal between Serbia, Kosovo

The White House is touting the U.S. brokered deal that has led Serbia and Kosovo to normalize economic ties as part of broader agreement that includes Israel. (Sept. 4)  




USATODAY.com - Published





Serbia and Kosovo normalize economic ties in U.S.-brokered deal

Israel and Kosovo agreeing to mutual recognition.




CBS News - Published





Serbia, Kosovo form economic ties, nod to Israel

President Donald Trump announced Friday that Serbia and Kosovo have normalized economic ties as part of U.S.-brokered talks that include Belgrade moving its Israeli embassy to Jerusalem, and Israel and..




USATODAY.com - Published





8/16: CBSN AM

Israel to allow Rashida Tlaib to visit country. Government relents on Michigan representative, Ilan Omar still barred after president's tweet. Police evacuate New York subway station. Suspicious..




CBS News - Published




WorldView: Coronavirus-free pope, North Korea frees quarantined foreigners, and more

Italian media is reporting that Pope Francis has tested negative for the novel coronavirus; North Korea lifts a quarantine imposed on foreigners; Israeli Prime Minister Benjamin Netanyahu claims..




CBS News - Published





WorldView: Netanyahu primary victory, Swiss avalanche, Argentina dust cloud

Israeli Prime Minister Benjamin Netanyahu handily defeated a primary challenger to remain leader of the ruling right-wing Likud party. Several skiers were buried by an avalanche in the Swiss Alps. And..




CBS News - Published





Israel votes in third general election in less than a year

Israelis are going to the polls for an unprecedented third time in less than a year. Today's ballot hopes to break the logjam that has seen Prime Minister Benjamin Netanyahu and opposition leader Benny..




CBS News - Published





WorldView: Attack in Niger, Israeli election, and more

In today's world headlines: An attack in Niger kills more than 70; Israel will hold an unprecedented third national election in less than a year; and debris found by the Chilean Air Force could be from..




CBS News - Published





WorldView: Netanyahu drops immunity request, and more headlines

Israeli Prime Minister Benjamin Netanyahu has withdrawn a request for immunity, after it became obvious legislators would reject it. Albert, the former king of Belgium, has admitted to fathering a..




CBS News - Published





WorldView: Israeli settlements, Big Ben's repair, and more

The U.N. has released a list of more than 100 companies doing business in Israeli settlements in the occupied West Bank, putting them at risk of boycotts. The Italian parliament has revoked the..




CBS News - Published





Jared Kushner meets with leaders on Middle East trip

President Trump's adviser and son-in-law Jared Kushner is on a trip to the Middle East following last month's announcement of a historic peace deal between Israel and the UAE. CBS News State Department..




CBS News - Published





Hamas and Israel Agree to Ease Hostilities Amid Coronavirus

With the coronavirus spreading fast in Gaza, the sides agreed to stop bombarding each other, and Israel said it would resume fuel supplies. A cash infusion from Qatar helped seal the deal.




NYTimes.com - Published