Brexit
United Kingdom's planned withdrawal from the European Union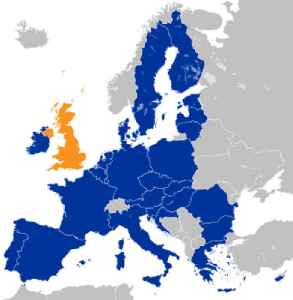 Brexit, a portmanteau of "British" and "exit", is the impending withdrawal of the United Kingdom (UK) from the European Union (EU). It follows the referendum of 23 June 2016 when 51.9 per cent of those who voted supported withdrawal. Withdrawal has been advocated by Eurosceptics, both left-wing and right-wing, while Pro-Europeanists, who also span the political spectrum, have advocated continued membership.


'Bewildering, dire, disastrous.' Queen has a Brexit escape plan, but how bad will it be?
Possible food shortages, sky-rocketing cheese prices, grounded airplanes, traffic jams, riots, an escape plan for its monarch. How bad will Brexit be?
USATODAY.com - Published
Search this site and the web:
You Might Like