Brownsville, Texas
City in Texas, United States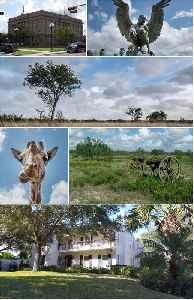 Brownsville is a city in Cameron County in the U.S. state of Texas. It is located on the western Gulf Coast in South Texas, adjacent to the border with Matamoros, Mexico. The city covers 81.528 square miles (211.157 km2) and has a population of 183,299 as of 2017. It is the 131st-largest city in the United States and 16th-largest in Texas. It is part of the Brownsville–Matamoros conurbation, with a population of 1,136,995 people. The city is known for its year-round subtropical climate, deep-water seaport and Hispanic culture.


Asylum Protesters Close Bridge on Texas-Mexico Border
Hundreds of migrants protesting desperate conditions in Mexico shut down traffic on an international bridge leading into Brownsville, Texas.
NYTimes.com - Published
Migrant protesters occupy U.S.-Mexico border bridge, crossing closed
Migrants seeking asylum in the United States who are camped in a dangerous Mexican border town occupied a bridge to Brownsville, Texas on Thursday, leading U.S. authorities to close the crossing,..
Reuters - Published
SpaceX launch pad transforms tiny Texas town: "Where the hell do I go now?"
A launch site for SpaceX rockets is next to a tiny neighborhood east of Brownsville, Texas, called Boca Chica, where the rocket company has transformed life
CBS News - Published
What happens when SpaceX moves in next door: "Where the hell do I go now?"
A hover test by a Starhopper rocket at SpaceX's launch site is the latest move by founder Elon Musk to eventually take humans to Mars. The launch site is next to a tiny neighborhood east of..
CBS News - Published
Immigrants wait for asylum hearings in "tent courts" along the border
Tents are now being used as courthouses along the southern border, as a backlog of immigrants seek asylum in the U.S. In Brownsville, there are 66 mini courtrooms that are connected to judges via video..
CBS News - Published
"Tent courts" open along southern U.S. border
The Trump administration is opening "tent courts" today to review cases from asylum-seekers affected by the president's "Remain in Mexico" policy. CBS News correspondent Mireya Villarreal is outside..
CBS News - Published
Tent courts set up in Texas for immigration hearings closed to media
The first complex in Laredo began hearing cases immediately, and another complex in Brownsville is expected to be operational Thursday.
USATODAY.com - Published
El Paso, Dayton, Chicago: Media doesn't treat all gun violence the same
Shootings in El Paso, Dayton, Gilroy, Brownsville and Chicago revealed that the national news media does not report on gun violence uniformly.
USATODAY.com - Published
Fifth U.S. city will process applications from migrants returned to Mexico
The U.S. government on Friday named Brownsville, Texas, as a fifth city for processing applications from asylum seekers and other migrants returned to Mexico pending a decision, the latest initiative..
Reuters - Published
New border city added to program returning migrants to wait for U.S. hearings in Mexico
The U.S. government will start returning migrants to Mexico to wait out their U.S. court hearings in Mexico through Brownsville, Texas on Friday, a spokeswoman for the U.S. Department of Homeland..
Reuters - Published
Migrant families wait for weeks in Mexico hoping for asylum
Many migrants come to America illegally because entering as a legal asylum-seeker is getting more difficult. In Mexico, just across the bridge from Brownsville, Mexico, the wait to request asylum seems..
CBS News - Published
You Might Like