Giraffe
Tall African ungulate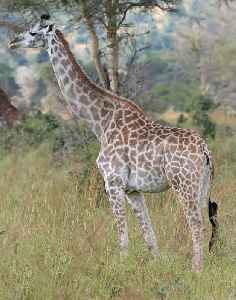 The giraffe (Giraffa) is a genus of African even-toed ungulate mammals, the tallest living terrestrial animals and the largest ruminants. Taxonomic classifications of one to eight extant giraffe species have been described, based upon research into the mitochondrial and nuclear DNA, as well as morphological measurements of Giraffa, but the International Union for Conservation of Nature currently recognises only one species, Giraffa camelopardalis, the type species, with nine subspecies. Seven other species are extinct, prehistoric species known from fossils.


April the Giraffe delivered her calf
April the Giraffe delivered her calf on Saturday, to the delight of an enthralled internet audience. The highly celebrated ungulate of the Animal Adventure Park in Harpursville, New York went into..
USATODAY.com - Published
April the Giraffe is in labor and giving birth to a new baby right now
It's time! April the Giraffe is giving birth to her fifth calf. Will it be a girl or a boy this time?
USATODAY.com - Published
Search this site and the web:
You Might Like