Boca Raton, Florida
City in Florida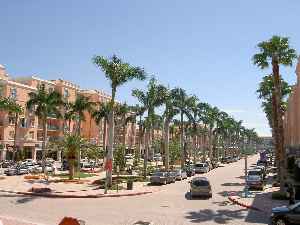 Boca Raton, often simply referred to as Boca, is the southernmost city in Palm Beach County, Florida, United States. It was first incorporated on August 2, 1924 as "Bocaratone," and then incorporated as "Boca Raton" in 1925. It is one of the wealthiest communities in South Florida. The 2018 population estimated by the U.S. Census Bureau was 99,244. However, approximately 200,000 people with a Boca Raton postal address live outside its municipal boundaries, in newer developments such as West Boca Raton. As a business center, the city experiences significant daytime population increases. Boca Raton is 43 miles (69 km) north of Miami and is a principal city of the Miami metropolitan area, which had a population of 6,012,331 people as of 2015.


Starved for company
When the lunch bell rings at Boca High in Boca Raton, Florida, someone always sits alone. That's why some students started a club called We Dine Together, whose mission is to make sure no one is..
CBS News - Published
So no student eats alone
Last March, we were introduced to Denis Estimon, a high school student in Boca Raton, Florida, who knew all too well the isolation kids face during lunch period when they find themselves eating alone...
CBS News - Published
Incident at Florida mall leaves one injured
A loud noise at a shopping center near Miami spread fears of an active shooter on Sunday. But Boca Raton police say they've found no casings and have no suspect in custody. Eve Johnson reports.
Credit: Reuters Studio Duration: 00:59Published
Principal fired after refusing to call the Holocaust a 'factual, historical event'
Dr. William Latson, the principal of Spanish River High School in Boca Raton, Florida, will officially be removed from his position Nov. 21.
USATODAY.com - Published
A Popped Balloon Caused Panic at a Florida Mall, Police Say
Hundreds of people mistakenly reported gunfire at the Town Center mall in Boca Raton on Sunday.
NYTimes.com - Published
1 Person Hurt in Florida Mall Shooting, Police Say
Panicked shoppers fled the Town Center mall in Boca Raton, Fla., as officers directed visitors to shelter in place.
NYTimes.com - Published
Police investigate reports of shooting at Florida shopping mall
Police SWAT teams in Boca Raton, Florida, moved in on a shopping mall on Saturday to investigate reports of a shooting there, police said.
Reuters - Published
Principal Who Tried to Stay 'Politically Neutral' About Holocaust Is Removed
"I can't say the Holocaust is a factual, historical event because I am not in a position to do so as a school district employee," said the principal of a high school in Boca Raton, Fla.
NYTimes.com - Published
You Might Like