Strasbourg
Prefecture and commune in Grand Est, France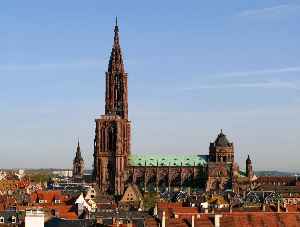 Strasbourg is the capital and largest city of the Grand Est region of France and is the official seat of the European Parliament. Located at the border with Germany in the historic region of Alsace, it is the capital of the Bas-Rhin department.


EU parliament moves session from France over virus risk
The European Parliament has exceptionally moved its planned session in Strasbourg, France, next week to Brussels because of concerns about the coronavirus risk.
Reuters - Published
Twenty-two hurt after high-speed train derails in eastern France
A high-speed TGV train running between Strasbourg in eastern France and Paris derailed on Thursday after a land slip, injuring 22 people including one seriously, local officials said.
Reuters - Published
Five people killed in building fire in northeast France
Five people died on Thursday after a fire broke out in a building in Strasbourg in northeastern France, local firefighters said.
Reuters - Published
Pantomime, travel and rest: What comes next for Britain's EU lawmakers
Britain's 73 EU lawmakers packed up their offices in Strasbourg on Thursday: for some a moment of triumph, for others, disaster.
Reuters - Published
Spoof video highlights EU parliament's costly caravan to Strasbourg
As members of the European Parliament gathered in Strasbourg this week, a German politician claimed he had found a treaty loophole that could put a stop to the monthly caravan of EU lawmakers and their..
Reuters - Published
Brexit Party MEPs turn their backs on EU anthem
Members of Britain's Brexit Party turned their backs on the EU anthem on Tuesday as it was played live at the opening of the European Parliament in Strasbourg, in a move that other lawmakers branded..
Reuters - Published
European Parliament opens, short of three barred Catalans
The European Parliament began its first session of the new term on Tuesday, short of three Catalan members who were barred from joining, as hundreds wearing the Catalan flag protested against their..
Reuters - Published