Carl Reiner
American actor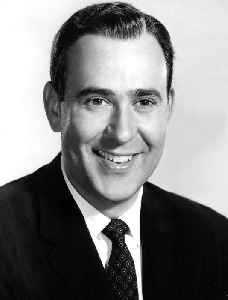 Carl Reiner was an American actor, comedian, director, screenwriter, and author whose career spanned seven decades. During the early years of television comedy from 1950 to 1957, he acted on and contributed sketch material for Your Show of Shows and Caesar's Hour, starring Sid Caesar. In the 1960s, Reiner was best known as the creator, producer, writer, and actor on The Dick Van Dyke Show.


Carl Reiner, Comedy Legend, Dead At 98

(CNN) Carl Reiner, the writer, actor, director and producer whose many decades' worth of credits -- including "The Dick Van Dyke Show" and "The 2000 Year Old Man" -- showcased a ready wit and a..
Credit: Wochit News Duration: 00:34
Published
'Dick Van Dyke Show' Creator Carl Reiner Dies at 98 | THR News

Carl Reiner has died, his assistant Judy Nagy confirmed to The Hollywood Reporter. He was 98.
Credit: The Hollywood Reporter Duration: 02:25
Published
Beloved comedy actor Carl Reiner dies, aged 98

Carl Reiner, the ingenious and versatile writer, actor and director and creator of The Dick Van Dyke Show has died, aged 98.
Credit: PA - Press Association STUDIO Duration: 01:28
Published
Carl Reiner dead at 98

Hollywood actor, director and comedian Carl Reiner - whose career spanned seven decades - has passed away at the age of 98.
Credit: Bang Media World Duration: 02:11
Published
BREAKING NEWS: Carl Reiner dies aged 98

Television comedy pioneer Carl Reiner has passed away, he died at his home in Beverly Hills on Monday night aged 98.
Credit: Cover Video STUDIO Duration: 00:38
Published
You Might Like
ShowBiz Minute: Weinstein, Oscars, Reiner
Weinstein reaches tentative $19M deal with accusers; Zendaya, Awkwafina, Eva Longoria among 819 invited to join film academy; Mel Brooks, Dick Van Dyke and George Clooney were among Hollywood stars..
USATODAY.com - Published
Remembering Carl Reiner: His best quotes on show business, eulogies, friend Mel Brooks
Carl Reiner offered plenty of quotable gems to USA TODAY, on matters both hilarious and serious, over the years. Here are some highlights.
USATODAY.com - Published
'Carl Reiner was comedy genius': Jason Alexander pays tribute to late comedian, Rob Reiner reacts
Carl Reiner died Monday night at 98. Comedians and actors alike took to social media to pay tribute, including Jason Alexander and son Rob Reiner.
USATODAY.com - Published
Veteran comedian and 'Dick Van Dyke Show,' 'Ocean's' star Carl Reiner dies at 98: reports
Carl Reiner, the veteran comedian, actor and director known for starring in "The Dick Van Dyke Show" and the "Ocean's" films, has died.
USATODAY.com - Published
TV comedy greats take a bow
Norman Lear, Bob Newhart, Carl Reiner, Carol Burnett and Lily Tomlin were saluted Thursday at a Paley Center for Media ceremony in Beverly Hills, California. (Nov. 22)  
USATODAY.com - Published
Norman Lear, Carol Burnett headline Paley comedy honors: 'Laughter adds time to one's life'
The Paley Center for Media honored five TV comedy legends Thursday: Norman Lear, Lily Tomlin, Carol Burnett, Carl Reiner and Bob Newhart.
USATODAY.com - Published