Tuscany
Region of Italy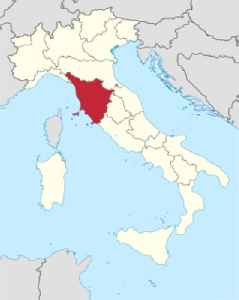 Tuscany is a region in central Italy with an area of about 23,000 square kilometres and a population of about 3.8 million inhabitants (2013). The regional capital is Florence (Firenze).


Bridge on Genoa to Florence road collapses

A bridge on a normally busy road in northern Italy collapsed on Wednesday but only two drivers were caught up in the chaos, the fire brigade said.
Credit: Reuters Studio Duration: 01:15
Published
Italy's coronavirus outbreak spreads from its northern epicentre
Italy's coronavirus outbreak began spreading on Tuesday from its origins in the northern regions of Lombardy and Veneto, with new cases reported in central Tuscany, the coastal region of Liguria and..
Reuters - Published
Priests in defunct Catholic order in Italy accused of sexual abuse
Nine members of a defunct, cult-like Roman Catholic religious order in Italy's Tuscany region are under investigation for alleged sexual abuse of two brothers when they were minors, authorities said on..
Reuters - Published
A royal estate in Tuscany
The Corsini estate, Villa Le Corti, sits high atop a hillside outside Florence, in the Tuscan wine region of Chianti, on land Principessa Giorgiana Corsini's family has owned since the 1300s. She and..
CBS News - Published
The birthplace of Pinocchio
The tiny Tuscan town of Collodi was the birthplace of Pinocchio. Created in 1881 by journalist-author Carlo Lorenzini (who took the town's name as his pen name), the wooden puppet who became a real boy..
CBS News - Published
Nature: Tuscan countryside
"Sunday Morning" takes us to Villa Le Corti, just outside Florence. Videographer: Mike Hernandez.
CBS News - Published
Sting and Trudie Styler, at home in Tuscany
Il Palagio, a 400-year-old villa in Tuscany, is a summer house that the singer-musician Sting, and his wife, Trudie Styler, bought for a song or two. They've fixed it up, and brought the olive groves,..
CBS News - Published
Under the Tuscan sun with Frances Mayes
In 1990, American professor and poet Frances Mayes felt an irresistible urge to buy a derelict 300-year-old property. She transformed it into one of the most famous villas in Tuscany, attracting a..
CBS News - Published
A world askew: Shooting the Costa Concordia
Rare and eerie images of the half-sunken passenger ship marooned off the coast of Tuscany.
CBS News - Published
A "Sunday Morning" in Florence 8/18
This week's "Sunday Morning" hosted by Jane Pauley, takes us to Tuscany, with stories on all things Italian – art and design, traditions and culture, fashion, food, music and entertainment, history..
CBS News - Published