Tuscany
Region of Italy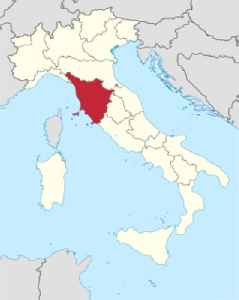 Tuscany is a region in central Italy with an area of about 23,000 square kilometres and a population of about 3.8 million inhabitants (2013). The regional capital is Florence (Firenze).


A "Sunday Morning" in Florence 8/18
This week's "Sunday Morning" hosted by Jane Pauley, takes us to Tuscany, with stories on all things Italian – art and design, traditions and culture, fashion, food, music and entertainment, history..
CBS News - Published
The royal Corsini estate in Tuscany
The Corsini estate, Villa Le Corti, sits high atop a hillside outside Florence, in the Tuscan wine region of Chianti, on land Principessa Giorgiana Corsini's family has owned since the 1300s. Jane..
CBS News - Published
Sting, Trudie Styler, and a villa in Italy
Il Palagio, a 400-year-old villa in Tuscany, is a summer house that the singer-musician Sting, and his wife, Trudie Styler, bought for a song or two. They've fixed it up, and brought the olive groves,..
CBS News - Published
Under the Tuscan sun with author Frances Mayes
In 1990, American professor and poet Frances Mayes felt an irresistible urge to buy a derelict 300-year-old property. She transformed it into one of the most famous villas in Tuscany, attracting a..
CBS News - Published
The birthplace of Pinocchio
The tiny Tuscan town of Collodi was the birthplace of Pinocchio. Created in 1881 by journalist-author Carlo Lorenzini (who took the town's name as his pen name), the wooden puppet who became a real boy..
CBS News - Published
Search this site and the web:
You Might Like