Maui
Island of the Hawaiian Islands in the Pacific Ocean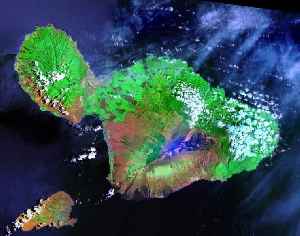 The island of Maui is the second-largest of the Hawaiian Islands at 727.2 square miles (1,883 km2) and is the 17th largest island in the United States. Maui is part of the State of Hawaii and is the largest of Maui County's four islands, which include Molokaʻi, Lānaʻi, and unpopulated Kahoʻolawe. In 2010, Maui had a population of 144,444, third-highest of the Hawaiian Islands, behind that of Oʻahu and Hawaiʻi Island. Kahului is the largest census-designated place (CDP) on the island with a population of 26,337 as of 2010 and is the commercial and financial hub of the island. Wailuku is the seat of Maui County and is the third-largest CDP as of 2010. Other significant places include Kīhei, Lahaina, Makawao, Pukalani, Pāʻia, Kula, Haʻikū, and Hāna.


Maui wildfire threatens island homes, airport
A wildfire on the island of Maui threatened homes, forced some evacuations, and forced the closing of an airport on Tuesday. There were no reports of injuries. (Oct. 22)  
USATODAY.com - Published
Southwest Airlines launching newest Hawaii flights two months early, adding more service
Southwest, which began serving Hawaii earlier this year, will add new Sacramento-Maui flights and is boosting frequency of flights from other cities.
USATODAY.com - Published
Hawaii Closes Beaches That Spotted Sharks Near Coast
The Hawaiian island of Maui closed about two miles of beaches. According to the Huffington Post, this was their second day in a row of closing. There have reportedly been several shark sightings in the..
Credit: Wochit News Duration: 00:32Published
'Get it together': False emergency sirens spark déjà vu on Hawaiian islands of Oahu and Maui
Emergency sirens accidentally went off on Oahu and Maui Wednesday, rattling nerves as Hawaii residents recalled surviving a false missile alarm.  
USATODAY.com - Published
Whale calf found dead in Hawaii mass stranding
Authorities say one whale calf has been found dead on a beach on the Hawaii island of Maui near where 10 other whales were found stranded alive. Veterinarians euthanized four of those whales, but six..
USATODAY.com - Published
Hawaii governor declares emergency for Maui wildfires
Hawaii's governor on Friday declared an emergency on the island of Maui, where firefighters were battling a blaze that forced the evacuations of thousands of people and sent huge clouds of smoke..
Reuters - Published
Oprah Winfrey praised for opening her private road during Maui fire to help evacuations
Oprah Winfrey is being praised after opening up her private road on Maui to help people escape a brush fire that broke out on the Hawaii island Thursday.
USATODAY.com - Published
Brush fire on Hawaiian island of Maui prompts evacuations, flight diversions
Some flights to the island's main airport in Kahului were diverted because the fire was affecting access to the facility, the state Department of Transportation said.
USATODAY.com - Published
Hawaii's Maui Island wildfire forces evacuations
Thousands of residents and visitors on Hawaii's Maui Island were ordered to evacuate two communities on Thursday as a spreading wildfire sent smoke billowing high into the sky, officials and local..
Reuters - Published
Brush fire on Maui, Hawaii, evacuations ordered
A brush fire has prompted evacuations and diverted some flights on the Hawaii island of Maui, officials said Thursday. People in at least two towns were told to leave. (July 12)
USATODAY.com - Published
Former NBA coach Don Nelson, now a marijuana farmer in Maui, profiled in HBO segment
Three-time NBA Coach of the Year Don Nelson, now a marijuana farmer in Hawaii, was profiled by Bryant Gumbel in a segment of HBO's 'Real Sports'.
USATODAY.com - Published
You Might Like