Victor Hugo
19th-century French poet, novelist, and dramatist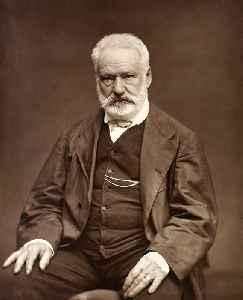 Victor Marie Hugo was a French poet, novelist, and dramatist of the Romantic movement. Hugo is considered to be one of the greatest and best-known French writers. Outside France, his most famous works are the novels Les Misérables, 1862, and The Hunchback of Notre-Dame, 1831. In France, Hugo is known primarily for his poetry collections, such as Les Contemplations and La Légende des siècles.


Dominic West on new "Les Mis" adaptation
Actor Dominic West earned a Golden Globe nomination for playing a cheating husband who complicates his family's life in "The Affair" on Showtime, a division of CBS. Now he is taking the role of Jean..
CBS News - Published
Lily Collins: 'Les Mis' made me push myself
Themes of Victor Hugo's "Les Miserables" still resonate today for new screen adaptation stars Dominic West, David Oyelowo and Lily Collins. (April 11)
USATODAY.com - Published
Disney Pledges $5 Million To Notre-Dame Rebuild
According to ComicBook.com, Disney is pledging $5 Million to rebuild Notre Dame Cathedral. Disney's ties to the Notre-Dame Cathedral go back quite a bit, as the structure was at the heart of one of..
Credit: Wochit News Duration: 00:36Published
Paris' Notre Dame Cathedral Has a History of Disrepair
Fires engulfed Paris' Notre Dame Cathedral this week, but the 850-year-old structure has faced destruction before.
Credit: Newsy Studio Duration: 02:01Published
Search this site and the web:
You Might Like