Silicon Valley
Region in California, United States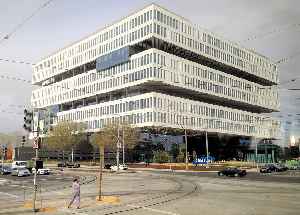 Silicon Valley is a region in the southern part of the San Francisco Bay Area in Northern California that serves as a global center for high technology and innovation. It corresponds roughly to the geographical Santa Clara Valley. San Jose is Silicon Valley's largest city, the third-largest in California, and the tenth-largest in the United States; other major Silicon Valley cities include Sunnyvale, Santa Clara, Redwood City, Mountain View, Palo Alto, Menlo Park, and Cupertino. The San Jose Metropolitan Area has the third-highest GDP per capita in the world, according to the Brookings Institution.


Visby's COVID-19 test gets FDA approval

Silicon Valley startup Visby Medical has received Emergency Use Authorization by the U.S. Food and Drug Administration for a portable COVID-19 test kit, the first company to do so. Gloria Tso reports.
Credit: Reuters Studio Duration: 02:22
Published
You Might Like



Stacy Brown-Philpot, TaskRabbit's outgoing CEO, on being Black in Silicon Valley after George Floyd

Stacy Brown-Philpot, outgoing CEO of TaskRabbit and one of tech's most prominent Black women leaders, talks George Floyd, Kamala Harris and racism.




USATODAY.com - Published





Chicago gets digital manufacturing grant that mayor says could be a "game-changer"

Chicago is getting $70 million from the Pentagon to create a digital research lab for high-tech manufacturing and that it has the potential to turn the windy city into a new Silicon Valley. Norah..




CBS News - Published





Biden vs. Trump: Live Updates on the 2020 Election

Joe Biden's campaign has quietly welcomed Big Tech's overtures, even as President Trump's allies "work the refs" in Silicon Valley.




NYTimes.com - Published





Overcrowded Housing Invites Covid-19, Even in Silicon Valley

Overcrowding, not density, has defined many coronavirus hot spots. Service workers' quarters skirting Silicon Valley are no exception.




NYTimes.com - Published





Joe Biden Gets Help From Big Names Writing Huge Checks

Mr. Biden is relying on some of his party's wealthiest donors — and power brokers in Silicon Valley, Hollywood and Wall Street — to cut President Trump's financial edge, new filings show.




NYTimes.com - Published





Work from home, but have no room? Buy an Airstream RV

Analyst Jeremiah Owyang found it was a lot cheaper to get an auto loan for an Airstream than to pay sky-high Silicon Valley monthly rentals.




USATODAY.com - Published





'I Could Solve Most of Your Problems': Eric Schmidt's Pentagon Offensive

The former Google C.E.O. has reinvented himself as the prime liaison between Silicon Valley and the military-industrial complex.




NYTimes.com - Published





Showdown looms between Silicon Valley, U.S. states over contact tracing apps

U.S. states promoting apps that could prove essential to ending the coronavirus lockdown may be headed for a showdown with the two Silicon Valley companies that control key software on 99% of..




Reuters - Published





Trump Announces His 'Opening the Country' Council

He read off dozens of prominent names from Wall Street, Silicon Valley and the sports world. At least one person on the list was surprised to be on it.




NYTimes.com - Published





How Tech's Lobbyists Are Using the Pandemic to Make Gains

Silicon Valley hasn't suffered from the same financial devastation as other industries. Tech companies still have an agenda to push.




NYTimes.com - Published





Energy company pivots to make ventilators

While several automakers are now shifting their production lines to manufacturer life saving ventilators during the coronavirus pandemic, a Silicon Valley fuel cell maker is pivoting to refurbish old..




USATODAY.com - Published





'This Is Real. This Is Raw': California Leaders Grapples With Coronavirus Crisis

On Monday, six counties around Silicon Valley announced that residents should not go out for three weeks except to meet "essential needs."




NYTimes.com - Published





Coronavirus in California: How the Economy Could Be Affected

On Monday, six counties around Silicon Valley, one of the hardest-hit areas in the nation, announced a shelter-at-home order.




NYTimes.com - Published





Google quarantine: Coronavirus fears prompt company to ban visitors in Silicon Valley and New York

To shield its U.S. workforce from the COVID-19 coronavirus, Google is restricting visitors to offices in Silicon Valley, San Francisco and New York.




USATODAY.com - Published





Tenth coronavirus case confirmed in California: county health officials

A tenth case of coronavirus has been confirmed in California, health officials from Santa Clara County said on Friday.The county's top health official said she would provide further information at a..




Reuters - Published





With California nearing drought, reservoir near San Jose ordered to be drained. Here's why

Federal regulators have mandated that a water reservoir in Silicon Valley be drained because its dam may fail in an earthquake; local officials balk.




USATODAY.com - Published




Racial inequality in Silicon Valley: Pinterest is among many tech companies struggling to become less white

Pinterest's slow progress in building a more diverse workforce is a sign that racial equality is not coming anytime soon to Silicon Valley tech.




USATODAY.com - Published





Tiny electric firetruck designed for tight spaces

A tiny electric fire truck designed for small places is on show at the CES technology show in Las Vegas. It's the product of a partnership between Japanese company Panasonic and the Silicon..




USATODAY.com - Published





How Big Tech Is Turning New York Into a Silicon Valley Rival

Amazon, Apple, Facebook and Google will soon have 20,000 workers in the city, many in a cluster of offices on the West Side.




NYTimes.com - Published





A Silicon Valley Disruption for Birds That Gorge on Endangered Fish

To persuade some migrating Caspian terns to stop short of the Columbia River, scientists planted plastic decoys and patio speakers in San Francisco Bay.




NYTimes.com - Published





Despite bashing big tech, Andrew Yang gains support in Silicon Valley

Democratic presidential candidate Andrew Yang has steadily gained traction in Silicon Valley, despite his constant attacks on big tech companies. CBS News contributor and editor-in-chief at Wired..




CBS News - Published





Apple will donate $2.5 billion to fight 'unsustainable' California housing crisis

Apple CEO Tim Cook says the company's donation is meant to help first-time home buyers, expand housing, and combat homelessness in Silicon Valley.




USATODAY.com - Published




Remembering 1968: How Intel was born

Fifty years ago this week, two middle-aged engineers quit their jobs to start a new company called Intel. David Pogue explores how Gordon Moore and Bob Noyce (co-inventor of the integrated circuit)..




CBS News - Published





The Cleantech Crash

Despite billions invested by the U.S. government in s-called "Cleantech" energy, Washington and Silicon Valley have little to show for it. Lesley Stahl reports.




CBS News - Published





Obama headlining DNC's Silicon Valley fundraiser

Former President Barack Obama is returning to the campaign trail to raise money for the Democratic National Committee. CBSN political reporter Caitlin Huey-Burns and Washington Post national political..




CBS News - Published





2017: What is "Brain Hacking"? Tech insiders on why you should care

Silicon Valley is engineering your phone, apps and social media to get you hooked, says a former Google product manager.




CBS News - Published





Zuckerberg confirms he suggested hires to Pete Buttigieg's campaign

Facebook CEO Mark Zuckerberg confirmed that he and his wife recommended two eventual hires to the presidential campaign of South Bend, Indiana mayor Pete Buttigieg. CBSN political reporter Caitlin..




CBS News - Published





Salesforce CEO speaks about gender pay gap in Silicon Valley

Salesforce CEO Marc Benioff is making an effort to close the pay gap between men and women in tech. By 2019, the company had spent more than $10 million to make salaries more equal. CNET senior..




CBS News - Published





Big tech, Twitter bans and Bing: U.S. Democrats spar over Silicon Valley on debate stage

U.S. Democratic presidential contender Elizabeth Warren went after big tech during the Democratic debate on Tuesday but brushed off rival Kamala Harris's challenge to join her in calling for President..




Reuters - Published





Senate Intelligence Committee warns Russia will likely interfere in 2020 campaign

A new report by the Senate Intelligence Committee revealed bipartisan concern that Russia will meddle in the 2020 campaign. CBS News intelligence and national security reporter Olivia Gazis joined CBSN..




CBS News - Published





Silicon Valley's Mantra of Spend Big, Grow Fast? It's Changing

Start-up investors are warning of a reckoning after the stumbles of some high-profile "unicorns." Now turning a profit is in.




NYTimes.com - Published





Apple CEO Tim Cook files brief at Supreme Court supporting DACA

Apple CEO Tim Cook filed a "friend of court" brief urging the U.S. Supreme Court to uphold protections for DACA recipients - immigrants who came to the U.S. as children. The court hears arguments in..




CBS News - Published





China's Guangzhou rides economic change but keeps traditions

China's southern city of Guangzhou is at the heart of plans to link a cluster of cities in the Pearl River Delta, including Hong Kong and Macau, into a Greater Bay Area rivaling Silicon Valley and..




Reuters - Published





GM strike tests the power of workers versus corporations. And Silicon Valley is watching

As some 46,000 hourly auto industry employees finish their second week on strike nationwide, business experts from other industries watch closely




USATODAY.com - Published





Pope urges Silicon Valley to avoid slide toward new "barbarism"

Pope Francis urged Silicon Valley giants on Friday to make sure technological advances such as artificial intelligence do not lead to a new "form of barbarism" where the law of the strongest prevails..




Reuters - Published





A Ghost Town and Hot Springs: An Eastern Sierra Road Trip

Friday: An itinerary for an adventure in the mountains and lakes of California. Also: A profile of the activist Ady Barkan, and a Silicon Valley telltale heart.




NYTimes.com - Published





San Jose moves to ban natural gas in new residential buildings

San Jose, the 10th most populous U.S. city and political center of Silicon Valley, on Tuesday moved to ban natural gas in most new residential buildings beginning next year.




Reuters - Published




San Jose becomes first big U.S. city to discourage natural gas in buildings

San Jose, the 10th most populous U.S. city and political center of Silicon Valley, adopted new rules on Tuesday aimed at phasing out the use of natural gas in buildings.




Reuters - Published




Facebook creating first ever "Supreme Court" to oversee controversial posts

Social media giant Facebook has announced plans to create a new oversight panel by the end of the year, something they dub its own "Supreme Court." BBC News Silicon Valley reporter Dave Lee joins CBSN..




CBS News - Published





Chinese professor accused of Huawei-related fraud asks why case was moved to Brooklyn

A lawyer for a Chinese professor accused of obtaining technology from a Silicon Valley startup to benefit China's Huawei on Wednesday told a federal judge that he would like to know why the case is in..




Reuters - Published





McDonald's acquires Apprente, plans to speed up drive-thru lines with voice-based ordering technology

McDonald's is acquiring Apprente, a Silicon Valley-based start-up specializing in conversational voice-based ordering technology.




USATODAY.com - Published





ProPublica: Big tech gets insider access to Pentagon

A major tech company will be awarded a $10 billion, 10-year contract by the Pentagon to move its information technology systems to the cloud, and according to a report by ProPublica, that's just the..




CBS News - Published





Former Google engineer accused of giving company secrets to Uber

A former star engineer at Google faces criminal charges for allegedly stealing company secrets about self-driving cars and giving them to Uber, a major competitor. The federal indictment filed Tuesday..




CBS News - Published





Ex-Google engineer charged with theft

An indictment filed in Silicon Valley reads like a Cold War spy thriller. A former engineer at Google is accused of acting as a secret agent for Uber, in a high-stakes tech war. Jamie Yuccas has the..




CBS News - Published





Wired: Three years of misery inside Google after Trump's election

Google's reputation as one of Silicon Valley's friendliest tech companies began to shatter following President Trump's election. Wired magazine's Senior Writer Nitasha Tiku joined "CBSN AM" to discuss..




CBS News - Published





This High-Tech Solution to Disaster Response May Be Too Good to Be True

Major cities are turning to a Silicon Valley start-up to help save lives in an emergency. But some fear its promise has been dangerously exaggerated.




NYTimes.com - Published





Bad Times in Tech? Not if You're a Start-Up Serving Other Start-Ups

Meet the two Stanford dropouts, both 23, who run Brex, which provides charge cards to start-ups. Its growth is a sign of Silicon Valley's unflagging exuberance.




NYTimes.com - Published





Facebook campus given all-clear after sarin scare

Facebook's Silicon Valley campus received the all-clear on Tuesday after fears that a package at its mail facility contained the nerve agent sarin.




Reuters - Published





Two possibly exposed to sarin at Facebook California facility: official

Two people were possibly exposed to the nerve agent sarin at a Facebook Inc mail facility in Silicon Valley which has been evacuated, a local fire official said on Monday.




Reuters - Published





Theranos founder Elizabeth Holmes, top deputy ordered to stand trial in 2020

Theranos founder Elizabeth Holmes and her former second-in-command at the Silicon Valley blood-testing startup were ordered on Friday to stand trial next year on fraud charges stemming from their..




Reuters - Published