Pacific Gas and Electric Company
American utility company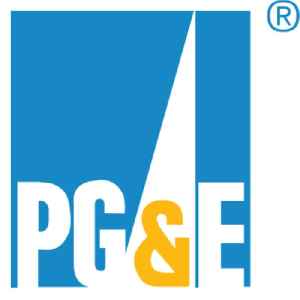 The Pacific Gas and Electric Company (PG&E) is an American investor-owned utility (IOU) with publicly-traded stock. The company is headquartered in the Pacific Gas & Electric Building, in San Francisco, California, United States. PG&E provides natural gas and electricity to most of the northern two-thirds of California, from Bakersfield and to the north side of the County of Santa Barbara, to near the Oregon State Line and Nevada and Arizona State Line, which represents 5.2 million households.


PG&E looks to Wall St to fund bankruptcy exit

California-based utility giant PG&E announced plans Monday to raise $5.75 billion from public stock offerings as it tries to emerge from Chapter 11 bankruptcy by the end of this month. Conway G...
Credit: Reuters Studio Duration: 01:19
Published
You Might Like



PG&E, Troubled California Utility, Emerges From Bankruptcy

The company, which has a new board and chief executive, said it had put $5.4 billion and its stock in a trust for victims of wildfires started by its equipment.




NYTimes.com - Published





Judge Expected to Approve PG&E Plan to Resolve Bankruptcy

A federal judge could decide on Friday that the California utility can put itself back together in time to take part in a crucial wildfire liability fund.




NYTimes.com - Published





Utility fined over $3 million in wildfire deaths

Pacific Gas & Electric on Thursday was fined over $3 million for the deaths of 84 people killed in a nightmarish Northern California wildfire ignited by the its long-neglected electrical grid. (June..




USATODAY.com - Published





PG&E Ordered to Pay $3.5 Million Fine in Camp Fire Case

A judge approved a plea agreement between the California utility and a local prosecutor after hearing from people who lost loved ones in the fire started by a transmission line.




NYTimes.com - Published





Ask Your Questions About the Pandemic in California

Wednesday: We know things are still confusing. Tell us what you want to know. Also: PG&E pleads guilty; and a remembrance.




NYTimes.com - Published





In CA: 84 counts of manslaughter for PG&E, and a man's final, tortured hours in custody

PG&E pleads guilty to 84 counts of involuntary manslaughter for its role in the 2018 Camp Fire. L.A. wants cuts of up to $150 million in the LAPD. And I talked to the director of Santa Barbara County's..




USATODAY.com - Published





PG&E pleads guilty to 84 counts of involuntary manslaughter in 2018 California Camp Fire

Pacific Gas & Electric has pled guilty to charges of involuntary manslaughter, admits to causing 2018 fire that destroyed Paradise, California.  




USATODAY.com - Published

Also reported by •Reuters


PG&E to Plead Guilty in 84 Deaths Caused by Camp Fire

The California utility has agreed to pay a nearly $2 billion fine for causing the blaze, which killed dozens and destroyed the town of Paradise.




NYTimes.com - Published





PG&E Gives Wildfire Victims More Stock in Bankruptcy Plan

The company is increasing the number of shares it will give homeowners and businesses that lost properties during fires caused by its equipment.




NYTimes.com - Published




PG&E Appoints a New Board as It Eyes Its Bankruptcy Exit

The governor of California required the troubled utility to replace its directors as a condition for taking part in a new wildfire liability fund.




NYTimes.com - Published





California regulator approves PG&E's Chapter 11 reorganization plan

Power regulator California Public Utilities Commission (CPUC) has approved PG&E Corp's Chapter 11 reorganization plan, the San Francisco-based utility company said on Thursday.




Reuters - Published




California Regulators Back PG&E Bankruptcy Plan

The vote increases the likelihood that the utility will resolve its case by a June 30 deadline and get future liability protection from the state.




NYTimes.com - Published

Also reported by •Reuters


PG&E's Settlement With Wildfire Victims Faces Crucial Vote

Some victims think the $13.5 billion deal is flawed and are worried that a lawyer who negotiated it has a conflict of interest.




NYTimes.com - Published





Coronavirus Testing in California: What to Know

Friday: Testing capacity is still a major hurdle to reopening, but California is getting closer. Also: PG&E's chief executive said he'll retire.




NYTimes.com - Published





PG&E Chief Executive to Retire in June

Bill Johnson joined the troubled utility last year and will leave when the company resolves its bankruptcy case.




NYTimes.com - Published





California regulator wants PG&E reorganization plan changes, proposes $2 billion fine

A California regulator has asked PG&E Corp for governance and oversight changes to its reorganization plan, while proposing about $2 billion in penalties for the San-Francisco based utility's role in..




Reuters - Published




Wildfire Victims Push to Reopen $13.5 Billion Deal With PG&E

The falling price of the utility's shares, which are part of the settlement, has jeopardized the company's plan to emerge from bankruptcy by June 30.




NYTimes.com - Published





PG&E Will Plead Guilty to Manslaughter in Camp Fire

The California utility faced felony charges in connection with a 2018 wildfire that killed more than 80 people.




NYTimes.com - Published





PG&E Reaches Agreement With Governor, Clearing Big Hurdle

The troubled California utility is agreeing to limit payouts to shareholders to satisfy Gov. Gavin Newsom in its effort to emerge from bankruptcy and qualify for a state wildfire fund.




NYTimes.com - Published





California regulator proposes record $2.14 billion fine on PG&E over wildfires

California's utilities regulator has proposed an increased $2.14 billion fine on PG&E Corp for its role in causing the devastating 2017 and 2018 wildfires in Northern California.




Reuters - Published





Your heart-shaped metallic balloon could cause a mass power outage, energy companies warn

Companies such as FirstEnergy and PG&E are warning their customers about the dangers of metallic balloons on Valentine's Day.




USATODAY.com - Published




Greenpeace activist applies for top job at Poland's coal-burning utility

Greenpeace activist, Pawel Szypulski, said on Thursday he was applying for the chief executive job at Poland's biggest utility PGE, with a plan to eliminate polluting coal from the group's power..




Reuters - Published





PG&E Has a Survival Plan, and Newsom Has Plan B: A Takeover

California's governor is threatening to assume control of the utility if its restructuring in bankruptcy doesn't meet his demands. Does he mean it?




NYTimes.com - Published





In California: After weeks of mourning, a final farewell to Kobe

The date and location are finalized for a public memorial in Los Angeles honoring the Lakers legend and eight others. Plus: An inspection as part of a Camp Fire lawsuit has uncovered rusty PG&E..




USATODAY.com - Published





California lawmaker introduces bill to make PG&E a publicly owned utility

A California lawmaker has introduced a bill aimed at making PG&E Corp a publicly owned utility, a year after liabilities from wildfires traced back to some of its equipment pushed the power producer..




Reuters - Published





PG&E Announces Deal to Exit Bankruptcy, but Governor Balks

Even before the California utility said it had an accord with bondholders, Gov. Gavin Newsom declared that the plan didn't meet the public interest.




NYTimes.com - Published





Why Do People Become Homeless?

Wednesday: People who have experienced homelessness share their stories. Also: A PG&E update and the San Francisco 49ers.




NYTimes.com - Published





Claims by PG&E Wildfire Victims Reach 80,000

The number of individuals seeking compensation from the utility more than doubled in just over two months.




NYTimes.com - Published





PG&E creditors offer California wildfire victims $13.5 billion in cash upfront

PG&E Corp's creditors have sweetened their offer to California wildfire victims, saying they are now prepared to pay $13.5 billion in cash upfront, according to a letter sent on Friday to state..




Reuters - Published





ICE inks contracts worth billions for private immigration centers

The move happens just ahead of a state law that goes into effect Jan. 1 that phases such arrangements out of existence. Meanwhile, PG&E's power shutoffs were bad, but maybe they were even worse than we..




USATODAY.com - Published





A Conversation With Tom Steyer

Wednesday: The billionaire is set to be the only Californian on the Democratic debate stage this week. Also: A PG&E deal, and See's Candies.




NYTimes.com - Published





U.S. judge approves PG&E deal with California wildfire victims; stock jumps

A U.S. bankruptcy judge approved on Tuesday PG&E Corp's $13.5 billion settlement with victims of Californian wildfires, and the company's stock rallied as the utility gained momentum to emerge from..




Reuters - Published




After Deal With Fire Victims, PG&E Bankruptcy Still Far From Settled

The utility faces objections from the governor of California and hedge funds vying for control of the company.




NYTimes.com - Published





PG&E, fire victims waive deadline for governor's OK of reorganization plan

California wildfire victims and utility PG&E Corp have agreed to waive a Tuesday deadline for securing approval from the state's governor for the power company's reorganization plan that contains a..




Reuters - Published





California Governor Rejects PG&E's Restructuring Plan

Gov. Gavin Newsom's opposition is the latest hurdle for the utility, which is seeking to resolve a complex bankruptcy and take part in a state wildfire fund.




NYTimes.com - Published

Also reported by •Reuters


What's Ahead for PG&E?

Thursday: A look at the moving pieces in the utility's bankruptcy. Also: Zoe Lofgren, and a historic marionette theater.




NYTimes.com - Published





Bankrupt PG&E to take $4.9 billion more charge on wildfire victim claims

PG&E Corp said https://www.sec.gov/ix?doc=/Archives/edgar/data/75488/000095015719001393/form8-k.htm on Monday it would take a pretax charge of $4.9 billion in the current quarter related to the..




Reuters - Published





Combating Compassion Fatigue

Monday: An expert talks about the effects of seeing people living on the streets. Also: A major PG&E settlement, and Katie Hill speaks out.




NYTimes.com - Published





Bankrupt PG&E reaches $13.5 billion settlement with California wildfire victims

California's bankrupt power producer PG&E Corp said on Friday it had reached a $13.5 billion settlement with victims of some of most devastating wildfires in the state's modern history.




Reuters - Published

Also reported by •USATODAY.com