Slavery
System under which people are treated as property to be bought and sold, and are forced to work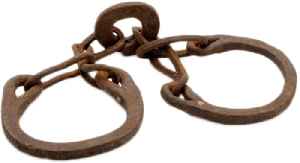 Slavery is any system in which principles of property law are applied to people, allowing individuals to own, buy and sell other individuals, as a de jure form of property. A slave is unable to withdraw unilaterally from such an arrangement and works without remuneration. Many scholars now use the term chattel slavery to refer to this specific sense of legalised, de jure slavery. In a broader sense, however, the word slavery may also refer to any situation in which an individual is de facto forced to work against their own will. Scholars also use the more generic terms such as unfree labour or forced labour to refer to such situations. However, and especially under slavery in broader senses of the word, slaves may have some rights and protections according to laws or customs.


How an accidental encounter brought slavery to the United States
Slavery's arrival in the United States happened by accident, but its arrival created a thriving tobacco industry and fueled the Industrial Revolution.
USATODAY.com - Published
Slavery's explosive growth, in charts: How '20 and odd' became millions
A twist of fate brought the first recorded enslaved Africans to Virginia in 1619. We trace the origins of this shameful era of American history.
USATODAY.com - Published
Augustine Tolton, Ex-Slave and First Black Priest in U.S., Takes Step to Sainthood
The Catholic Church said it was reviewing a miracle said to be attributed to Father Tolton, whom Pope Francis put on the path to sainthood Wednesday.
NYTimes.com - Published
'Pick up my book, slave': Black students face hostile environment at Ohio school district
Records from a federal investigation reveal racial discrimination in an Ohio district.
USATODAY.com - Published
Search this site and the web:
You Might Like