Tennessee
State of the United States of America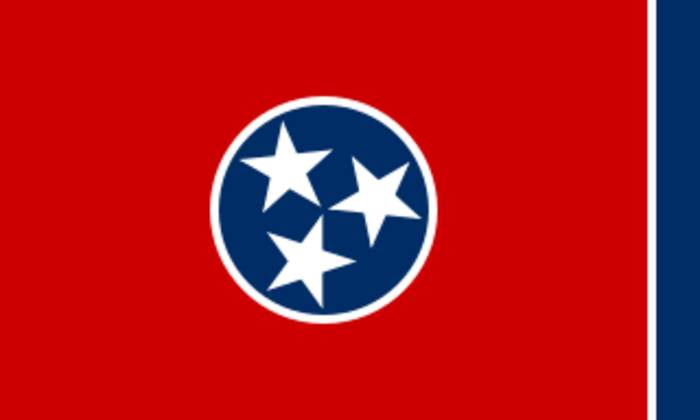 Tennessee, officially the State of Tennessee, is a state in the southeastern United States. Tennessee is the 36th largest by area and the 16th most populous of the 50 states. It is bordered by eight states, with Kentucky to the north, Virginia to the northeast, North Carolina to the east, Georgia, Alabama, and Mississippi to the south, Arkansas to the west, and Missouri to the northwest. The Appalachian Mountains dominate the eastern part of the state, and the Mississippi River forms its western border. Nashville is the state's capital and largest city, with a 2019 population of 670,820 and a 2019 metro population of 1,934,317. Tennessee's second largest city is Memphis, which had a population of 651,073 and metro population of 1,346,045 in 2019.


Posters wishing success for Kamala Harris seen in her native TN village

Posters wishing success for US vice-presidential candidate for Democratic party, Kamala Harris, put up in her native village Thulasenthirapuramin Tamil Nadu's Tiruvarur. Kamala Harris is the running..
Credit: ANI Duration: 01:51
Published
US presidential polls: Biden wins 192 electoral votes, Trump crawling at 114

As votes for US presidential elections are being counter, President Donald Trump and Republican nominee has won states of Indiana, Oklahoma, Kentucky, Tennessee, West Virginia, Arkansas, South Dakota,..
Credit: ANI Duration: 01:13
Published
Trump rallies in Nevada ahead of final debate

President Donald Trump implored supporters in Nevada on Sunday to cast ballots early in a state he narrowly lost in 2016, while Democrat Joe Biden urged North Carolina residents to "go vote today," as..
Credit: Reuters - Politics Duration: 01:27
Published
You Might Like



Coronavirus updates: Maryland State Police to enforce COVID restrictions; Los Angeles County stay-at-home order coming?; 257K US deaths

Shoppers are panic-buying, again. One Tennessee mayor is waiting for guidance from the "Holy Spirit." 257K U.S. deaths. Latest COVID news.




USATODAY.com - Published




Jon Pardi marries Summer Duncan in intimate Tennessee wedding after COVID-19 canceled May dream wedding

The "Ain't Always the Cowboy" singer Pardi married Summer Duncan in an intimate wedding Saturday night following COVID-19 safety protocols.




USATODAY.com - Published





'Our hearts are broken': Tennessee police mourn random shooting death of K-9 Officer Sjaak

K-9 Officer Sjaak was shot Tuesday when a suspect opened fire on him and his handler, Officer Justin Darby, seemingly at random, police say.




USATODAY.com - Published




Execution of only woman on federal death row delayed after her attorneys contract COVID-19

Two Tennessee public defenders caught COVID-19. They're too sick to prepare a last-ditch effort to save the life of the only woman on federal death row, judge finds.




USATODAY.com - Published




Missing Tennessee nine-year-old found alive after two days in the woods, barefoot with no jacket

Authorities reported Tuesday that Jordan Gorman, who was missing from Cheatham County, was found. He was cold and hungry but in good spirits.




USATODAY.com - Published




Dollywood's Smoky Mountain Christmas is going big, bright and safe for the holidays

Christmas at Dollywood features millions of holiday lights, musical shows and Santa Claus in Pigeon Forge, Tennessee.




USATODAY.com - Published





Indianapolis Colts break away from Tennessee Titans, force tie atop AFC South

The Colts are in a tie with the Titans for the AFC South lead after riding a strong second-half performance to a win over Tennessee.




USATODAY.com - Published





'Days of Our Lives' Cody Longo Arrested On Domestic Violence Charge

"Days of Our Lives" star Cody Longo came home drunk and shoved his wife ... at least that's what she told cops in Tennessee, who arrested him on a domestic assault charge, an allegation he denies. Law..




TMZ.com - Published





Wrongfully convicted Tennessee man released after 15 years in prison for 1998 murder case

Joseph Webster was convicted of the 1998 Nashville slaying of Leroy Owens but a judge ruled that new evidence will set Webster free.




USATODAY.com - Published




Tennessee family brings holiday cheer early with Christmas lights show

An Army veteran who used to fix radars found a new outlet in setting up elaborate Christmas lights. This year Mark Bacon and his wife, Alisha, decided to light their annual holiday showcase early due..




CBS News - Published





Alabama-LSU, Texas A&M-Tennessee are latest college football postponements due to COVID-19

Positive COVID-19 tests, contact tracing lead to two more major college football game postponements: Alabama-LSU and Texas A&M-Tennessee.




USATODAY.com - Published





Dispute over dog leads to 8 people and dog being shot

An argument that started over a dog led to a shooting that left eight people wounded in Tennessee, police said..




CBS News - Published





Jay Cutler's Reality Star Dog Goes Missing, QB Offers $1,000 Reward

Jay Cutler needs help -- the ex-NFL quarterback's beloved dog, Bane, has gone missing in Tennessee ... and he's asking everyone in the area to join the search to bring him home. Bane joined Cutler and..




TMZ.com - Published





NFL power rankings: Raiders, Seahawks rise as Titans tumble after Week 8

Decisive victory vaults Las Vegas back into Top 10 with Tennessee on verge of falling out. Seattle again NFC's top club.




USATODAY.com - Published





Southern farmers vote to back Trump, trade policy

In Tennessee and Alabama, farmers are again casting their ballots for President Donald Trump, whose defining economic act began a trade war with China. Some say the Trump administration's attention to..




USATODAY.com - Published





7-year-old girl, school bus driver die in Tennessee crash; multiple children injured

A fatal school bus crash in Meigs County has killed at least two people Tuesday afternoon, authorities said, and multiple children were injured.  




USATODAY.com - Published





School bus crash in Tennessee kills girl and driver

One student critically hurt in collision between the school bus and a utility service vehicle.




CBS News - Published





Tennessee voters with COVID-19 can now vote in-person at special sites under new guidelines

Tennessee election officials can allow voters with coronavirus to cast ballots at polling locations designated for voters with COVID-19.




USATODAY.com - Published




Fact check: Florida, Georgia, Idaho, South Dakota, Tennessee don't require masks statewide

A viral meme claiming five states are now "mask-free" is partly false. There are local rules in place about face coverings.




USATODAY.com - Published





Rare instruments played again for country music museum hit by COVID

After taking a financial hit due to COVID-19, the Country Music Hall of Fame and Museum turned to their collection of historic and rare instruments for help. The Nashville, Tennessee-based museum is..




USATODAY.com - Published





Ida B. Wells was driven out of Memphis in 1892. She might soon have her own statue there.

Ida B. Wells left Memphis, Tennessee, in 1892, forced to stay away from the city after threats were made on her life and her office was destroyed.




USATODAY.com - Published




College football winners and losers from Week 8 include Rutgers, Alabama and Indiana

The biggest winners and losers from Week 8 of the 2020 season, including Ohio State, Indiana and Tennessee.




USATODAY.com - Published




AP Analysis: Trump & Biden 'an actual debate'

President Donald Trump and Democratic presidential candidate Joe Biden held their final debate in Nashville, Tennessee on Thursday night. (Oct. 23)  




USATODAY.com - Published





USA TODAY Sports' Week 7 NFL picks: Do Steelers or Titans fall from ranks of unbeaten?

It's rare for two 5-0 teams to meet this late in season, but there might be more than a perfect start at stake for Pittsburgh and Tennessee.




USATODAY.com - Published





Voting across the US live updates: Poll workers prep for bad behavior; more than a million NY voters deemed inactive

Pennsylvania can count absentee ballots until Nov. 6. Tennessee poll worker turned away a BLM voter. Latest news on voting around the US.




USATODAY.com - Published





A federal court says Tennessee can't require first-time voters to appear in person at the polls.

A federal court exempted first-time voters in Tennessee from having to appear in person at the polls if they registered online or by mail.




NYTimes.com - Published





Tennessee poll worker fired after turning away voters in Black Lives Matter shirts, masks

A poll worker at the Dave Wells Community Center in Memphis was fired after turning away voters wearing 'Black Lives Matter' gear. Another worker quit shortly afterward.




USATODAY.com - Published





Kentucky dominates No. 17 Tennessee for first victory in Knoxville since 1984

Kentucky snapped a 17-game losing streak in Knoxville with its first win at Tennessee since 1984 by beating the Volunteers 34-7.




USATODAY.com - Published





Federal Judge Strikes Down Waiting Period for Abortion in Tennessee

The ruling, which called the state's 48-hour waiting period "gratuitously demeaning," came at a pivotal moment for abortion access, as the Senate considers Judge Amy Coney Barrett for the Supreme..




NYTimes.com - Published





Lessons From Tornadoes Help a Community Combat Covid

The same spirit of innovation that made it possible to track storms has helped a Tennessee county prepare for online learning and a return to classrooms.




NYTimes.com - Published





Tennessee Titans roll Buffalo Bills in first game after COVID-19 outbreak

The Titans held onto their unbeaten record by running over the Bills in Tennessee's first game since the start of a COVID-19 outbreak.




USATODAY.com - Published





Tennessee doctors removed a man's heart to save his life

Brian Pedigo received a total artificial heart in what a cardiologist called "the rarest and the highest-risk operation" for a heart patient.




USATODAY.com - Published




Titans' game against Bills delayed to Tuesday amid COVID-19 outbreak, per report

The Titans' COVID-19 outbreak has prompted further changes to the schedule, as Tennessee is now set to take on Buffalo next Tuesday.




USATODAY.com - Published





Two men with different backgrounds and political beliefs bike across America to show unity

Two Tennessee men are trying to bring the country together by biking across it. Andre Block, Sr. and Jonathan Williams do not agree on politics and come from different backgrounds. But they set out on..




CBS News - Published





The Mavericks say a band member was assaulted in Tennessee, reportedly for speaking Spanish

The Mavericks trumpet player Lorenzo Molina Ruiz posted online that he and his friend were attacked after they spoke Spanish to each other.




USATODAY.com - Published





As Titans' COVID-19 cases continue to mount, could game vs. Bills be in jeopardy?

Next up for the Titans? The Buffalo Bills and as positive COVID-19 cases have ballooned in Tennessee, there's now concern about the Week 5 game.




USATODAY.com - Published





Titans Vs. Steelers Pushed Until After Week 4 After 2 More Positive COVID-19 Tests

Tennessee and Pittsburgh will NOT be playing in Week 4 ... after one additional player and team staffer in the Titans organization tested positive for COVID-19. The matchup -- originally scheduled to..




TMZ.com - Published





NFL postpones Steelers-Titans game after another Tennessee player tests positive for COVID-19

Another Tennessee player has coronavirus, so league will reschedule game with Pittsburgh for later this season.




USATODAY.com - Published





Country Star Alan Jackson Selling Tennessee Estate for $23M

Alan Jackson -- one of the OG kings of country music -- is ready to get dethroned ... from his castle-like pad, that is, 'cause he's selling his massive estate. The two-time Grammy and 16-time CMA..




TMZ.com - Published





Guess Who This Singing Sweetie Turned Into!

Before this talented youngster was starring in a television show adaptation of a popular teen novel, she was just another pretty little kid showing off her singing skills in Memphis, Tennessee. This..




TMZ.com - Published





Dale Earnhardt Jr. Plane Crash Photos Show NASCAR Legend Truly Lucky To Be Alive

Federal investigators have released close-up photos of Dale Earnhardt Jr.'s plane after it crashed in 2019 ... and it's clear as day, the NASCAR legend is fortunate to be alive. Dale's jet smashed down..




TMZ.com - Published





Airman makes brother's birthday wish come true

Airman 1st Class Jocelyn McGuire travels from New Mexico to Tennessee to give her brother a birthday surprise.




USATODAY.com - Published





3 Air National Guard Members Killed in Plane Crash in Tennessee

The crash, which occurred near an airport 70 miles southeast of Nashville, is being investigated by the F.A.A. and the National Transportation Safety Board.




NYTimes.com - Published





Tennessee authorities are looking for a loose tiger after reported sightings in Knoxville

Local authorities in Knoxville, Tennessee, are working to locate a tiger that was spotted by a Knox County Sheriff's Deputy.




USATODAY.com - Published




Tiger on the loose in Knoxville, Tennessee

Zoo Knoxville officials said all tigers at the zoo had been accounted for.




CBS News - Published