Republican National Committee
Top institution of the U.S. Republican Party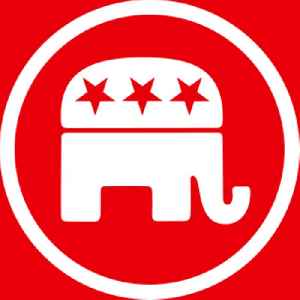 The Republican National Committee (RNC) is a U.S. political committee that leads the Republican Party of the United States. It is responsible for developing and promoting the Republican political platform, as well as coordinating fundraising and election strategy. It is also responsible for organizing and running the Republican National Convention. Similar committees exist in every U.S. state and most U.S. counties, although in some states party organization is structured by congressional district, allied campaign organizations being governed by a national committee. Ronna McDaniel is the current committee chairwoman.


Too soon to say if RNC will be safe -U.S. official

Stephen Hahn, the Food and Drug Administration commissioner, said on Sunday it was "too early to tell" if it would be safe for people to attend August's Republican National Convention in Jacksonville,..
Credit: Reuters Studio Duration: 01:43
Published
Republicans Pick Jacksonville, Florida, as Alternative Convention Site

The Republican National Committee (RNC) announced the location of the site on Thursday.
Credit: Cover Video STUDIO Duration: 00:52
Published
Donald Trump Says RNC Will Not Take Place in North Carolina

On Tuesday, Trump announced that Charlotte, North Carolina, would no longer be hosting the 2020 Republican National Convention (RNC).
Credit: Cover Video STUDIO Duration: 01:26
Published
Trump Says Republican National Convention Will Not Be In North Carolina

President Donald Trump announced on Tuesday the Republican National Convention (RNC) will be moved to a different state. The convention which is set for August in North Carolina is being moved because..
Credit: Wochit News Duration: 00:37
Published
Three States Offer To Host RNC If Trump Pulls Out Of NC

Republicans in Georgia, Texas, and Florida are offering to host the party's national convention. That is if Donald Trump makes good on his threat to move the event from North Carolina. Trump has made..
Credit: Wochit News Duration: 00:41
Published
You Might Like



Iowa Sen. Chuck Grassley 'especially disappointed' with Big Ten's conference-only decision for fall sports

Chuck Grassley tweeted his criticism of the Big Ten three days after he announced he will not attend this year's RNC, citing coronavirus concerns.




USATODAY.com - Published





G.O.P. Platform, Rolled Over From 2016, Condemns the 'Current President'

The party's 2020 platform includes more than three dozen unflattering references to those in power at the White House, after the Republican National Committee chose not to change its language from..




NYTimes.com - Published





Republicans close to decision on new host city for Trump and the Republican National Convention

RNC chairwoman Ronna McDaniel on Tuesday mentioned Oklahoma, Georgia, Florida, Texas, Tennessee as potential host states.




USATODAY.com - Published





2020 Republican convention: RNC sends Gov. Roy Cooper 'safety protocols' for Charlotte event

There is no mention of face masks or social distancing in the letter. which are both currently the state's guidelines.




USATODAY.com - Published





Three Republican groups sue California governor over mail-in-vote order

The Republican National Committee (RNC) and two other Republican groups on Sunday filed a lawsuit against California Governor Gavin Newsom over his executive orders to use mail-in ballots for the..




Reuters - Published





RNC Chair Ronna McDaniel tested for coronavirus, went to Trump's Mar-a-Lago, Senate lunch

The Republican chairwoman came down with flu-like symptoms and is self-quarantining at her home in Northville awaiting test results.




USATODAY.com - Published





'Go to hell,' Donna Brazile tells RNC chair Ronna McDaniel over claim primary 'rigged' against Sanders

"We are not trying to prevent anyone from becoming the nominee. If you have the delegates and win, you will win," Brazile said.




USATODAY.com - Published





Trump Campaign and R.N.C. Spent $9 Million in 4th Quarter, Mostly on Digital Ads

The groups supporting the president's re-election bid also made 150 payments to Trump-owned entities and properties, Federal Election Commission filings show.




NYTimes.com - Published




Donald Trump's allies target Democrats in swing districts with anti-impeachment ad blitz

Donald Trump's reelection campaign and the Republican National Committee are targeting Democrats from districts that voted for the president in 2016.




USATODAY.com - Published





RNC spends $95,000 on copies of Donald Trump Jr.'s new book

The Republican National Committee spent nearly $95,000 on copies of Donald Trump Jr.'s new book "Triggered"




CBS News - Published





Republican National Committee spent nearly $100K on Donald Trump Jr.'s book: report

An FEC filing shows that the RNC spent almost $100,000 on Donald Trump, Jr.'s book "Triggered" as part of an incentive scheme for GOP donors.




USATODAY.com - Published





Possible pay-to-play scheme for ambassador role in Trump administration uncovered by CBS News

A CBS News investigation has uncovered a possible "pay-to-play" scheme involving the Republican National Committee and President Trump's nominee for ambassador to the Bahamas. Jim Axelrod..




CBS News - Published





CBS News uncovers possible pay-to-play scheme for ambassador role

A CBS News investigation has uncovered a possible pay-to-play scheme involving President Trump's nominee for U.S. Ambassador to the Bahamas. The nomination of billionaire Doug Manchester was stalled in..




CBS News - Published





Despite lawsuits, RNC will hold winter meetings at a Trump hotel

Mr. Trump is accused of illegally profiting off the presidency




CBS News - Published





Open: This is Face the Nation, November 4th

This week on "Face the Nation," moderator John Dickerson interviews Secretary of State Mike Pompeo, Sen. Mark Warner, and RNC Chairwoman Ronna McDaniel. With just two more days until the crucial..




CBS News - Published





RNC Chair Ronna McDaniel defends Trump immigration ad

The head of the Republican National Committee, Ronna McDaniel, joins John Dickerson from the RNC headquarters in Washington, D.C., and defends President Trump's messaging on immigration.




CBS News - Published





Republicans Seek to Swamp Democratic Offices With Anti-Impeachment Calls

The Republican National Committee's effort was meant to tie up phone lines of congressional Democrats as part of a broader plan to defend the president.




NYTimes.com - Published





RNC defends Trump's attacks on Baltimore, Elijah Cummings

As Democratic presidential candidates debate in Detroit, President Trump is keeping up his attacks on Baltimore. Mr. Trump has spent the past few days criticizing the city and Maryland Democratic Rep...




CBS News - Published




RNC spokesperson on Trump fundraising and strategy in time of impeachment

President Trump hauled in $125 million during the last three months. Liz Harrington, the spokesperson, for the Republican National Committee joins "Red & Blue" to discuss fundraising and campaign..




CBS News - Published





Trump campaign and RNC raised $125 million in the third quarter

News of the large fundraising numbers comes amid an impeachment inquiry that Trump and his allies have been using to fire up his base




CBS News - Published





RNC ramps up ground game to bolster Trump campaign in key states

The RNC and the Trump Victory Committee launched an "Open for Business" tour last week




CBS News - Published





Trump Campaign Sues Over California's Requirement to Release Tax Returns

Lawsuits by the Trump campaign and the Republican National Committee challenge a law with a new requirement for candidates to appear on primary ballots.




NYTimes.com - Published





Trump holds rally in North Carolina — live updates

President Trump's campaign and the Republican National Committee are beefing up staffing in the Tar Heel State




CBS News - Published





Trump and Republican National Committee raise $105 million

"Our massive fundraising success is a testament to the overwhelming support for President Trump," says campaign manager




CBS News - Published




2020 Daily Trail Markers: RNC sends cease-and-desist to fundraising site

The Republican National Committee sent a cease-and-desist letter to the fundraising website Give.GOP




CBS News - Published





Trump Raises $105 Million, Much of It in Small Donations

The figure reported by the president's campaign and the Republican National Committee dwarfed President Barack Obama's fund-raising during the same period in 2011.




NYTimes.com - Published





Prominent Republicans File Brief to Support L.G.B.T. Rights in Legal Case

The group — including Meg Whitman, Mark McKinnon and Ken Mehlman, the former chairman of the Republican National Committee — says the Civil Rights Act bans such discrimination.




NYTimes.com - Published




Trump and R.N.C. Raised $105 Million in 2nd Quarter, Outdoing Obama

The figure reported by the president's campaign and the Republican National Committee dwarfed President Barack Obama's fund-raising during the same period in 2011.




NYTimes.com - Published





9/9: Mike Pence, Mark Warner, Tom Perez

This week on "Face the Nation," moderator Margaret Brennan interviews Vice President Mike Pence, Sen. Mark Warner, DNC Chair Tom Perez and RNC Chair Ronna McDaniel. Plus, Mark Leibovich of the New York..




CBS News - Published