Berkshire Hathaway
American multinational conglomerate holding company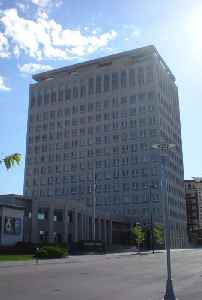 Berkshire Hathaway is an American multinational conglomerate holding company headquartered in Omaha, Nebraska, United States. The company wholly owns GEICO, Duracell, Dairy Queen, BNSF, Lubrizol, Fruit of the Loom, Helzberg Diamonds, Long & Foster, FlightSafety International, Pampered Chef, Forest River and NetJets, and also owns 38.6% of Pilot Flying J; 26.7% of the Kraft Heinz Company, and significant minority holdings in American Express (17.6%), Wells Fargo (9.9%), The Coca-Cola Company (9.4%), Bank of America (6.8%), and Apple (5.22%). Since 2016, the company has acquired large holdings in the major US airline carriers, and is currently the largest shareholder in United Airlines and Delta Air Lines, and a top three shareholder in Southwest Airlines and American Airlines. Berkshire Hathaway has averaged an annual growth in book value of 19.0% to its shareholders since 1965, while employing large amounts of capital, and minimal debt.


Dow sheds 900 points at the open

The Dow plunged more than 900 points at the market open Monday after a sharp rise in coronavirus cases outside China stoked fears of a bigger impact to global growth. Fred Katayama reports.
Credit: Reuters Studio Duration: 01:28
Published
You Might Like
Warren Buffett says 'I'm a Democrat,' and would have 'no trouble' voting for Bloomberg
Warren Buffett, the chairman of Berkshire Hathaway Inc and one of the world's most admired investors, said on Monday he is a Democrat, and would have "no trouble" voting for fellow billionaire Michael..
Reuters - Published
Warren Buffett calls coronavirus outbreak 'scary stuff,' but says he won't be selling stocks
Warren Buffett, the billionaire chairman of Berkshire Hathaway Inc , on Monday called the coronavirus outbreak "scary stuff" but said that it was no time to sell stocks despite the threat of a..
Reuters - Published
Warren Buffett 'almost certain' stocks will outperform bonds if interest rates remain low
In Warren Buffett annual letter to shareholders, Berkshire Hathaway reported a $29 billion profit in the fourth quarter.
USATODAY.com - Published
Owners of solar company that caused loss for Buffett plead guilty over Ponzi scheme
The husband-and-wife owners of DC Solar, a California solar company that caused Warren Buffett's Berkshire Hathaway Inc to take a $377 million charge last year, pleaded guilty on Friday to involvement..
Reuters - Published
Sunday Profile: Warren Buffett
Jane Pauley interviews the chairman of the board, president and CEO of Berkshire Hathaway, the world's third-largest public company, who may be the most successful investor in history. And to hear him..
CBS News - Published
U.S.-China trade war hits a Warren Buffett investment
A $1.4 billion Berkshire Hathaway stake in a Chinese electric vehicle manufacturer has already started to stall
CBS News - Published