Tim Kaine
United States Senator from Virginia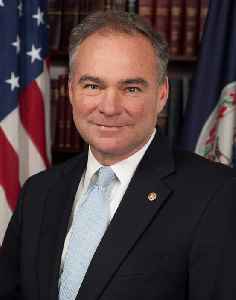 Timothy Michael Kaine is an American attorney and politician serving as the junior United States Senator from Virginia since 2013. A member of the Democratic Party, he previously served as the 38th Lieutenant Governor of Virginia from 2002 to 2006 and 70th Governor of Virginia from 2006 to 2010. Kaine was the Democratic nominee for Vice President of the United States in the 2016 election.


Full interview of Sen. Tim Kaine on "Face the Nation"
"Face the Nation" moderator Margaret Brennan spoke with Sen. Tim Kaine for the show's March 17, 2019 broadcast. The Virginia Democrat had been visiting the Colombia-Venezuela border.*
CBS News - Published
Kaine says Trump's rhetoric "emboldens" white nationalists
Sen. Tim Kaine, D-Virginia, joins Margaret Brennan from the Colombian border to discuss the humanitarian crisis in Venezuela and the massacre in New Zealand.
CBS News - Published
After NZ shootings, a focus on Trump's speech
The White House on Sunday rejected any attempt to link the U.S. president or his rhetoric to a shooter who killed 50 people in two New Zealand mosques. Linda So reports.
Credit: Reuters Studio Duration: 03:01Published
Rep. Schiff Reintroduces Bill to Flag Presidential Pardons
Rep. Adam Schiff reintroduced legislation that would let Congress know if a president pardoned someone closely connected to an investigation.
Credit: Newsy Studio Duration: 01:09Published
Pompeo pressed on Khashoggi murder probe
The United States is still probing the murder of Saudi journalist Jamal Khashoggi, Secretary of State Mike Pompeo said on Monday, as U.S. lawmakers continued to demand stronger U.S. action to punish..
Credit: Reuters Studio Duration: 01:25Published
Open: This is Face the Nation, March 17
This week on "Face the Nation," moderator Margaret Brennan will talk to acting White House chief of staff Mick Mulvaney and Sen. Tim Kaine. Plus, former U.S. Attorney for the Southern District of New..
CBS News - Published
Full transcript: Mar. 17
Mick Mulvaney, Sen. TIm Kaine, Preet Bharara, Ed O'Keefe, Jamal Simmons, Amy Walter, Ramesh Ponnuru, Mark Landler, and James Brown appeared on this broadcast of "Face the Nation."
CBS News - Published
Sunday: Kaine, Bharara
Sen. Tim Kaine and Preet Bharara to appear Sunday on "Face the Nation"
CBS News - Published
Search this site and the web:
You Might Like