Ohio
State in the northeastern United States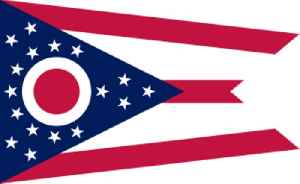 Ohio is a state in the East North Central region of the Midwestern United States. Of the fifty states, it is the 34th largest by area, the seventh most populous, and the tenth most densely populated. The state's capital and largest city is Columbus. Ohio is bordered by Lake Erie to the north, Pennsylvania to the east, West Virginia to the southeast, Kentucky to the southwest, Indiana to the west, and Michigan to the northwest.


Here's Looking At You? DHS Used Aircraft, Drones To Surveil BLM Protests

Gizmodo reports the Department of Homeland Security deployed aircraft in Dayton, Ohio, New York City, Buffalo, and Philadelphia, among other cities. The drones and aircraft were taking footage of..
Credit: Wochit News Duration: 00:35
Published
Baby owl crawls up the leg of his human father

Baby Oliver was found on June 9 and was adopted by Gilbert Blackwell in Cleveland, Tennessee. Video source: Gilbert Blackwell
Credit: Reuters - Viral Video Duration: 00:18
Published
Senator Ted Cruz Challenges Ron Perlman In Behalf Of Jim Jordan

Republican Sen. Ted Cruz challenged actor Ron Perlman to a wrestling match with Ohio Rep. Jim Jordan. According to Business Insider, Cruz did this because Perlman called Jordan ugly. It first began..
Credit: Wochit News Duration: 00:32
Published
Tanker truck plows into Minneapolis protesters

A tanker truck drove into a throng of protesters on a closed interstate near Minneapolis on Sunday, with the driver pulled from his rig and beaten, amid another night of demonstrations against police..
Credit: Reuters - Politics Duration: 01:23
Published
Supreme Court Declines Blocking Prisoner Transfer Plan

WASHINGTON (Reuters) - The U.S. Supreme Court on Tuesday declined to block a judge's ruling that requires the U.S. government to evaluate moving up to 837 potentially at-risk prisoners out of a..
Credit: Wochit News Duration: 00:32
Published
Anteater enjoys hanging around on playground bars

American zoo shows closeups of a six-year-old anteater with an impressive tail
Credit: Reuters - Viral Video Duration: 01:07
Published
Beloved Actor, Comedian Fred Willard Dead At 86

Actor, comedian and "Anchorman" star Fred Willard died in his sleep on Friday night. He was 86. According to Business Insider, Willard made his television debut more than fifty years ago in 1966. A..
Credit: Wochit News Duration: 00:39
Published
Georgia's Governor Holds Small Approval Rating After Reopening The State

A Washington Post-Ipsos poll revealed Georgia Gov. Brian Kemp has low support from his constituents. According to Business Insider, people were not happy about how he handled the coronavirus pandemic..
Credit: Wochit News Duration: 00:32
Published
Dog plays board game in Ohio

Anya the German Shepherd nimbly removes sticks in a game designed for children
Credit: Reuters - Viral Video Duration: 00:27
Published
You Might Like



Ohio lawmaker asks residents to 'STOP GETTING TESTED!' for COVID-19 despite state guidance

On Tuesday, Rep. Vitale took to Facebook to write: "This is what happens when people go crazy and get tested. STOP GETTING TESTED!"  




USATODAY.com - Published





'Egregious conduct': Ohio sheriff's deputy kicked jail inmate in the head with his work boot, video shows

"Video from the Justice Center shows Franklin immediately kicking Ballachino one time in the head," said Hamilton County Prosecutor Joe Deters.




USATODAY.com - Published




Christopher Columbus statue removed from Columbus City Hall

The large statue, which sat in front of City Hall in Ohio's capital for 65 years, "will be placed in safekeeping at a secure city facility."




USATODAY.com - Published




Investigators solve 1982 murder of 8-year-old Ohio girl, link DNA to dead killer

Kelly Prosser was reportedly abducted while walking home from Indianola Elementary School on September 20, 1982.




USATODAY.com - Published





Pence pitches 'American comeback' at Ohio plant

The U.S. economy is rebounding well from the coronavirus pandemic despite a surge in cases that is threatening the recovery, Vice President Mike Pence said Thursday during a visit at an Ohio assembly..




USATODAY.com - Published





'The wrong place at the wrong time': Ohio police charge 3 in shooting death of 18-year-old Na'Kia Crawford

The shooting death of Ohio 18-year-old Na'Kia Crawford appears to be a case of mistaken identity, according to police in Akron.




USATODAY.com - Published




Ohio couple who sold hand sanitizer on Amazon for 11 times the cost sued by state attorney general

The duo charged $39.44 for 8-ounce bottles of Purell Advanced Hand Sanitizer Refreshing Gel, which cost $3.53 on Amazon prior to the pandemic.  




USATODAY.com - Published





Taco Bell says employees can wear Black Lives Matter masks after a worker was fired for wearing one

Taco Bell said it doesn't prohibit its employees from wearing Black Lives Matter masks after an Ohio worker says he was fired for wearing one.




USATODAY.com - Published





Ohio started reopening six weeks ago, but hasn't seen a coronavirus case surge. Why not?

Ohio has been reopening for more than a month but has yet to see a surge in new coronavirus cases.




USATODAY.com - Published





'It got ugly': What happened when Black Lives Matter protests came to small town Ohio

In Bethel, Ohio, peaceful protesters were seen by some as no different than looters. Here, the protesters' message was a challenge to a way of life.




USATODAY.com - Published




Ohio set to send all voters absentee ballot applications before presidential election

Ohio has taken the first step toward sending every registered voter in the state an application for an absentee ballot for November's presidential and gubernatorial election, Republican Secretary of..




Reuters - Published





Ohio Lawmaker Asks Racist Question About Black People and Hand-Washing

State Senator Stephen A. Huffman, a Republican and a doctor, speculated publicly about why "the colored population" has been disproportionately affected by the coronavirus.




NYTimes.com - Published





Ohio health director Amy Acton surprisingly resigns amid coronavirus pandemic

Ohio Gov. Mike DeWine said Dr. Amy Acton will become his chief health adviser, expressing how grateful he is for her service to the state.  




USATODAY.com - Published





GOP Ohio state senator uses racist language in discussing whether African Americans get COVID-19 more

"Could it just be that African Americans – the colored population – do not wash their hands as well as other groups?" asked state Sen. Steve Huffman.




USATODAY.com - Published





Ohio governor sets reopening date for amusement parks, casinos after lawsuit

Amid the coronavirus pandemic, Ohio Gov. Mike DeWine has set a reopening date for amusement parks, water parks and casinos.




USATODAY.com - Published





Ohio Gov. DeWine says Ohio National Guard member suspended for expressing white supremacist views

"Anyone who displays a malice toward specific groups of Americans has no place in the Ohio National Guard," Ohio Gov. Mike DeWine said.




USATODAY.com - Published





U.S. Supreme Court justice Sotomayor puts hold on Ohio inmate transfers

U.S. Supreme Court Justice Sonia Sotomayor on Thursday put on hold a judge's ruling that would require the U.S. government to move up to 837 potentially at-risk prisoners out of a federal prison in..




Reuters - Published





Nine-year-old girl gets emotional during her powerful speech at Black Lives Matter protest

Nine-year-old Aubrey Johnson got emotional during a powerful speech she made at a Black Lives Matter protest in Ohio.




USATODAY.com - Published





Trump Campaign Looks at Electoral Map and Doesn't Like What It Sees

As polls show President Trump significantly trailing his rival, Joseph R. Biden Jr., his campaign is spending heavily in states, like Ohio, that it had hoped would not be competitive at all this year.




NYTimes.com - Published





Supreme Court refuses to block lower court order demanding action against coronavirus at Ohio prison

The high court's action represented its most significant intervention to date related to the deadly impact of COVID-19 inside federal prisons.




USATODAY.com - Published





U.S. Supreme Court declines to block at-risk prisoner transfer plan

The U.S. Supreme Court on Tuesday declined to block a judge's ruling that requires the U.S. government to evaluate moving up to 837 potentially at-risk prisoners out of a federal prison in Ohio due to..




Reuters - Published





Ohio nursing home staff self-isolated for 65 days to prevent COVID-19 spread. It worked.

The strict isolation measures paid off at SharonBrooke Assisted Living in Newark, as not a single member or resident was diagnosed with COVID-19.  




USATODAY.com - Published





Coronavirus live updates: Global cases top 5M; new pool rules ahead of Memorial Day; Ohio, West Virginia reopen indoor dining

The number of confirmed coronavirus cases around the world surpassed 5 million early Friday, according to Johns Hopkins University.




USATODAY.com - Published




Ohio high school senior missing after telling her mother she was headed to tanning appointment

Madison Bell's car was found in a church parking lot with the keys in the ignition. The 18-year-old went missing Sunday morning, police say.




USATODAY.com - Published




Paramedic mom returns home after 42 days in New York to surprise 3 kids

Leilani Williams-LeMonier's kids were shocked when she unexpectedly came home to Uniontown, Ohio after six weeks working as a paramedic in New York.




USATODAY.com - Published





Trump to replace D.C. prosecutor in controversial Stone, Flynn cases

President Donald Trump on Monday nominated a federal prosecutor in Ohio to become the next U.S. Attorney for the District of Columbia, succeeding one who has faced growing criticism over his handling..




Reuters - Published





Trump to nominate a top Ohio prosecutor as U.S. Attorney in D.C.: official

President Donald Trump intends to nominate a top Ohio federal prosecutor as the new U.S. Attorney for the District of Columbia, an administration official confirmed on Monday.




Reuters - Published





Has a new designer opioid caused overdose deaths in Ohio?

The new opioid isn't a kind of fentanyl. But an Ohio coroner plans to test for it soon.




USATODAY.com - Published




Local businesses in Ohio reopen while staying safe

Small businesses in Columbus, Ohio are looking to the next phase as the state continues to deal with COVID-19 amid calls for a reopening of the economy. On Friday, some bakeries and barbershops..




USATODAY.com - Published





'He knew ... he could help': Ohio nurse on ventilator after treating COVID-19 patients in DC

Michael Rhodes came to D.C. to work as a nurse treating COVID-19 patients. Now he's on a ventilator, his fiancée says.




USATODAY.com - Published




Ohio restaurant installs shower curtains around tables to comply with state orders

As restaurants look towards reopening, one cafe owner hatched an idea: clear shower-curtain liners as dividers between tables.




USATODAY.com - Published





State and county fairs are at 'great risk,' but some kids keep prepping their animals

Ohio sisters Sadie and Savannah Binkley are preparing their hogs for the Pickaway County Fair. But it's uncertain they'll have a fair this summer.  




USATODAY.com - Published





Some Ohioans are rebelling against coronavirus health orders from Gov. DeWine

As Ohio slowly reopens, officials say the refusal of some residents to take the health warnings seriously could slow or even reverse the state's push to avoid the worst of coronavirus.  




USATODAY.com - Published





Coronavirus and Reopening: As Governors Urge Caution, G.O.P. Lawmakers Rebel

In Ohio, a Republican governor is facing an open revolt from members of his own party over whether to keep businesses closed.




NYTimes.com - Published





DNA samples lead to arrest in 1987 murder of 17-year-old Ohio girl: 'Great to see justice'

Using DNA to track down 67-year-old James E. Zastawnik, police made an arrest in the 1987 murder of an Ohio girl.




USATODAY.com - Published




'WineOSaur' delivers wine to those making a positive impact during coronavirus pandemic

Cathy Tasse dresses as a T-Rex every week to deliver wine around Cleveland, Ohio to those making a positive difference during the COVID-19 pandemic.




USATODAY.com - Published





U.S. states plow ahead with reopening; Trump warns death toll could hit 100,000

Ohio and other U.S. states on Monday planned to ease more restrictions on businesses even as President Donald Trump acknowledged that as many as 100,000 Americans could die in a pandemic that has also..




Reuters - Published





Tom Hanks calls Ohio college graduates 'chosen ones' in virtual commencement speech

Of course, it was Tom Hanks, newly recovered from coronavirus, who delivered the virtual commencement speech to make everyone cry.




USATODAY.com - Published





Texas, Ohio join array of U.S. states reopening their economies

Texas and Ohio pushed ahead on Friday with a phased relaxation of restrictions that U.S. states put in place weeks ago to curb the coronavirus pandemic, as Georgia took another step toward a full..




Reuters - Published





Ohio isn't off the table. It's still a battleground and that's bad news for Trump.

Republicans were premature to count Ohio as safe for Trump. His struggles there don't bode well for winning industrial swing states and a second term.




USATODAY.com - Published





Nationwide decontamination sites can recycle millions of N95 masks each day

How an Ohio couples' dinner conversation led to a $400 million federal contract to decontaminate millions of N95 masks.




USATODAY.com - Published





AP Top Stories April 29 A

Here's the latest for Wednesday April 29th: 1M confirmed coronavirus cases in US; US may require temperature & virus checks before some international flights; Biden wins Ohio Democratic primary;..




USATODAY.com - Published





Democrat Mfume retakes Maryland congressional seat in special election

Democrat Kweisi Mfume won a special U.S. congressional election in Maryland on Tuesday to finish the term of Democratic Representative Elijah Cummings, who died in October, while Ohio held mostly..




Reuters - Published





Joe Biden projected to win Ohio Democratic primary

Joe Biden's victory in Ohio was a foregone conclusion long before votes were tallied Tuesday, but Ohio voters appeared to have sealed the deal.




USATODAY.com - Published





Ohio votes largely by mail in primary delayed by COVID-19

Ohio was holding nominating contests largely by mail on Tuesday after voting originally scheduled for March 17 was delayed and in-person balloting curtailed, as the coronavirus pandemic further..




Reuters - Published