United States Environmental Protection Agency
Agency of the U.S. Federal Government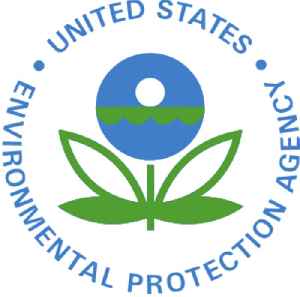 The Environmental Protection Agency (EPA) is an independent agency of the United States federal government for environmental protection. President Richard Nixon proposed the establishment of EPA on July 9, 1970 and it began operation on December 2, 1970, after Nixon signed an executive order. The order establishing the EPA was ratified by committee hearings in the House and Senate. The agency is led by its Administrator, who is appointed by the President and approved by Congress. The current Administrator is former Deputy Administrator Andrew R. Wheeler, who had been acting administrator since July 2018. The EPA is not a Cabinet department, but the Administrator is normally given cabinet rank.


Deadly Germs, Lost Cures: Citrus Farmers Facing Deadly Bacteria Turn to Antibiotics, Alarming Health Officials
In its decision to approve two drugs for orange and grapefruit trees, the E.P.A. largely ignored objections from the C.D.C. and the F.D.A., which fear that expanding their use in cash crops could fuel..
NYTimes.com - Published
Investigators Urge E.P.A. to Pursue Scott Pruitt for $124,000 in 'Excessive' Travel Costs
The E.P.A.'s inspector general found that Mr. Pruitt, the former head of the agency, had spent funds "without sufficient justification."
NYTimes.com - Published
Trump Ignites Gas, Oil, And Coal Projects
On Wednesday President Trump is set to issue two executive orders in order to speed gas, coal and oil projects delayed by coastal states as he intends to build support ahead of next year's election...
Credit: Wochit News Duration: 00:47Published
At a Flooded Air Force Base, Recovery Will Take Months
Recovery could take months or years at an Air Force Base hit by March's flooding. This, as another bomb cyclone is predicted to hit the Midwest.
Credit: Newsy Studio Duration: 03:24Published
Explosive and toxic factory fire lights up Melbourne sky
A massive explosion at a Melbourne industrial waste factory sends plumes of toxic smoke into the air, prompting a warning to residents to stay indoors and close windows. Rough Cut (no reporter..
Credit: Reuters Studio Duration: 01:11Published
Tesla Pays Out $86,000 In Settlement Over Hazardous Waste And Air Pollution
The Environmental Protection Agency slapped electric car manufacturer Tesla with an $86,000 settlement for violating "hazardous-waste and air-emissions standards" at its Fremont, California-based..
Credit: Wochit News Duration: 00:58Published
Duke To Pay $112 Million To U.S. Gov. For False Grant Applications
Huff Post reports Duke University has reached a $112.5 million settlement with the U.S. government, after it was accused of falsifying scientific research to claim millions in federal grants. The..
Credit: Wochit News Duration: 01:03Published
Duke University to Pay $112M Falsified Research Settlement
According to the DOJ, Duke "knowingly" falsified data in order to claim millions of dollars in federal grant funding.
Credit: Newsy Studio Duration: 01:05Published
New service sells brand-name products without plastic containers
The Environmental Protection Agency says only about 9 percent of the plastic created in the U.S. is recycled
CBS News - Published
Search this site and the web:
You Might Like