Oklahoma
State of the United States of America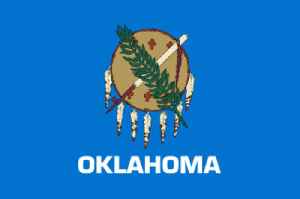 Oklahoma is a state in the South Central region of the United States, bordered by Kansas on the north, Missouri on the northeast, Arkansas on the east, Texas on the south, New Mexico on the west, and Colorado on the northwest. It is the 20th-most extensive and the 28th-most populous of the fifty United States. The state's name is derived from the Choctaw words okla and humma, meaning "red people". It is also known informally by its nickname, "The Sooner State", in reference to the non-Native settlers who staked their claims on land before the official opening date of lands in the western Oklahoma Territory or before the Indian Appropriations Act of 1889, which dramatically increased European-American settlement in the eastern Indian Territory. Oklahoma Territory and Indian Territory were merged into the State of Oklahoma when it became the 46th state to enter the union on November 16, 1907. Its residents are known as Oklahomans, and its capital and largest city is Oklahoma City.


Jackson leads No. 1 Baylor women in 87-53 win over Oklahoma
Jackson scores season-high 24 points and the top-ranked Baylor women beat Oklahoma 87-53 for their 36th consecutive Big 12 Conference victory
USATODAY.com - Published
Bandoo leads Baylor past Oklahoma to end two-game skid
Devonte Bandoo scored 19 points, and Baylor ended a two-game losing streak, 59-53 over Oklahoma on Monday
USATODAY.com - Published
Striking Los Angeles teachers rally for better pay
Tens of thousands of striking Los Angeles teachers rallied near City Hall on Friday, joined by parents and students as contract talks the mayor called "productive" resumed behind closed doors after a..
Credit: Reuters Studio Duration: 01:48Published
Elizabeth Warren Campaigns In Iowa For 2020 Presidential Race
Senator Elizabeth Warren made a weekend visit to Iowa on Saturday, unofficially kicking off her campaign trail for president in 2020. Reuters reports Warren told the crowds stories of her working-class..
Credit: Wochit News Duration: 00:41Published
Warren takes step to challenge Trump in 2020
Senator Elizabeth Warren, a progressive Democrat who has exchanged stinging criticism with President Donald Trump, said she has formed an exploratory committee to run for president in 2020. Colette..
Credit: Reuters Studio Duration: 01:51Published
Police use pepper balls on angry crowd after Travis Scott postpones sold-out Tulsa concert
A sold-out Travis Scott concert in Tulsa, Oklahoma, ended with a bang, but not in a good way.
USATODAY.com - Published
Moretti leads No. 18 Texas Tech past Oklahoma 66-54
Davide Moretti scores 14, leads No. 18 Texas Tech past Oklahoma 66-54
USATODAY.com - Published
Search this site and the web:
You Might Like