Anthony Bourdain
American chef and travel documentarian (1956–2018)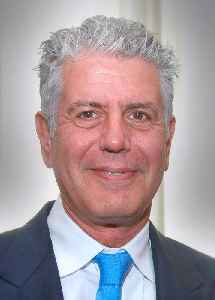 Anthony Michael Bourdain was an American celebrity chef, author, journalist, and travel documentarian who starred in programs focusing on the exploration of international culture, cuisine, and the human condition. Bourdain was a 1978 graduate of The Culinary Institute of America and a veteran of a number of professional kitchens in his long career, which included many years spent as an executive chef at Brasserie Les Halles in Manhattan. He first became known for his bestselling book Kitchen Confidential: Adventures in the Culinary Underbelly (2000).


You Might Like
Chef David Chang on his revealing new memoir
Anthony Mason talks to six-time James Beard Award winner Chef David Chang about his new memoir, "Eat a Peach," the restaurant industry's uncertain future, growing up, his anger and mental health,..
CBS News - Published
Anthony Bourdain's chef's knife sells for over $230,000
Over 200 of the star's possessions were up for grabs in the auction
CBS News - Published
From 2007: Anthony Bourdain, the culinary bad boy
In a story which originally aired on "Sunday Morning" on September 30, 2007, correspondent Lesley Stahl profiles the celebrity chef and host of "No Reservations" Anthony Bourdain, whose adventurous..
CBS News - Published
Chang says show honors Bourdain without stealing
Restaurateur and TV personality David Chang says his new Netflix show, "Breakfast, Lunch and Dinner," pays homage to the late Anthony Bourdain's Emmy-winning series "Parts Unknown." (Oct. 31)  
USATODAY.com - Published
Anthony Bourdain: Culinary Institute of America dedicates main campus hallway in his honor
The CIA in Hyde Park has honored one of its most famous graduates, the late Anthony Bourdain, by naming a main campus hallway after him.
USATODAY.com - Published
Ronan Farrow recalls feeling 'inspired' by Anthony Bourdain, questions Megyn Kelly's firing
In his headline-making new book "Catch and Kill," Ronan Farrow shares insight about Anthony Bourdain, Harvey Weinstein, Megyn Kelly and Tom Brokaw.
USATODAY.com - Published
Anthony Bourdain's keepsakes to be auctioned off
The auction will benefit students who attend the late chef's alma mater, the Culinary Institute of America
CBS News - Published
Renowned chef Anthony Bourdain found dead in apparent suicide at 61
TV celebrity and food writer was found dead in his hotel room in France while working on his series "Parts Unknown"
CBS News - Published
Mementos from late chef Anthony Bourdain go up for auction
A year after celebrity chef and traveling TV personality Anthony Bourdain's death, some of his belongings are going up for auction for a good cause. CBSN New York's Christina Fan reports in East..
CBS News - Published
Anthony Bourdain's friends declare June 25 "Bourdain Day"
On what would've been his 63rd birthday, Anthony Bourdain's friends want fans to celebrate him
CBS News - Published