West Hollywood, California
City in California, United States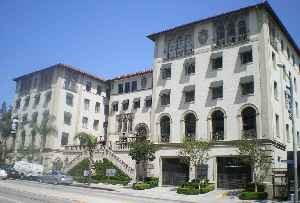 West Hollywood, commonly referred to as WeHo, is a city in Los Angeles County, California, United States. Incorporated in 1984, it is home to the Sunset Strip. As of the 2010 U.S. Census, its population was 34,399. It is considered one of the most prominent gay villages in the United States.


Marijuana is on the menu at the nation's first cannabis cafe
At Lowell Farms Cafe in West Hollywood, California, customers can order marijuana as well as standard food and drinks. CBS News' Chris Martinez checked it out on opening night.
CBS News - Published
America's first cannabis café offers marijuana with meals
At the Lowell Café in West Hollywood, California, you can order pot to pair with your meal. KCAL-TV's Jeff Nguyen reports.
CBS News - Published
Democratic donor arrested after multiple men overdose in his home
A prominent Democratic donor is accused of running a drug den out of his Southern California home. Ed Buck is being held on $4 million bail after his arrest overnight. Two men have died in his West..
CBS News - Published
Democratic donor Ed Buck charged with running 'drug den' after another man overdosed in Los Angeles home
At least three men have overdosed, two of them fatally, at the West Hollywood home of Ed Buck, Los Angeles prosecutors say.
USATODAY.com - Published
Prominent Democratic donor charged with running deadly drug den
L.A. authorities say Ed Buck ran it out of his West Hollywood apartment, where two men fatally overdosed, and preyed mainly on homeless men to engage in sexual fantasies
CBS News - Published
2nd Man Found Dead in Ed Buck's Home Overdosed on Methamphetamine
Timothy Dean, 55, like Gemmel Moore, 26, died of an accidental methamphetamine overdose in the West Hollywood apartment, according to the Los Angeles County Sheriff's Department.
NYTimes.com - Published
Behind the scenes with streaming TV and Pluto TV
Home screens for streaming TV services and a visit to Pluto's headquarters in West Hollywood, California
USATODAY.com - Published
Rapper Rich the Kid doing 'OK' after armed robbery outside of West Hollywood studio
A representative for the 26-year-old rapper, born Dimitri Roger, told USA TODAY that "Rich is OK" following the attack outside of the esteemed Westlake Recording Studios.
USATODAY.com - Published
You Might Like