Mid-Atlantic (United States)
Region of the United States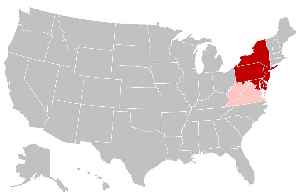 The Mid-Atlantic, comprising the Middle Atlantic states or the Mid-Atlantic states, is a region of the United States generally located between New England and the South Atlantic portion of the Southeastern States. Its exact definition differs upon source, but the region usually includes New York, New Jersey, Pennsylvania, Delaware, Maryland, Washington, D.C., Virginia, and West Virginia. When discussing climate, Connecticut is sometimes included in the region, since its climate is closer to the Middle Atlantic states than the New England states. The Mid-Atlantic has played an important role in the development of American culture, commerce, trade, and industry.


Torrential rain and damaging winds hit mid-Atlantic
More than 400,000 people across the mid-Atlantic and Northeast are without power after severe storms slammed the regions. The storms tore down trees and power lines, causing severe flooding in some..
CBS News - Published
Powerful coastal storm known as a 'bomb cyclone' will blast the Northeast from New York to Maine
A powerful storm - created by a bombogenesis - will unleash rain and winds from the mid-Atlantic to New England at the end of the week
USATODAY.com - Published
Azores escape major damage as hurricane moves away
Hurricane Lorenzo was moving rapidly away from the Azores after it struck the mid-Atlantic islands early on Wednesday, causing damage ranging from power outages to a partially destroyed pier.
Reuters - Published
Isn't It Fall Yet? 90-Degree Heat Scorches Much of the Nation on Oct. 1
Unseasonably hot, humid weather dominated across the South, the Ohio Valley and the Middle Atlantic states on Tuesday, breaking records and closing some schools.
NYTimes.com - Published
Portugal's Azores brace for impact of category 4 hurricane Lorenzo
As hurricane Lorenzo moves closer, Portugal's Azores archipelago is bracing for strong winds, heavy rain and towering waves and the country's meteorology agency IPMA said there was more than an 80%..
Reuters - Published
Intense storms pound the Northeast
Severe storms slammed the East Coast and brought dangerous flash flooding, as the region cools down from a deadly, record-breaking heat wave. Powerful thunderstorms spread from Tennessee to Rhode..
CBS News - Published
You Might Like