Tim Cook
American business executive, CEO of Apple Inc.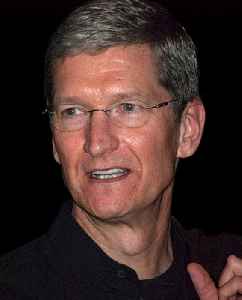 Timothy Donald Cook is an American business executive, philanthropist and industrial engineer. Cook is the chief executive officer of Apple Inc., and previously served as the company's chief operating officer under its cofounder Steve Jobs.


Apple Has reached A Value Of $2 trillion

Apple is now worth more than $2 trillion. The iPhone maker's stock hit the $2 trillion mark on Wednesday. The distinction makes it the first company in the United States to reach that milestone...
Credit: Wochit News Duration: 00:32
Published
Scrutiny approached 'with respect and humility' -Tim Cook

Apple CEO Tim Cook told a congressional hearing featuring the CEOs of four of America's largest tech firms, "I am here today because scrutiny is reasonable and appropriate. We approach this process..
Credit: Reuters Studio Duration: 01:07
Published
You Might Like



10 questions Jeff Bezos, Sundar Pichai, Mark Zuckerberg and Tim Cook should have been asked

Bezos, Zuckerberg, Pichai and Cook could have been asked some real, pointed questions with relevance about today or antitrust concerns.




USATODAY.com - Published





4 Big Tech CEOs draw scrutiny on Capitol Hill

Four Big Tech CEOs - Facebook's Mark Zuckerberg, Amazon's Jeff Bezos, Sundar Pichai of Google and Tim Cook of Apple - are testifying on their companies' practices on the issue of market dominance in..




USATODAY.com - Published





Apple CEO Tim Cook talks about George Floyd video, social change ahead of 31st annual WWDC

Apple CEO Tim Cook spoke about the role smartphone cameras play in helping advance social progress, saying: "We put a camera in everybody's pocket."




USATODAY.com - Published





Apple's Tim Cook publishes open letter on racism, says company 'must do more'

In a letter published on Apple's website, CEO Tim Cook said his company 'must do more' to fight racism and promote diversity.




USATODAY.com - Published





Lady Gaga apologizes to Jimmy Fallon over awkward interview, calls Tim Cook for coronavirus donation

Lady Gaga is having an interview do-over with Jimmy Fallon after an awkward apperance on a previous episode. She also




USATODAY.com - Published





Apple shuts all stores outside China for two weeks due to coronavirus pandemic

Apple CEO, Tim Cook, also said workers will continue to receive pay in alignment with business as usual operations.




USATODAY.com - Published





Trump to break bread with Apple's Cook and other CEOs: sources

U.S. President Donald Trump will attend a breakfast meeting on Wednesday with Apple Inc Chief Executive Tim Cook and other business leaders on the sidelines of the annual meeting of the World Economic..




Reuters - Published




Apple will donate $2.5 billion to fight 'unsustainable' California housing crisis

Apple CEO Tim Cook says the company's donation is meant to help first-time home buyers, expand housing, and combat homelessness in Silicon Valley.




USATODAY.com - Published

Also reported by •CBS News


Inside Apple, part one

The technology giant's CEO, Tim Cook, addresses issues concerning his company including encryption technology, corporate taxes, and manufacturing products in China. Charlie Rose reports.




CBS News - Published





Apple selling more services and wearables, fewer smartphones

Tim Cook says the company is "very optimistic" about how the key holiday spending period is shaping up




CBS News - Published





U.S. lawmakers urge Apple to restore HKMap app used in Hong Kong

A bipartisan group of seven U.S. lawmakers including Senators Ted Cruz, Ron Wyden and Marco Rubio and Representative Alexandria Ocasio-Cortez on Friday urged Apple Inc Chief Executive Tim Cook to..




Reuters - Published




Apple CEO Tim Cook files brief at Supreme Court supporting DACA

Apple CEO Tim Cook filed a "friend of court" brief urging the U.S. Supreme Court to uphold protections for DACA recipients - immigrants who came to the U.S. as children. The court hears arguments in..




CBS News - Published





Apple CEO Tim Cook urges Supreme Court to preserve DACA program

Top executives at Apple - including CEO Tim Cook - have written a brief urging the U.S. Supreme Court to block the Trump administration from terminating the DACA program, an Obama-era policy that has..




CBS News - Published




Apple CEO Cook opposes Trump, backs 'dreamer' immigrants in Supreme Court

Apple Inc CEO Tim Cook on Wednesday filed a brief at the U.S. Supreme Court opposing President Donald Trump's effort to end a program that protects from deportation hundreds of thousands of immigrants..




Reuters - Published




Apple to keep making Mac Pro computers in the U.S.

CEO Tim Cook thanks Trump administration after receiving tariff exemptions for Chinese-made components




CBS News - Published





Trump had a 'very good meeting' with Apple's Tim Cook about tariffs on iPhones, devices

President Donald Trump said Apple CEO Tim Cook "made a very compelling argument" that tariffs on China will make it harder to compete with Samsung.




USATODAY.com - Published





Trump tweets about dinner with Apple CEO Tim Cook

President Trump announced he was having dinner with Apple CEO Tim Cook Friday and mentioned Apple "will be spending vast sums of money in the U.S. "




USATODAY.com - Published





Apple CEO Tim Cook talks all-time records and accelerating growth in wearables

Here are some of the catalysts behind the tech giant's return to growth.




USATODAY.com - Published





Tim Cook on the work still needed for LGBTQ equality

With Pride Parades happening across the country, Cook comments on how far gay rights have come in the 50 years since the Stonewall Riots and the road ahead




CBS News - Published




"Sunday Morning" Full Episode 6/30

This week's edition of "Sunday Morning," hosted by Mo Rocca, features Ted Koppel's cover story on an asylum seeker from Haiti and the army helping him make a home in the United States. Plus: Martha..




CBS News - Published





Apple CEO Tim Cook took shots at other tech companies in his Stanford commencement speech

In the commencement speech given at Stanford University, Cook said digital surveillance would have "stopped Silicon Valley before it got started."




USATODAY.com - Published





Apple CEO Tim Cook on what counts as too much screen time

In an interview with Norah O'Donnell, Apple CEO Tim Cook admitted he gets a report on how much screen time he's getting. He said what he found was "profound."




CBS News - Published





Tim Cook on immigration, tariffs and spending too much time on our phones

At the Worldwide Developers Conference, Apple unveiled a focus on user privacy, a new version of iOS and the end of iTunes. After his keynote address, CEO Tim Cook sat down with incoming "CBS Evening..




CBS News - Published




Apple CEO Tim Cook worries "fake news is not under control"

In an exclusive interview, Apple CEO Tim Cook spoke with incoming "CBS Evening News" anchor Norah O'Donnell about the problem of fake news as the 2020 presidential election approaches. O'Donnell joined..




CBS News - Published





Tim Cook: "We should all be concerned" about fake news

"I worry that the fake news is not under control," Apple CEO Tim Cook told CBS News' Norah O'Donnell




CBS News - Published





Tim Cook disputes claim Apple is a monopoly but says tech giant 'should be scrutinized'

During an interview with CBS News, Apple CEO Tim Cook disputed claims his company is a monopoly, but said the tech giant "should be scrutinized."




USATODAY.com - Published





Facing possible antitrust probe, CEO Tim Cook insists Apple is "not a monopoly"

CBS News' Norah O'Donnell, the incoming anchor and managing editor of the "CBS Evening News," sat down with Apple CEO Tim Cook in San Jose, California, for an exclusive interview after his keynote..




CBS News - Published




Tim Cook says Apple is "moving privacy protections forward"

In an interview with Norah O'Donnell, incoming anchor and managing editor of the "CBS Evening News," Apple CEO Tim Cook discussed the company's new focus on privacy. Apple announced it is building in..




CBS News - Published




Hollywood Producer Seeks to Raise Funds to Battle Anti-Abortion Laws

Peter Chernin sent an email seeking donations from entertainment power players like Jeff Bezos, Shonda Rhimes, Tim Cook, Ari Emanuel and Ted Sarandos.




NYTimes.com - Published





Apple Reveals Credit Card and TV Streaming Service

by Simon Baxendale - While Apple has partially led the way up till now in terms of modern technology, there has been one major market they haven't tapped into – video streaming. However,..




One News Page Staff - Published





Apple Acknowledges Worrying FaceTime Flaw on 'National Privacy Day'

by Alice Monroe - On Tuesday 29th, the US heralded what was known as 'National Privacy Day' – an initiative backed by the likes of Apple CEO Tim Cook, who took to Twitter to extoll..




One News Page Staff - Published