Qasem Soleimani
Iranian major general who commanded the Quds Force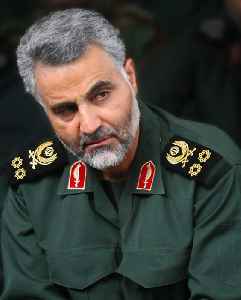 Qasem Soleimani was an Iranian major general in the Islamic Revolutionary Guard Corps (IRGC) and, from 1998 until his death in 2020, commander of its Quds Force, a division primarily responsible for extraterritorial military and clandestine operations. In his later years, he was considered by some to be the second most powerful person in Iran behind Ayatollah Khamenei and his right-hand man.


U.S. reducing troop numbers in Iraq

The military is downsizing its presence in Iraq from 5000 to 3200 troops, as the local military takes over security operations against remnants of the Islamic State militant group. Caroline Malone..
Credit: Reuters - Politics Duration: 01:23
Published
You Might Like



1/6: CBSN AM

Tehran vows revenge for death of Qassem Soleimani; Weinstein trial begins




CBS News - Published




Iran says it will execute man convicted of spying on Soleimani for CIA

An Iranian who spied for U.S. and Israeli intelligence on slain Revolutionary Guards commander Qassem Soleimani has been sentenced to death, Iran said on Tuesday, adding the case was not linked to..




Reuters - Published




Iran says it will execute informant who led CIA to Soleimani

An Iranian citizen who provided information to U.S. and Israeli intelligence services on the whereabouts of Iran's slain Revolutionary Guards commander Qassem Soleimani will be executed soon, Iran's..




Reuters - Published





Iran will execute CIA agent involved in commander Soleimani's killing: official

An Iranian citizen who provided information to U.S. and Israeli intelligence services on the whereabouts of Iran's slain top commander Qassem Soleimani will be executed soon, Iran's judiciary said on..




Reuters - Published




Iran changes tack in Iraqi politics after mastermind's assassination

Two diplomats are quietly leading Iran's push to influence politics in Iraq, in a departure from the more blunt enforcement employed by Qassem Soleimani, a top commander slain in a U.S. air strike.




Reuters - Published





U.S. offers $10 million for information on Hezbollah commander in Iraq

The United States on Friday offered up to $10 million for information on Sheikh Mohammad al-Kawtharani, a senior military commander of the Islamist group Hezbollah in Iraq who was an associate of the..




Reuters - Published





Fractures grow among Iraq militias, spell political retreat

In February, an Iraqi militia commander trained by Iran took over the empty office of his slain superior, Abu Mahdi al-Muhandis, killed weeks before alongside Iranian military mastermind Qassem..




Reuters - Published





To preserve Shi'ite power in Iraq, Iran-backed groups turn to renegade cleric

When the grip of Iraq's Tehran-backed Shi'ite Muslim parties and militias threatened to slip following the killing of Iranian general Qassem Soleimani, they turned to an unpredictable rival.




Reuters - Published





Killing of Iranian commander will bring liberation of Jerusalem: Guards spokesman

The killing of top Iranian commander Qassem Soleimani will lead to the liberation of Jerusalem, the spokesman for the elite Revolutionary Guards said on Thursday, according to the Tasnim news agency.




Reuters - Published




Senate poised to pass bill curbing Trump's war powers with Iran after Soleimani strike, but a veto is likely

The Senate is expected to approve a resolution in the coming days that would restrict President Donald Trump's ability to wage war with Iran.




USATODAY.com - Published





Tehran-backed Hezbollah steps in to guide Iraqi militias in Soleimani's wake

Shortly after Iranian Major General Qassem Soleimani was killed in a U.S. drone strike in Iraq, the Tehran-backed Lebanese organization Hezbollah urgently met with Iraqi militia leaders, seeking to..




Reuters - Published





Slain commander Soleimani sought stability: Iranian president

Qassem Soleimani, the Iranian military commander killed in a U.S. drone strike on Jan. 3 in Baghdad, had sought to bring stability to the Middle East, Iranian President Hassan Rouhani said on Monday.




Reuters - Published




Maj. Gen. Qassim Suleimani, who led Iran's Quds force before he died in a targeted killing ordered by President Trump, "directed the December assault on United States Forces in Iraq, and was actively planning new attacks."




NYTimes.com - Published




In death, Iran's Soleimani bequeaths perilous dilemma for Iraq

BAGHDAD (Reuters)- - A month after a U.S. missile killed him, Qassem Soleimani looms as large over Iraq's fractured democracy as he ever did alive.




Reuters - Published





Iraq says it resumes anti-Islamic State operations with U.S. coalition

Iraq's military said on Thursday it was resuming operations with the U.S.-led coalition against Islamic State, which it had halted after the killing of Iranian General Qassem Soleimani by U.S. forces..




Reuters - Published




'Another endless war'? House to vote on curbing Trump's ability to strike Iran, other targets

The House votes will renew the heated debate over President Trump's decision to authorize a strike killing Iranian Gen. Qasem Soleimani.




USATODAY.com - Published





Pentagon raises number of troops that suffered brain injuries in Iran strike to 50

The missiles were launched in retaliation for a U.S. operation that killed Gen. Qasem Soleimani, Iran's most powerful military commander.




USATODAY.com - Published





U.S. threat to kill Soleimani successor a sign of 'governmental terrorism': Iran foreign ministry spokesman

The U.S threat to kill the successor to Iran's General Qassem Soleimani is a sign of "America's targeted and governmental terrorism", Iran's Foreign Ministry spokesman Abbas Mousavi said on Thursday.




Reuters - Published





U.S. says no uptick in violence from Islamic State in Syria, Iraq

The United States has seen no uptick in Islamic State activity in Syria and Iraq, U.S. special representative for Syria James Jeffrey said on Thursday, weeks after a U.S. drone strike killed Iranian..




Reuters - Published





Successor to slain Iran general faces same fate if he kills Americans: U.S. envoy

The U.S. special representative for Iran said the successor to Qassem Soleimani, who was killed in a U.S. drone strike, would suffer the same fate if he followed a similar path of killing Americans,..




Reuters - Published




Soleimani killing adds dangerous new dimension to Iraq unrest

Iranian-backed Shi'ite factions have exhorted Iraqis to turn out for a "million-strong" march on Friday aimed at whipping up anti-American sentiment as the United States' struggle with Iran plays out..




Reuters - Published





Militia ally of Iran's Soleimani shot dead in southwest Iran: IRNA

Gunmen in Iran shot dead a commander of the hardline Basij militia who was an ally of Qassem Soleimani, the senior Revolutionary Guards commander killed in a U.S. drone strike in Iraq, the official..




Reuters - Published





Trump gives dramatic account of Soleimani's last minutes before death: CNN

U.S. President Donald Trump gave a minute-to-minute account of the U.S. drone strikes that killed Iranian military commander Qassem Soleimani in remarks to a Republican fund-raising dinner on Friday..




Reuters - Published





Trump isn't getting a political bump from killing Iran's Soleimani, and it's his own fault

It's as if Trump spent the past decade making sure Americans would distrust him at this very moment. He's made it much harder for future presidents.




USATODAY.com - Published





'Red herring': Trump, Barr say killing of Iran's Soleimani was justified, whether or not threat was imminent

"I do believe that this concept of imminence is something of a red herring," Attorney General Willaim Barr said of the debate over killing Soleimani.




USATODAY.com - Published





A Narrative Collapses as Trump Tweets: 'It Doesn't Really Matter'

President Trump cited Maj. Gen. Qassim Suleimani's "horrible past" as possibly reason enough for the drone strike that killed him.




NYTimes.com - Published





Pompeo says Soleimani killing part of new strategy to deter U.S. foes

U.S. Secretary of State Mike Pompeo on Monday said Qassem Soleimani was killed as part of a broader strategy of deterring challenges by U.S. foes that also applies to China and Russia, further diluting..




Reuters - Published





Trump: Timing of threat from Soleimani 'doesn't really matter'

President Donald Trump on Monday defended his decision to kill Iranian commander Qassem Soleimani, and said "it doesn't really matter" whether Soleimani posed an imminent threat to the United States.




Reuters - Published




AG Barr: 'The president clearly had the authority to act' in Soleimani strike

President Trump and his national security advisers have offered shifting accounts of what prompted the decision to kill Iranian Gen. Qasem Soleimani.




USATODAY.com - Published





U.S. top attorney: Killing Soleimani 'legitimate,' Trump had authority

President Donald Trump clearly had authority to kill Qassem Soleimani, U.S. Attorney General William Barr said on Monday, adding that the White House consulted with his department before the strike on..




Reuters - Published




Iran won't target Strait of Hormuz over Soleimani killing: analysts

Iran is unlikely to block the Strait of Hormuz, the world's busiest oil-shipping channel, in reprisal for the killing of Qassem Soleimani for fear of aggravating its Gulf allies and China, regional..




Reuters - Published





Trump: 'Doesn't really matter' if there was an imminent threat from Soleimani

President Donald Trump on Monday morning defended his decision to kill Iranian commander Qassem Soleimani, contending Soleimani posed an impending threat to the United States but also saying that was..




Reuters - Published





The truth is never enough for Trump, even when he kills a US enemy like Iran's Soleimani

Every moment must be a heroic thriller, an action movie starring Trump and SEAL Team Six. It's not enough to be a responsible steward of US security.




USATODAY.com - Published





Hezbollah: It's time for Iran's allies to start working to avenge Soleimani

Lebanon's Hezbollah said on Sunday it was time for Iran's allies to begin working to retaliate for the killing of Major General Qassem Soleimani though it would be a "long path" to the goal of ejecting..




Reuters - Published





'I Lost My Legs': Wounded in Iraq, He Sued Iran

Americans who lost limbs or loved ones in the Iraq war and fought to prove that General Suleimani played a role see justice in his death by a missile strike.




NYTimes.com - Published





Pentagon launched second attack on an Iranian militant the same day it killed Soleimani

The Pentagon launched a separate attack on an Iranian military leader in Yemen the same day it killed the Maj. Gen. Qasem Soleimani.




USATODAY.com - Published





Trump believes Iran was targeting four U.S. embassies: Fox News

President Donald Trump said on Friday Iran probably had targeted the U.S. embassy in Baghdad and was aiming to attack four U.S. embassies when its top general, Qassem Soleimani, was killed in a U.S...




Reuters - Published





Pompeo doubles down on intelligence on Soleimani

Secretary of State Mike Pompeo doubles down on the reliability and clarity of the intelligence the U.S. had on Iranian Gen. Qassem Soleimani and imminent plans of an attack. (Jan. 10)  




USATODAY.com - Published





U.S. envoy says it seems Iran concluded response to Soleimani killing

U.S. special envoy for Iran Brian Hook said on Friday it seems that Iran has concluded its retaliation for the U.S. killing of senior Iranian commander Qassem Soleimani.




Reuters - Published





Iran got its revenge for Qasem Soleimani's killing but the U.S. Navy is still a target

Amid intensifying tensions between Tehran and Washington, the U.S. Navy is in Iran's crosshairs.




USATODAY.com - Published





Trump cites plot to 'blow up' U.S. embassy as element in decision to kill Soleimani

U.S. President Donald Trump said on Thursday the United States killed Iranian military commander Qassem Soleimani shortly after he landed in Iraq last week in part because "they were looking to blow up..




Reuters - Published





Exclusive: Informants in Iraq, Syria helped U.S. kill Iran's Soleimani - sources

Iranian General Qassem Soleimani arrived at the Damascus airport in a vehicle with dark-tinted glass. Four soldiers from Iran's Revolutionary Guards rode with him. They parked near a staircase..




Reuters - Published





Pelosi does not believe Soleimani strike made the U.S. safer

U.S. House of Representatives Speaker Nancy Pelosi said on Thursday she did not believe President Donald Trump's administration had made the United States safer by killing Iranian military commander..




Reuters - Published





Republicans to join Democrat War Powers Resolution

Two Republican Senators said they will join Democrats in voting for a resolution to limit President Trump's military action regarding Iran. This came after a closed door briefing on the drone strike..




USATODAY.com - Published





At U.N., U.S. justifies killing Iranian commander as self-defense

The United States told the United Nations on Wednesday that the killing of Iranian commander Qassem Soleimani was self-defense and vowed to take additional action "as necessary" in the Middle East to..




Reuters - Published