Hurricane Rita
Category 5 Atlantic hurricane in 2005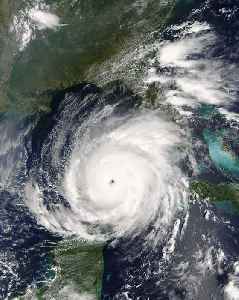 Hurricane Rita was the fourth-most intense Atlantic hurricane ever recorded and the most intense tropical cyclone ever observed in the Gulf of Mexico. Part of the record-breaking 2005 Atlantic hurricane season, which included three of the top ten most intense Atlantic hurricanes ever recorded, Rita was the seventeenth named storm, tenth hurricane, and fifth major hurricane of the 2005 season. Rita formed near The Bahamas from a tropical wave on September 18, 2005 that originally developed off the coast of West Africa. It moved westward, and after passing through the Florida Straits, Rita entered an environment of abnormally warm waters. Moving west-northwest, it rapidly intensified to reach peak winds of 180 mph (285 km/h), achieving Category 5 status on September 21st. However, it weakened to a Category 3 hurricane before making landfall in Johnson's Bayou, Louisiana, between Sabine Pass, Texas and Holly Beach, Louisiana, with winds of 115 mph (185 km/h). Rapidly weakening over land, Rita degenerated into a large low-pressure area over the lower Mississippi Valley by September 26th.


Kathleen Blanco, Louisiana's first woman governor, dies, led state through hurricanes
Trailblazing former Louisiana Governor Kathleen Babineaux Blanco, whose tenure was dominated by the trauma of Hurricanes Katrina and Rita in 2005, has died from complications of cancer, the state's..
Reuters - Published
Kathleen Blanco, first female governor of Louisiana, dead at 76
Blanco was governor of Louisiana during Hurricane Katrina and Hurricane Rita
CBS News - Published
Search this site and the web:
You Might Like