Ku Klux Klan
American white supremacist group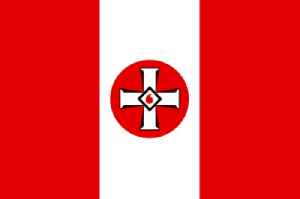 The Ku Klux Klan, commonly called the KKK or the Klan, is an American white supremacist hate group whose primary targets are African Americans, as well as Jews, immigrants, leftists, homosexuals, and, until recently, Catholics. The Klan has existed in three distinct eras at different points in time during the history of the United States. Each has advocated extremist reactionary positions such as white nationalism, anti-immigration and – especially in later iterations – Nordicism, antisemitism, prohibition, homophobia, Islamophobia, anti-atheism, and anti-Catholicism. Historically, the first Klan used terrorism – both physical assault and murder – against politically active blacks and their allies in the South in the late 1860s, until it was suppressed around 1872. All three movements have called for the "purification" of American society and all are considered "right-wing extremist" organizations. In each era, membership was secret and estimates of the total were highly exaggerated by both friends and enemies.


Twitter Bans David Duke

CNN Business reports that Twitter permanently banned David Duke's account on Thursday night. The former Ku Klux Klan leader's ban comes after multiple violations of the company's hateful conduct..
Credit: Wochit News Duration: 00:31
Published
You Might Like



Disturbing photos of the modern-day Ku Klux Klan

With the number of hate groups on the rise, the Klu Klux Klan is trying to benefit from the momentum. Here's what the group looks like today




CBS News - Published





Who was Edmund Pettus? Selma bridge got its name from Confederate general, KKK leader

It became an iconic site of in the battle for equality, but the Edmund Pettus Bridge is named after a former Confederate general and KKK leader.




USATODAY.com - Published




Fact Check: Fred Trump was detained at KKK rally but there's no evidence he was supporter

Details surrounding the detention of Fred Trump at a 1927 KKK rally are scant. Claims that he was directly involved in the event are misleading.




USATODAY.com - Published





Fact check: Photo shows Biden with Byrd, who once had ties to KKK but wasn't a grand wizard

A widely shared image on social media claims Joe Biden is pictured with Robert Byrd, a grand wizard of the KKK. Byrd was in the KKK but not that post.




USATODAY.com - Published





Man who drove into Virginia protest is KKK leader, prosecutor says

Virginia prosecutors said on Monday a man facing charges for driving his pickup truck into racial equality protesters is a local leader of the Ku Klux Klan.




Reuters - Published

Also reported by •NYTimes.com


From small towns to cities, U.S. sees biggest rallies yet for racial justice

Demonstrations were planned across the United States on Sunday to demand racial justice after George Floyd's death in Minneapolis police custody, with weekend rallies spreading to smaller communities..




Reuters - Published





Black Lives Matter protests for U.S. racial justice reach new dimension

U.S. protests sparked by George Floyd's fatal encounter last month with Minneapolis police crossed a new threshold as weekend rallies demanding racial justice stretched from Washington, D.C., to an..




Reuters - Published





A California man wore a KKK hood at a grocery store. Authorities say he won't face charges

Authorities said a man who wore a Ku Klux Klan hood while grocery shopping in a San Diego suburb will not face charges due to free speech protections.  




USATODAY.com - Published





Can-Am Crown, basilica declaration, landfill park: News from around our 50 states

Controversial Klan rally may return to Ohio town, payouts kept coming for ex-Goodwill CEO in Nebraska, and more




USATODAY.com - Published





Pastor's fight against KKK becomes a movie

A South Carolina pastor wants to make a shrine of reconciliation out of a store that once sold racist merchandise and had a Ku Klux Klan museum. Rev. David Kennedy obtained historic theater building..




USATODAY.com - Published





Mentioning Trump and K.K.K. in Same Sentence, Biden Condemns Hate

On his first campaign stop for the Martin Luther King holiday in South Carolina, Joe Biden denounced the president in some of his strongest language yet.




NYTimes.com - Published





Prosecutor Sues Her Own City Under a Law Passed to Fight the K.K.K.

Kimberly Gardner, the top prosecutor in St. Louis, who is under investigation herself, is accusing city officials of a "racially motivated conspiracy" to stop her from doing her job.




NYTimes.com - Published




Mamie Kirkland, Witness to an Era of Racial Terror, Dies at 111

She embodied the horrors of the African-American experience — lynchings, riots, the Ku Klux Klan — and worked to ensure that they never slipped from collective memory.




NYTimes.com - Published





Today in History for December 24th

Highlights of this day in history: Apollo Eight astronauts orbit the moon; Ku Klux Klan is founded; Human voice first transmitted via radio; Suez Canal opened. (Dec. 24)  




USATODAY.com - Published





Swap statue of KKK leader in state Capitol with Dolly Parton, Tenn. GOP leader suggests

Rep. Jeremy Faison wants the removal of a Confederate general and KKK leader's bust. In its place? Dolly, a Nasvhille suffragist or a slave laborer.




USATODAY.com - Published





Wisconsin-Eau Claire suspends five football players for using KKK image on Snapchat

Five University of Wisconsin-Eau Claire football players were suspended from the team for using a KKK image in a Snapchat conversation.




USATODAY.com - Published





Spike Lee's "BlacKkKlansman": Review by David Edelstein

What if a black undercover detective infiltrated the Ku Klux Klan? Don't laugh! (Okay, laugh.) Spike Lee's latest film is the largely-true story of 1970s Colorado Springs cops who put one over on..




CBS News - Published





Fired police officer defends KKK application, Confederate flags in his Michigan home

Former police officer Charles Anderson said the Confederate flags are a part of his extensive "Dukes of Hazzard" collection.  




USATODAY.com - Published





Michigan Police Officer Is Terminated After K.K.K. Application Was Found in His Home

A prospective homebuyer found Confederate flags and a framed Ku Klux Klan application in the officer's house in Holton, Mich.




NYTimes.com - Published





I was a KKK warrior. Turning to God changed me and could help America stem mass shootings.

Mental health issues, extremism and assault weapons contribute to mass shootings, but an increasingly godless culture is the deeper underlying cause.




USATODAY.com - Published





Alleged KKK item at cop's house may spark review of deadly shooting

Muskegon Police Officer Charles Anderson has been placed on paid administrative leave




CBS News - Published





Michigan officer investigated, suspended after KKK memorabilia found in home

A prospective homebuyer said the house near Muskegon, Michigan, was filled with Confederate flags and had a framed KKK document on a wall.  




USATODAY.com - Published





'Something Just Keeps Happening': Dayton Shooting Hit a City Already in Pain

Mayor Nan Whaley has guided Dayton through repeated trauma this year. Before the recent mass shooting, the city was rocked by a Ku Klux Klan rally and tornadoes.




NYTimes.com - Published





Former KKK member now celebrates Ramadan with Muslim friend

Chris Buckley used to be in the KKK. Now he celebrates Ramadan with his best friend, a Muslim man and refugee.




USATODAY.com - Published





I saw the KKK burn crosses in North Carolina. 'Send her back' chants can't shock me now.

I wish I could say I was shocked to hear Trump rally attendees shout 'send her back.' But in North Carolina, this kind of hate is nothing new.




USATODAY.com - Published





Tenn. law makes Saturday day for state to honor Confederate general, early KKK leader

Under state law, the Tenn. governor is required to issue proclamations for six separate days of special observation -- and three of those pertain to the Confederacy.




USATODAY.com - Published