Deutsche Bank
German banking and financial services company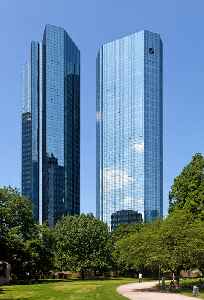 Deutsche Bank AG is a multinational investment bank and financial services company headquartered in Frankfurt, Germany, and dual-listed in New York Stock Exchange and Frankfurt Stock Exchange.


Deutsche Bank to pay $150 mln penalty over Epstein

New York authorities have fined Deutsche Bank $150 mln over failures including the services it provided to Jeffrey Epstein - the former financier who committed suicide while awaiting trial on charges..
Credit: Reuters Studio Duration: 01:09
Published
Stocks gain even as China contagion fears rise

Most Asian and European stock indexes rose Wednesday, even after signs of a rise in new coronavirus cases in China. Julian Satterthwaite reports.
Credit: Reuters Studio Duration: 01:15
Published
You Might Like



Deutsche Bank to pay $150 million for dealings with Jeffrey Epstein, foreign banks

New York banking regulators reached a deal with Deutsche Bank to settle claims that it failed to respond to red flags with Jeffrey Epstein's accounts.




USATODAY.com - Published





Deutsche Bank faces action from NY regulators over Epstein ties: sources

Deutsche Bank could face enforcement action by New York regulators investigating its ties to the late U.S. financier and accused sex offender Jeffrey Epstein, two sources familiar with the..




Reuters - Published





Deutsche Bank refuses to give U.S. senators information on recent Trump dealings

Deutsche Bank has declined a request by prominent U.S. senators to provide information about the German lender's recent business dealings with President Donald Trump and his family, according to a..




Reuters - Published





UK's poor testing could slow emergence from lockdown, Deutsche Bank says

The United Kingdom's poor novel coronavirus testing capacity means that it is likely be one of the world's laggards to exit the stringent lockdown that has so badly hammered its consumption-based..




Reuters - Published





The Money Behind Trump's Money

The inside story of the president and Deutsche Bank, his lender of last resort.




NYTimes.com - Published





Release of Trump's Banking Records Delayed by Justice Ruth Bader Ginsburg

The stay came three days after a lower court had ordered Deutsche Bank and Capital One to turn over President Trump's financial records to Congress.




NYTimes.com - Published





Trump loses effort to block subpoenas to Deutsche Bank, Capital One

The 2nd U.S. Circuit Court of Appeals said two House committees can subpoena Capital One and Deutsche Bank for President Trump's business records and ordered the banks to comply.




CBS News - Published





Deutsche Bank, Trump's longtime lender, must turn over financial records, appeals court rules

The Deutsche Bank case is one of several in which President Donald Trump is fighting to prevent release of his tax returns and financial documents.




USATODAY.com - Published





A Brazen Scheme, and a Minor Penalty, for Winning Business in China

Confidential documents detail how Deutsche Bank's hiring practices curried favor with China's ruling elite. A $4,000 bottle of French wine also helped.




NYTimes.com - Published





Deutsche Bank tells U.S. court it does not have Trump's tax returns

Deutsche Bank says it does not have copies of U.S. President Donald Trump's tax returns, a U.S. appeals court said on Thursday, closing one possible avenue for the Democratic-led U.S. House of..




Reuters - Published




Brexit: Deutsche would ditch bearish sterling bet if election called for Oct. 14

Deutsche Bank said on Tuesday it would drop its bearish bet on sterling should Prime Minister Boris Johnson call a general election for Oct. 14, as UK lawmakers braced for a showdown over the nation's..




Reuters - Published





Deutsche Bank still sees 50:50 chance of no-deal Brexit

Deutsche Bank on Wednesday retained its estimate that there is a 50:50 chance Britain will crash out of the European Union without a deal with Brussels following Prime Minister Boris Johnson's move to..




Reuters - Published





Your Wednesday Briefing

Purdue Pharma, Deutsche Bank, Puerto Rico: Here's what you need to know.




NYTimes.com - Published





Deutsche Bank says it has Trump-related tax records Congress wants

But his longtime bank didn't say for sure whether those documents include his tax returns




CBS News - Published





Trump urges U.S. court to shield Deutsche Bank records from House Democrats

Lawyers for U.S. President Donald Trump asked a federal appeals court on Friday to block Deutsche Bank AG and Capital One Financial Corp from handing the financial records of the president's family and..




Reuters - Published





Trump in court seeks to block House Democrats' access to financial records

Lawyers for U.S. President Donald Trump asked a federal appeals court on Friday to block Deutsche Bank AG and Capital One Financial Corp from handing the financial records of the president's family and..




Reuters - Published




Deutsche Bank layoffs on heels of years of trouble

AP banking reporter Ken Sweet said the layoffs just announced at Deutsche Bank are a sign of "trouble" for a bank that has seen a revolving door of CEO's. (July 8)  




USATODAY.com - Published





Deutsche Bank's massive layoffs likely to trim U.S. headcount

Among the cuts in a restructuring that slashes 18,000 jobs worldwide, the German bank is exiting the stock-trading business




CBS News - Published





Deutsche Bank plans 'radical transformation' after $3.1B in second-quarter losses

The German bank says it will take a giant second-quarter loss of 2.8 billion euro ($3.1 billion) and lay off as many as 18,000 staffers by 2022.




USATODAY.com - Published