Hyundai Motor Company
South Korean multinational automaker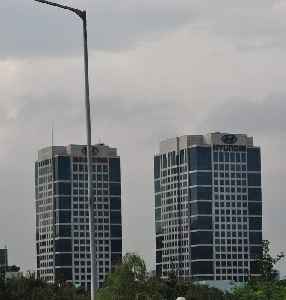 The Hyundai Motor Company, commonly known as Hyundai Motors, is a South Korean multinational automotive manufacturer headquartered in Seoul. The company was founded in 1967 and, along with its 32.8% owned subsidiary, Kia Motors, and its 100% owned luxury subsidiary Genesis Motor, altogether comprise the Hyundai Motor Group. It is the third largest vehicle manufacturer in the world.


Could a computer predict auto crash injuries? Volvo and Hyundai are betting it can
Volvo and Hyundai are investing millions in an Israeli startup using big data to predict the kinds of injuries sustained after an auto accident.
USATODAY.com - Published
See 'frunk' photos: Electric cars come with new storage spaces
Electric cars often come with unique storage spaces. Check out these examples from Tesla, Jaguar, Rivian and Hyundai.
USATODAY.com - Published
Ogier wins Rally Turkey
Ogier keeps title hopes alive with victory in Rally Turkey
Credit: Reuters - Sports Duration: 02:06Published
Ogier extends his Rally Turkey lead
Ogier leads Rally Turkey with three stages remaining
Credit: Reuters - Sports Duration: 01:20Published
Lappi leads Ogier in Citroen one-two in Turkey
Esapekka Lappi leads team mate Sebastien Ogier in a Citroen one-two after a rocky first full day at Rally Turkey
Credit: Reuters - Sports Duration: 01:30Published
US Coast Guard hosts crew to safety
Video shot late Sunday night shows a Coast Guard helicopter aircrew hoisting crewmembers from the stricken cargo vessel, Golden Ray as it listed in waters off the Georgia coast. Rough cut (no reporter..
Credit: Reuters Studio Duration: 01:06Published
Ott Tanak wins Rally Germany to extend lead in championship
Ott Tanak extends his lead in the world drivers' championship after winning Rally Germany for the third successive year.
Credit: Reuters - Sports Duration: 02:12Published
Once-dead compact pickup is poised for a comeback: Ford, Hyundai, maybe even VW jump in
The next evolution of the pickup wars: Several automakers are suddenly reviving the long-lost compact pickup, which perished earlier this century.
USATODAY.com - Published
New York Auto Show: What's the missing 'smaller piece' that Hyundai is rolling out?
At the New York Auto Show, Hyundai introduced its 2020 Venue, the latest SUV to join its growing product lineup alongside Kona, Tucson & Santa Fe.
USATODAY.com - Published
Hyundai shares sneak peek of 2020 Sonata
Hyundai released photos of the 2020 Sonata and the Korean automaker's mainstay family sedan is a big departure from its conservative predecessor.
USATODAY.com - Published
You won't need a car key anymore with Hyundai's new 'digital key' technology
Hyundai has developed what it calls a "Digital Key" that "allows users to unlock and start their Hyundai vehicle via their smartphone."
USATODAY.com - Published
Kia, Hyundai recall over 500,000 cars over potential engine fire risk
Hyundai and Kia are recalling over 500,000 vehicles due to problems that may cause engine fires and other damage.
USATODAY.com - Published
You Might Like