Rex Tillerson
69th United States Secretary of State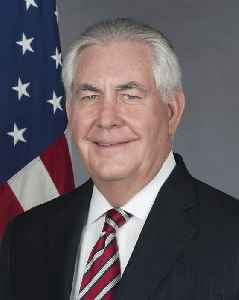 Rex Wayne Tillerson is an American energy executive who served as the 69th United States Secretary of State from February 1, 2017 to March 31, 2018, under President Donald Trump. Prior to joining the Trump administration, Tillerson was chairman and chief executive officer of ExxonMobil, holding that position from 2006 until 2017.


Tillerson ushered in period of "extraordinary destructiveness" says former U.S. ambassador to UAE
On the "Intelligence Matters" podcast, Barbara Leaf spoke with host Michael Morell about the damage wrought by Trump's first secretary of state and offered a more positive assessment of his successor,..
CBS News - Published
Tillerson claims Kushner conducted diplomacy behind his back
The former Secretary of State mentioned the story during a day of closed-door testimony before the House Foreign Affairs Committee
CBS News - Published
Tillerson Says He and Mattis Were Cut Out of Foreign Policy Decisions by Kushner and Bannon
The former secretary of state told Congress he was surprised by aggressive moves made by Saudi and Emirati leaders, who had met with President Trump's close advisers without his knowledge.
NYTimes.com - Published
Tillerson jokes that God "sent him home" from State post
Tillerson also discussed the current state of politics and democracy in the United States with the Boy Scouts of America
CBS News - Published
Secretary Tillerson, Divided II
Rex Tillerson opens up in rare, wide-ranging interview; and, Oprah follows up with the partisan voters in Michigan
CBS News - Published
7/11/17: Red & Blue
Trump Jr. on meeting: "I probably would have done things a little differently"; Tillerson tackles central issue in Qatar dispute
CBS News - Published
Trump trashes Tillerson "dumb as a rock" over claims about Putin meeting
President Trump slammed his former secretary of state over what he called a "made up story" about Russian President Vladimir Putin outmaneuvering Mr. Trump during a 2017 meeting.
CBS News - Published
Trump calls ex-Secretary of State Rex Tillerson 'dumb as a rock,' claims he made up Putin story
President Donald Trump accused the former secretary of state of making up a story that he had been ill-prepared for a meeting with Vladimir Putin.
USATODAY.com - Published
Rex Tillerson meets with House committee as other White House aides avoid Congress
The appearance comes at a time when a number of former and current Trump administration officials are refusing Congress' demands to meet and provide documents.
USATODAY.com - Published
You Might Like