Colorado
State in the western United States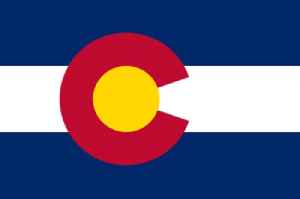 Colorado is a state in the western United States encompassing most of the southern Rocky Mountains as well as the northeastern portion of the Colorado Plateau and the western edge of the Great Plains. It is the 8th most extensive and 21st most populous U.S. state. The estimated population of Colorado is 5,758,736 as of 2019, an increase of 14.5% since the 2010 United States Census.


Urgent Care: March, April Saw Massive Decline In ER Visits

Data from more than 20 emergency rooms across five states seems to confirm anecdotal reports from health care workers. According to Gizmodo, emergency rooms across the US saw a massive decline in..
Credit: Wochit News Duration: 00:38
Published
Seattle clashes spark 45 arrests, 21 cops hurt

[NFA] Police said a protest turned into a riot in Seattle, Washington, on Saturday, and demonstrators nationwide took to the streets in solidarity with racial justice activists opposed to federal..
Credit: Reuters - Politics Duration: 02:19
Published
More states require masks; Georgia bans mandate

Colorado and Arkansas on Thursday joined a growing list of U.S. states requiring face coverings in public places to combat a surge in coronavirus infections, after Georgia's governor moved the other..
Credit: Reuters Studio Duration: 02:57
Published
Officers fired for mocking Elijah McClain death

[NFA]Three Colorado police officers were fired and a fourth resigned after they shared photographs they took of themselves re-enacting a chokehold officers used to subdue a Black man who later died,..
Credit: Reuters Studio Duration: 02:17
Published
Hickenlooper Wins Colorado Senate Primary

John Hickenlooper on the Democratic nomination for US Senate in the June 30 primaries. Hickenlooper defeated Andrew Romanoff, the former speaker of the Colorado House. Hickenlooper defeated Andrew..
Credit: Wochit News Duration: 00:31
Published
Yearning For A Tiny Home? These Are The Top Three US States For One

Skyrocketing rents and an ever-rising cost of living across the US has the tiny house movement going strong. Sustainable energy use and waste systems are also key drivers, though the tiny home life..
Credit: Wochit News Duration: 00:44
Published
Baby girl does amazing gymnastics stunts with her father

While Roland Pollard and his family were exploring Dream Lake Park, they decided to practise some stunts in the forest. Video source: Roland Pollard
Credit: Reuters - Viral Video Duration: 00:28
Published
You Might Like



Justice for murdered Colorado mom Kelsey Berreth

Inside the shocking case against a Colorado man for the murder of his fianceé and how his secret girlfriend became the key witness against him -- showing investigators how she cleaned up a bloody..




CBS News - Published




What Kelsey Berreth's last words have to say about her character

Teller County, Colorado, DA shares his emotional reaction to murder victim's plea to her killer




CBS News - Published





Colorado kindergarten teacher faces possible firing for alleged comments about students with special needs

A Colorado kindergarten teacher is under investigation for 'despicable' comments about students with disabilities, officials say  




USATODAY.com - Published





Shot Twice in the Back: A Case Tests the 'Fleeing Felon' Defense

The family of a suicidal Colorado man killed by the police in 2019 has filed a federal wrongful death lawsuit, as many states review their standards for the use of lethal force.




NYTimes.com - Published





AP Top Stories July 22 A

Here's the latest for Wednesday July 22nd: More negotiations over COVID-19 relief deal; Authorities and protesters clash in Portland; 14 shot outside Chicago funeral home; Colorado Gov. tells bars and..




USATODAY.com - Published




Colorado moves bars' last call to 10 to curb virus

Colorado Gov. Jared Polis on Tuesday ordered bars and restaurants across the state to stop serving alcohol past 10 p.m. as the number of coronavirus cases among young adults keeps rising. Last call in..




USATODAY.com - Published





Coronavirus updates: L.A. 'on the brink' of reclosing; Jack Nicklaus has antibodies; Colorado governor calls national testing 'disgrace'

As COVID-19 cases continue to surge, Los Angeles' mayor says the city may shut down again. The Bahamas is now closed to U.S. travelers.




USATODAY.com - Published





Colorado governor issues mask order to curb virus

Colorado Gov. Jared Polis said Thursday he is issuing an executive order requiring face coverings in indoor public areas to help curb the spread of the coronavirus. (July 16)  




USATODAY.com - Published





Man survives 400-pound bear attack in Colorado home

Colorado Park and Wildlife officers were able to find the suspected bear, which they confirmed based on DNA evidence, and euthanized it that day.




USATODAY.com - Published




Colorado squirrel tests positive for bubonic plague, health officials say

The rodent was found in Morrison, a town outside of Denver in Jefferson County. Health officials said it was the first case of plague in the county.




USATODAY.com - Published




A couple got lost on their way to a rehearsal dinner. Then a Colorado man pulled a gun on them

A Colorado man is facing criminal charges after allegedly pulling a gun on a couple who used his driveway to turn around.  




USATODAY.com - Published





5-term Rep. Tipton backed by Trump loses in Colorado primary, upset by businesswoman Lauren Boebert

Boebert opened her restaurant in defiance of a state coronavirus lockdown. She has also said she hopes the QAnon conspiracy theory is true.




USATODAY.com - Published





Republican tops Trump-backed Rep. in primary

Five-term Colorado U.S. Rep. Scott Tipton was upset in Tuesday's Republican Party primary by Lauren Boebert, a pistol-packing businesswoman, ardent defender of gun rights and border wall supporter who..




USATODAY.com - Published





Lauren Boebert, Gun-Rights Activist, Upsets House G.O.P. Incumbent in Colorado

The political novice, who has defied pandemic restrictions to keep her restaurant open and has spoken approvingly of the QAnon conspiracy theory, challenged Scott Tipton on his conservative..




NYTimes.com - Published





John Hickenlooper wins Colorado Democratic primary, will face Sen. Cory Gardner

The former Colorado governor will face U.S. Sen. Cory Gardner in November.




USATODAY.com - Published





Aurora police officers under investigation after being photographed near where Elijah McClain died

Multiple Colorado police officers are on leave after allegedly appearing in photos taken near where Elijah McClain died in police custody.




USATODAY.com - Published




What to Watch in Kentucky Election Results and Colorado Senate Race

A challenger to Senator Mitch McConnell should finally emerge, and John Hickenlooper is trying to win his Senate primary in Colorado, among other races unfolding on Tuesday.




NYTimes.com - Published





Protesters in Aurora, demand justice for McClain

People gathered in Aurora in the US state of Colorado on Saturday to protest the death of Elijah McClain, a 23-year-old Black man put into a chokehold by police who stopped him on the street in..




USATODAY.com - Published





Special prosecutor appointed to investigate Elijah McClain's death after millions sign petition

After millions signed a petition demanding an investigation into Elijah McClain's death, Colorado Gov. Jared Polis appointed a special prosecutor.  




USATODAY.com - Published





Body cam video shows the night Elijah McClain was confronted by Aurora Police

Colorado Governor Jared Polis appointed state Attorney General Phil Weiser to investigate the death of Elijah McClain's death, a 23-year-old Black man who died in police custody.  




USATODAY.com - Published





Who Was Elijah McClain? What to Know About His Death After a Police Encounter

Mr. McClain died days after he was detained by the police last summer. His death has come to occupy a central place in Colorado's fast-moving debate over police reform.




NYTimes.com - Published





More than 2 million sign 'Justice For Elijah McClain' petition nearly a year after his death

More than 2 million signed a petition demanding justice for Elijah McClain, who died after Colorado police placed him in a carotid hold last year.




USATODAY.com - Published




Alfred Williams doesn't want Mike Gundy fired, but he wants apology for alleged 1989 racial slur

Alfred Williams — then a standout linebacker for Colorado — said Mike Gundy called him the N-word during a 41-17 win in 1989 at Oklahoma State.




USATODAY.com - Published





Florida bill on college athletes' name, image and likeness will be signed by governor today

Governor DeSantis' action will make Florida third state with this type of law, joining California and Colorado. It will go into effect July 1, 2021.




USATODAY.com - Published





Colorado group drops plans for anti-fracking ballot measure

A Colorado environmental group dropped plans to place an anti-fracking measure on the state's November ballot citing the COVID-19 pandemic, the second state initiative to be put off this year over..




Reuters - Published





Family of black man shot by Colorado police files civil rights lawsuit

The family of a 19-year-old African-American man who was fatally shot in the back by Colorado Springs police last year has filed a federal civil rights lawsuit against the city and the officers, court..




Reuters - Published





Costco customer films employee asking him to leave for not wearing a mask

A customer at a Costco in Colorado filmed an employee asking him to leave for not wearing a mask.




USATODAY.com - Published





'This isn't about the mask, it's about control': Costco customer asked to leave after refusing to wear a face covering

A Costco employee in Arvada, Colorado, with a badge name "Tison" asked the man who refused to wear a face covering to leave the store.




USATODAY.com - Published





Colorado governor gets nose swab coronavirus test

Colorado Gov. Jared Polis got a coronavirus test during a public event Monday. Polis said he wanted to show people how easy it was. "Feels like a little tingle," Polis said after the test. (May 18)  




USATODAY.com - Published





Redskins WR Cody Latimer arrested on charges of assault, menacing, illegal discharge of a firearm

Cody Latimer was arrested late Friday in Colorado on five charges, including assault, after neighbors said they heard shots fired in apartment.




USATODAY.com - Published





Cody Latimer of the Redskins Faces Assault and Weapons Charges

Deputies went to an apartment complex in Colorado early Saturday morning after receiving a report of gunfire inside a unit, officials said.




NYTimes.com - Published





Live Coronavirus News Updates and Full Analysis

The Trump administration is reviewing an order to extend its coronavirus border restrictions indefinitely. President Trump will meet with the governors of Colorado and North Dakota. The virus "may..




NYTimes.com - Published





Colorado paramedic honored after death in NY

A retired Colorado paramedic who died from coronavirus after volunteering to help combat the pandemic in New York City was honored Sunday as his body was returned to Denver. Paul Cary, 66, died April..




USATODAY.com - Published





Colorado Paramedic Who Came to Help New York Dies From Covid-19

For three weeks, Paul Cary transported coronavirus patients to hospitals by ambulance. He had already signed up for a second 30-day deployment in New York when he started feeling sick.




NYTimes.com - Published





Street Art Confronts the Pandemic

From Norway to Colorado, street artists depict a world of masks and hand-washing (and toilet paper). One recurrent theme: a deep appreciation of health care workers.




NYTimes.com - Published





In CA: Colorado and Nevada join forces with the West Coast

From nurses to cannabis farmers, California's hurting from the coronavirus and the associated economic downturn. Now, we've all got the same question: Are we anywhere near getting back to normal?  




USATODAY.com - Published





Governors, Facing Pressures on All Sides, Weigh Reopening Their States

In Colorado, Georgia, Oklahoma, Michigan and elsewhere, they face the same question: how and when to restart parts of their economies.




NYTimes.com - Published





Coronavirus Live Updates: Governors to Lay Out Road Map for Reopening

They are expected use the Sunday talk shows as a platform to discuss the steps Colorado and Oklahoma have taken toward restarting their economies.




NYTimes.com - Published





'Like test dummies': As Colorado reopens, some see too much risk

Royal Rose is reopening her Colorado tattoo studio next week after closing a month ago, not because she wants to but because the bills are piling up and she says she has no choice.




Reuters - Published





Photos show health care workers in masks blocking parade of lockdown protesters in Colorado

Photos show health care workers donned in teal scrubs and standing in front of motorists lined up for several blocks leading to the Capitol building.




USATODAY.com - Published




Democrats Show Fund-Raising Energy in Key Senate Races

In contests in Kentucky, South Carolina, Kansas, Maine, Colorado and Arizona, Democratic candidates raised more money in the first quarter of 2020 than their Republican opponents.




NYTimes.com - Published





Health care workers thanked with chorus of howls

From California to Colorado to Georgia and New York, Americans are taking a moment each night at 8 to howl to thank the nation's health care  workers and first responders for their selfless sacrifices..




USATODAY.com - Published





Lynx Numbers Are in Decline in the West

While the federal government weighs taking the Canada lynx off the list of threatened species, a new study points to reduced populations in Washington State, Colorado and Montana.




NYTimes.com - Published





'Above-average' hurricane season predicted this year, top experts say

An "above-normal" hurricane season, which begins June 1, is expected this year, according to Colorado State forecasters.




USATODAY.com - Published




Hobby Lobby Defies Stay-at-Home Orders by Reopening Stores, Colorado Officials Say

Colorado authorities sent a cease-and-desist letter to the craft store chain, saying Hobby Lobby is "not a critical business."




NYTimes.com - Published





Is Hobby Lobby an essential retailer? Some forced to close because of COVID-19 shelter-in-place orders

Some Hobby Lobby locations in Ohio, Indiana, Wisconsin and Colorado were shut down after defying states' shelter-in-place orders.




USATODAY.com - Published