Colorado
State in the western United States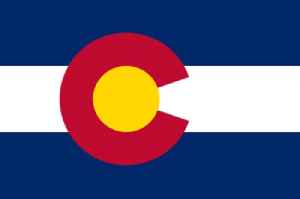 Colorado is a state in the western United States encompassing most of the southern Rocky Mountains as well as the northeastern portion of the Colorado Plateau and the western edge of the Great Plains. It is the 8th most extensive and 21st most populous U.S. state. The estimated population of Colorado is 5,758,736 as of 2019, an increase of 14.5% since the 2010 United States Census.


U.S. sees some half-million COVID-19 cases in a week

Almost half a million people in the United States have contracted the coronavirus in the past week alone. Gloria Tso reports.
Credit: Reuters - Politics Duration: 01:18
Published
East Troublesome Fire continues to cause havoc in Colorado

Dry and windy conditions fuel the East Troublesome Fire in ColoradoView on euronews
Credit: euronews (in English) Duration: 00:50
Published
Colorado wildfire forces thousands to evacuate in western US

Thousands of people in the US state of Colorado are fleeing a wildfire that hasn't stopped burning since mid-August.
Credit: Euronews English Duration: 01:00
Published
Just Eat It: Enzyme From Plastic-Eating Bacteria Can Break Down Pollution In Days

The 300 million tons of plastic that are produced annually worldwide will take centuries to break down. What's more, they really just shatter into tiny, microscopic bits that will likely never really..
Credit: Wochit News Duration: 00:40
Published
Family seeks accountability after meatpacking deaths

Saul Sanchez, a 78-year-old who worked at JBS USA's beef plant in Greeley, Colorado for decades, died of COVID-19 in April. Now, his family says his employer denied benefits to them because, like..
Credit: Reuters Studio Duration: 02:47
Published
Scrawny, Bug-Eating Birds Are Falling Dead To The Ground Across The Southwest

Gizmodo Earther reports thousands of migratory birds are now dropping dead across the Southwest. In late August, dozens of birds fell from the sky at the White Sands Missile Range and White Sands..
Credit: Wochit News Duration: 00:37
Published
Colorado Weather Extremes Set Records for Heat and Snow in 48 Hours

Many parts of Colorado, including Denver and Fort Collins, experienced triple-digit temperatures over the Labor Day Weekend.
Credit: Cover Video STUDIO Duration: 00:55
Published
You Might Like



Are 'ballot selfies' legal? Depends where you are voting, it's punishable in some states

California, Colorado and New Hampshire are among more than 20 states where it's legal to take a ballot selfie.




USATODAY.com - Published





CBS Evening News, October 27, 2020

Biden campaigns in Georgia on final week before Election Day; Firefighters save Colorado man's home from wildfire and leave note




CBS News - Published





Firefighters save cabin from wildfire and leave note for owner

A man received two surprises after the East Troublesome Fire ravaged everything in its path near Granby, Colorado.




CBS News - Published




1 to 2 feet of snow helped contain Colorado's largest-ever wildfires, but it may not be enough

A snowstorm near Colorado's Cameron Peak and East Troublesome fires might not be a knockout punch that state needs.




USATODAY.com - Published





California facing extreme weather as Colorado battles raging wildfires

Powerful winds are expected to hit parts of California, and could lead to hundreds of thousands without power. Meanwhile, Colorado continues to battle ferocious wildfires that have scorched some 300..




CBS News - Published





What makes a Guinness World Record?

For adjudicators from Guinness World Records, it takes some record-setting nerves to judge a world-record attempt as successful. Guinness may get a thousand applications every week to break a world..




CBS News - Published





Hurricane force gusts prompt extremely critical fire risk in California

Meanwhile, record shattering cold brings heavy snow and wind chills below zero to Colorado.




CBS News - Published





Colorado wildfires continue to devastate the region

The second largest wildfire in Colorado history has burned through nearly 300 square miles, larger than the city of Chicago. The fire is less than 10% contained. Omar Villafranca reports.




CBS News - Published





Colorado firefighters battle the state's largest wildfires in history

More than 700 firefighters are now battling the East Troublesome Fire, which has already burned an area larger than the city of Chicago.




CBS News - Published




Wildfire kills Colorado couple in their 80s who wouldn't evacuate beloved home, sheriff says

Grand County Sheriff Brett Schroetlin said the couple called family before their deaths, telling them they could smell the smoke.




USATODAY.com - Published




Two largest wildfires in Colorado history could merge

A wildfire burning in Colorado, which has charred an area larger than the city of Chicago, could merge with an even bigger fire located just a few miles away. Omar Villafranca reports.




CBS News - Published




Mountain wildfire is 2nd largest ever in Colorado

A Colorado wildfire that exploded overnight Wednesday, forced nearby evacuations and closed Rocky Mountain National Park has become the second largest fire in state history. (Oct. 23)  




USATODAY.com - Published





Why The Colorado Wildfires Feel Like a Season Without End

After a horrific summer of fires in the West, Colorado is fighting out-of-control fires as ski season approaches.




NYTimes.com - Published





Two largest wildfires in Colorado history are burning at the same time, 10 miles apart

About 700 square miles of wildfires are actively burning in Colorado. Wildfires have scorched more than 1,000 square miles since July 31.




USATODAY.com - Published




Watch Live: Colorado officials give update on wildfires

The East Troublesome Fire​ burned more than 200 square miles in about 24 hours.




CBS News - Published





Eye Opener: Trump and Biden face off in civil but heated debate

President Trump and former Vice President Joe Biden faced off in a noticeably more civil but still heated final debate. Also, Colorado is grappling with two massive wildfires threatening to merge into..




CBS News - Published





5 people unaccounted for as Colorado wildfires grow to record size

East Troublesome Fire charred more than 200 square miles of northern Colorado in a day, and it's threatening to merge with a larger blaze.




CBS News - Published





Photos show orange skies, towering smoke over Colorado wildfires as concerns mount over air quality

The pollution may be masking the spread of COVID-19, Gov. Jared Polis warned. Meanwhile, Rocky Mountain National Park has completely closed.




USATODAY.com - Published




Colorado wildfire explodes in size, forcing evacuations

A wildfire burning in Colorado has grown more than 100,000 acres over the span of a few hours.




CBS News - Published

Also reported by •USATODAY.com


AP Top Stories October 22 P

Here are the top stories for Thursday, October 22nd: U.S. jobless claims see slight drop; GOP-led Senate panel advances Barrett as Dems boycott; Residents leave homes near Colorado wildfires; Poland's..




USATODAY.com - Published





Raging Colorado wildfire forces thousands to evacuate

A wildfire has exploded in size overnight, and is closing in on homes in Grand County, Colorado. Omar Villafranca reports.




CBS News - Published





Late-Season Wildfires Rampage Through Colorado

After a season of hellish wildfires throughout the West, new evidence that climate change and rampant growth are creating perfect breeding grounds for fire.




NYTimes.com - Published





Residents leave homes near Colorado wildfires

Residents in and around a gateway town to Rocky Mountain National Park have evacuated and the park was closed as one of several fires in northern Colorado continued to grow. (Oct. 22)  




USATODAY.com - Published





Colorado trailer-park tenants say their landlord threatened to double rent if Biden won.




NYTimes.com - Published





Colorado wildfire burning 6,000 acres per hour is "getting worse"

The historic fires are fueled by "extreme drought conditions" in the state.




CBS News - Published





Historic wildfires burn hundreds of thousands of acres throughout Colorado

Sheriffs' deputies led a dramatic effort Wednesday night to evacuate residents from their homes as flames and plumes of smoke filled the northern Colorado sky. More than 440,000 acres of land in..




CBS News - Published





Firefighters brave 'really tough' conditions at Cameron Peak Fire, the largest wildfire in Colorado history

The fire began Aug. 13 on the Arapaho and Roosevelt National Forests near Cameron Pass and Chambers Lake. It was 55% contained as of Wednesday night.




USATODAY.com - Published




Helicopters rescue 23 people, 3 dogs from Colorado's Ice Fire as 'devastating' blazes rage

Almost two dozen hikers were airlifted to safety after a wildfire broke out in a recreation area in Colorado's San Juan Mountains.




USATODAY.com - Published




Colorado is fighting back against election misinformation.




NYTimes.com - Published





Facing a Deluge of Misinformation, Colorado Takes the Offensive Against It

The state will combat false information on social media and even buy Google ads against it. But not enough other states are following suit.




NYTimes.com - Published





North Colorado wildfire destroys at least 26 homes

A wildfire in northern Colorado burned nearly 14 square miles by Monday night. The fire also destroyed at least 26 homes. Nearly 3,000 people were initially told to evacuate. (Oct. 20)  




USATODAY.com - Published





Colorado wildfires destroy homes: "The wind was so crazy"

The CalWood fire in Boulder County, Colorado, burned more than two dozen homes, and it's just one of the wildfires currently raging in the state. CBS Denver's Conor McCue reports.




CBS News - Published





Colorado wildfires show "climate change is here and now"

As bad as this year has been, scientists warn it's "unlikely that the records from 2020 will stand for long."




CBS News - Published





'Smoke coming from everywhere': Colorado fights largest wildfire in state history, a second forces thousands to evacuate

Colorado crews scrambled to gain ground against two blazes as this year's historic wildfire season imparted more heartbreak and hardships on the West.




USATODAY.com - Published




Senate reconvenes, Florida early voting, Colorado wildfires: 5 things to know Monday

The full Senate will reconvene, early voting kicks off in Florida and more things to start your Monday.




USATODAY.com - Published





Colorado Wildfire Grows Into Largest in State History

Left vulnerable by dry conditions, more than 430,000 acres have burned so far in what has been one of the worst years ever for wildfires in the state.




NYTimes.com - Published





'It just exploded': Colorado's Cameron Peak, CalWood fires drive thousands from their homes

The CalWood fire began burning Saturday about 50 miles southeast of the Cameron Peak Fire that has burned more than 300 square miles since mid-August.




USATODAY.com - Published




Cameron Peak fire, largest wildfire in Colorado history, spreads across the state (1)

The Cameron Peak fire began in August and has spread across over 270 square miles, passing the Pine Gulch Fire as the state's largest wildfire ever.  




USATODAY.com - Published





Nature: Colorado forest

"Sunday Morning" witnesses an early snowfall at the San Juan National Forest near Durango, Colorado. Videographer: Scot Miller.




CBS News - Published





These photos show the intense smoke from Colorado's largest wildfire ever

The Cameron Peak Fire ignited in mid-August and has grown to more than 270 square miles. These photos show the intensity of the state's largest fire.




USATODAY.com - Published




Christopher Watts and 'American Murder': What to Know About the Case

The 2018 murders of Shanann Watts and her two young daughters in Colorado are the subject of a new Netflix documentary. Here's how the case developed.




NYTimes.com - Published





A Colorado man who expressed 'hatred' of Jewish people and planned to blow up a synagogue pleads guilty to federal hate crime

Richard Holzer, 28, pleaded guilty to federal hate crime and explosives charges in relation to a plot to blow up a Colorado synagogue.




USATODAY.com - Published