Indianapolis
State capital and Consolidated City County in the United States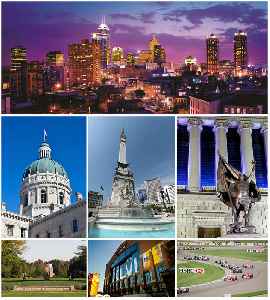 Indianapolis, often shortened to Indy, is the state capital and most populous city of the U.S. state of Indiana and the seat of Marion County. According to 2019 estimates from the U.S. Census Bureau, the consolidated population of Indianapolis and Marion County was 886,220. The "balance" population, which excludes semi-autonomous municipalities in Marion County, was 876,384. It is the 17th most populous city in the U.S. The Indianapolis metropolitan area is the 34th most populous metropolitan statistical area in the U.S., with 2,048,703 residents. Its combined statistical area ranks 28th, with a population of 2,431,361. Indianapolis covers 368 square miles (950 km2), making it the 16th largest city by land area in the U.S.


U.S. protesters defy curfews, threats of military force

Peaceful marches and demonstrations were marred by instances of looting and attacks on police officers as protesters decried police for the use of force against minorities. This report produced by..
Credit: Reuters Studio Duration: 02:51
Published
U.S. cities braced for another night of violence

Major U.S. cities feared another night of violent protests on Sunday over the death of George Floyd in police custody, cleaning up broken glass and burned out cars after curfews failed to stop..
Credit: Reuters Studio Duration: 02:34
Published



NASCAR driver Corey LaJoie's No. 32 car will have 'Trump 2020' paint scheme for 9 races

Beginning this Sunday at the Brickyard 400 in Indianapolis, NASCAR driver Corey LaJoie's Cup Series car will sponsored by a pro-Donald Trump PAC.




USATODAY.com - Published





Why George Hill, Myles Turner won't shut up and dribble: 'I have a platform for a reason'

Hill has interracial children. He grew up in Indianapolis and started at point guard for the Pacers. He's scared to come home.




USATODAY.com - Published





Young, in love and running out of time: Indianapolis teenagers receive parents' blessing to marry

Chase and Sadie were just 18 years old. They needed to get married. Both sets of parents gave their blessing.




USATODAY.com - Published




Indianapolis council unanimously declares racism a public health crisis

The resolution was unanimously passed after weeks of Black Lives Matter protests while coronavirus disproportionately tears through black communities.




USATODAY.com - Published





Indianapolis police open internal investigation after officers caught on video striking woman with batons during arrest

Indianapolis police are investigating the actions of several officers shown on video using batons and pepper balls to subdue a woman on Sunday.




USATODAY.com - Published




Indianapolis mayor announces plans to remove Confederate monument from city park

Indianapolis Mayor Joe Hogsett said he has long felt the grave monument belongs in a museum, not in a park.




USATODAY.com - Published




Mom seeks independent probe of killing by police

The mother of a black man who was fatally shot by an Indianapolis police officer is calling for an independent investigation of his death, nearly a month after he was killed following a police pursuit...




USATODAY.com - Published





A stubborn stain, a selfless act, a wrenching discovery: cleaning up after Chris Beaty's death in Indianapolis

Ben Jafari didn't know whose blood he was scrubbing; he just wanted to help. Later, he would learn that the man who died was his friend.




USATODAY.com - Published





Former Indiana football player and an 18-year-old killed amid Indianapolis violence

Chris Beaty, 38, managed Indianapolis nightclubs and played football for Indiana. Dorian Murrell, who also was shot and killed, was 18.




USATODAY.com - Published





'Black history is this country's history': George Floyd protests intensify across US, from Atlanta to Indianapolis to Tennessee

Outrage over George Floyd's death in Minneapolis sparked protests, both peaceful and contentious, in cities across the nation on Friday night.




USATODAY.com - Published




Family of man killed in police shooting speaks out

An attorney for the parents of a man killed last week by Indianapolis police said the family might file a lawsuit in the case. Meanwhile, city officials announced all officers will be equipped with..




USATODAY.com - Published





Indianapolis police say Sean Reed was fatally shot in exchange of gunfire after officer's taser was 'ineffective'

Indianapolis police released more information on Thursday night about an exchange of gunfire that led to the shooting death of Sean Reed.




USATODAY.com - Published




Black man shot dead by police in Indianapolis; video prompts calls for probe

Indianapolis police shot and killed a black man after a car pursuit and foot chase in an incident that was apparently captured on Facebook Live, leading to calls on Thursday by civil rights leaders for..




Reuters - Published





Indianapolis police fatally shoot man after a chase possibly broadcast on Facebook Live

An Indianapolis police officer fatally shot a man on the north side following a pursuit that seemingly was captured in part on Facebook Live.




USATODAY.com - Published




Pajama Day, weird hats and pop-song parodies: How one Indy nursing home cheered residents

At Creekside Health and Rehabilitation Center in Indianapolis, residents and staff held a spirit week and produced a coronavirus music video parody.  




USATODAY.com - Published





21-Year-Old Man Arrested in Fatal Shooting of Indianapolis Postal Worker

Angela Summers, 45, was delivering mail along her route when she was shot by an upset customer on Monday, the letter carriers union said.




NYTimes.com - Published





It was the hottest basketball sectional. Then attendees started dying of coronavirus

On March 6, there were five people in Indianapolis' Lawrence Central High School gym who later died after testing positive for coronavirus.




USATODAY.com - Published





Don't stop believin': Party-loving Indianapolis neighbors opt for socially distant singing

On 44th Street in Indianapolis during the coronavirus pandemic, neighbors won't stop believin', and good times never seemed so good.  




USATODAY.com - Published





U.S. FAA closes air traffic facilities in New York, Indianapolis for coronavirus cleaning

The U.S. Federal Aviation Administration (FAA) said it had temporarily closed the air traffic control tower at John F. Kennedy Airport in New York and shuttered part of the Indianapolis Air Route..




Reuters - Published





Fuel tanker explodes causing 'catastrophic' damage on Indianapolis interstate

The driver was able to get out of the tanker truck on his own and was met by three good Samaritans who helped usher him to safety.




USATODAY.com - Published




Tanker truck crashes and burns on Indiana highway

A tanker truck has overturned causing a huge fire on a highway in Indianapolis, Indiana. The driver was rescued by passersby and rushed to a hospital with serious injuries. (Feb 20)  




USATODAY.com - Published





11 NFL draft sleepers to watch at 2020 scouting combine

Big names will command plenty of attention at the NFL scouting combine, but these less-heralded players could make a mark in Indianapolis.




USATODAY.com - Published





'This is pure evil': Indianapolis shooting leaves 4 people dead; investigation underway

Officers found three men and one woman suffering from apparent gunshot wounds inside an apartment, Indianapolis police said.  




USATODAY.com - Published





Butter Gritty, radish stink, goatnapping: News from around our 50 states

Maine looks to harness seaweed to offset cows, new G.I. Joe comic puts Indianapolis in its spotlight, and more




USATODAY.com - Published





Celadon Group files for Chapter 11 bankruptcy, will go out of business

Indianapolis-based trucking company Celadon Group filed for bankruptcy after federal indictments for two former executives.




USATODAY.com - Published





Ex-Fox News Host's Business Partner Charged in Real Estate Scheme

Herbert Whalen, who worked with Clayton Morris selling investment properties in Indianapolis, was charged with defrauding clients.




NYTimes.com - Published





Half of Indiana's school districts close as thousands of teachers descend on Statehouse for Red for Ed, demand better pay

More than 15,000 people are expected to flood downtown Indianapolis Tuesday for what could be the largest Statehouse rally in more than 20 years.  




USATODAY.com - Published





Passage: The Jane Pauley Community Health Center

It happened this past Friday: a 10th anniversary celebration for an Indianapolis-area health center named for a graduate of local Warren Central High School. Today, the Jane Pauley Community Health..




CBS News - Published





Booze, Gunshots and White Castle: Three Judges Are Suspended for Brawl

After finding the strip club next door closed, judges who were in Indianapolis for a conference got into a fight that left two of them hospitalized.




NYTimes.com - Published





36 Hours in Indianapolis

Even with a new and improved Kurt Vonnegut museum and a slew of recently opened restaurants, bars and galleries, this Midwestern city is still true to its roots: short on pretension and very..




NYTimes.com - Published





How Indianapolis employers are adjusting to hiring ex-offenders amid tight labor market

In a tight hiring market from low unemployment, more ex-offenders and felons are finding jobs than before.




USATODAY.com - Published





'I am extremely unwell': Elton John postpones Indianapolis farewell show to 2020 due to illness

Elton John has postponed Saturday night's show at Bankers Life Fieldhouse in Indianapolis, Indiana, writing on Twitter that he is "extremely unwell."




USATODAY.com - Published





2 people were killed after a vehicle fell from a downtown parking garage in Indianapolis

Two people were killed when a vehicle crashed through a concrete wall and fell from Market Square Center Garage in downtown Indianapolis.  




USATODAY.com - Published





Two die when vehicle plunges off parking garage

Firefighters say a vehicle plunged from the fourth floor of a downtown Indianapolis parking garage, killing a man and a woman inside. (Oct. 23)  




USATODAY.com - Published





"Sunday Morning" Full Episode 10/13

This week "Sunday Morning," hosted by Jane Pauley, features Rita Braver's cover story in which she revisits three transgender youth to see how their lives have progressed since our initial story with..




CBS News - Published





Indianapolis' Idle, an oasis on the interstate

Tom Battista tends to veer off the beaten path – specifically, a small triangle of land wedged between traffic-choked freeways in Indianapolis. There, Battista has created a quiet oasis, a park for..




CBS News - Published





The Idle: An oasis in the midst of traffic

In Indianapolis a highway median was the perfect place in which to erect a miniature park, where visitors could gaze upon cars speeding (or crawling) by




CBS News - Published





Retired QB Andrew Luck thanks 'Colts Nation' in full-page ad

In the letter in the Indy Star, Andrew Luck writes that 'it has been the honor of a lifetime to represent the Colts and the City of Indianapolis.'




USATODAY.com - Published





Pompeo lauds Americanism at legionnaires assembly

'Celebrating Americanism in Our Foreign Policy' was the theme of the speech that Secretary of State Mike Pompeo made to The American Legion 101st National Convention in Indianapolis. (Aug. 27)  




USATODAY.com - Published





Colts owner Jim Irsay keeps door cracked for Andrew Luck comeback

On three occasions Saturday night, the Colts owner suggested he could envision a future in which No. 12 returns to the Indianapolis locker room.




USATODAY.com - Published





See the Larry Bird mural after artist removed nearly all tattoos at the NBA legend's request

The artist who painted a heavily tattooed Larry Bird in an Indianapolis mural has removed nearly all the tattoos after Bird requested the changes.




USATODAY.com - Published





Artist will remove tattoos from Indianapolis mural of Larry Bird — except one

Basketball legend Larry Bird wasn't thrilled when he spotted a mural of himself on an Indianapolis building, so he contacted the artist, Jules Muck.




USATODAY.com - Published





We need to tackle domestic terrorism like we do foreign threats, expert says

There's been a wave of arrests of people who, police say, threatened to carry out mass shootings after this month's massacres in Dayton and El Paso. The suspects include a truck driver in Indianapolis..




CBS News - Published





Larry Bird objects to tattoos on Indianapolis mural of him, asks street artist to remove them

Street artist Jules Muck painted a mural of Larry Bird that was full of tattoos; NBA Hall of Famer wants them removed to protect his brand.




USATODAY.com - Published





Cardi B postponed her Indianapolis concert after an 'unverified threat,' police say

Bankers Life Fieldhouse announced that Cardi B's sold-out Indianapolis show has been rescheduled for Sept. 11.




USATODAY.com - Published





Newlywed survives fall into dormant volcano on Caribbean island

An Indianapolis couple on their honeymoon in St. Kitts were completely alone when the husband plunged more than 50 feet, suffering a skull fracture




CBS News - Published





Honeymoon couple's near-death experience in St. Kitts volcano

Newlyweds from Indianapolis are recovering at a Florida hospital after a near-death experience on their honeymoon. The couple was hiking on a dormant volcano in St. Kitts, when the husband plunged more..




CBS News - Published





Indianapolis council backs Pacers arena $300M subsidy plan

City officials in Indianapolis are signing off on a deal for nearly $300 million in public subsidies toward renovation of the Indiana Pacers' downtown arena




USATODAY.com - Published