The Who
English rock band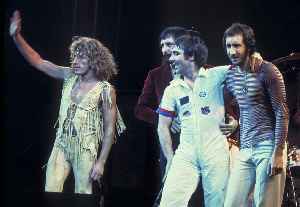 The Who are an English rock band formed in London in 1964. Their classic line-up consisted of lead singer Roger Daltrey, guitarist and singer Pete Townshend, bass guitarist John Entwistle and drummer Keith Moon. They are considered one of the most influential rock bands of the 20th century, selling over 100 million records worldwide.


Roger Daltrey 'fine' after throat surgery, talks The Who's new album, healing concert
The Who's Roger Daltrey breaks his voice rest to say he's fine after a procedure to remove pre-cancerous cells from his throat and discuss the new album.
USATODAY.com - Published
'The Who' remembers deadly 1979 stampede
The remaining original members of 'The Who' say they are still haunted by the deadly concert stampede that killed 11 people in Cincinnati in 1979. (Dec. 4)  
USATODAY.com - Published
The Who enter Music Walk of Fame
Rock legends The Who are unveiled as the first act in Britain to receive a stone on The Music Walk of Fame at an event in Camden Town. Frontman Roger Daltrey and guitarist Pete Townsend were present at..
Credit: PA - Press Association STUDIO Duration: 01:18Published
The Who concert stampede left 11 people dead 40 years ago. Here's what newspaper coverage looked like
On Dec. 3, 1979, 11 concertgoers were killed when the crowd surged to get into Cincinnati's Riverfront Coliseum for the Who rock concert.
USATODAY.com - Published
On This Day: 3 December 1965
British rock legends The Who released their debut album, "My Generation," in the U.K.. (Dec. 3)  
USATODAY.com - Published
Forty years later, concert tragedy remembered
Forty years after a stampede at a Cincinnati concert for The Who killed 11, the victims are remembered. (Dec. 1)  
USATODAY.com - Published
The Who: Our new album 'sounds great'
The Who receive the first stone on Camden's Music Walk of Fame, ahead of new "Who" album and singer Roger Daltrey's voice op. (Nov. 19)  
USATODAY.com - Published
Roger Daltrey of The Who: Rock legend, cancer warrior
"You'll never make anything of your life, Daltrey": Those words by the school principal who expelled Roger Daltrey for misbehavior at age 15 resonated enough to fuel the young man to one of rock's most..
CBS News - Published
ShowBiz Minute: Prince Harry, The Who, Global Citizen
Prince Harry follows in mother Diana's footsteps in Angola; The Who cuts concert short after Roger Daltrey loses voice; Stars, Global Citizen founder outline massive 2020 concert. (Sept. 27)  
USATODAY.com - Published
You Might Like