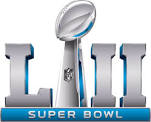 NFL Free Agency: Team-by-team tracker with Justin Pugh and more signings
Keep up with the latest moves in free agency as teams try to build a Super Bowl contender
CBS Sports
Lions sign Super Bowl-winning running back LeGarrette Blount
He ran for three TDs in victory over Patriots
FOX Sports
According to US weekly, Supermodel Alessandra Ambrosio and Jamie Mazur, who has been her fiancé of 10 years, have officially split. Christmas was the last time the businessman posted a photo with..


Source: Wochit Entertainment -



Westworld's second season is coming our way in April. Here's what's been revealed so far about the HBO sci-fi show's upcoming season. The first trailer for Westworld season 2 was full of cryptic hints...


Source: Wochit Entertainment -



We have found out the real reason why Kirk Cousins decided to join the Minnesota Vikings! Is this just an overrated signing or can he actually lead the team to a Superbowl? We are discussing all this..


Source: Rumble -



We have found out the real reason why Kirk Cousins decided to join the Minnesota Vikings! Is this just an overrated signing or can he actually lead the team to a Superbowl? We are discussing all this..


Source: The Fumble -



A popular meme asks if Super Bowl-winning Baltimore Ravens quarterback Joe Flacco is indeed elite. Regardless of that answer, the University of Delaware says his latest donation definitely is.


Source: WJZ Baltimore -


Source: Blount inks 1-year, $2M deal with Lions
The Lions have signed running back LeGarrette Blount, the team announced Friday. Blount brings Super Bowl experience to Detroit after winning it with the Eagles last season and with the Patriots the..
ESPN
LeGarrette Blount to reportedly sign a one-year deal with the Lions
Blount is coming off two consecutive Super Bowl victories and will reunite with Matt Patricia in Detroit
CBS Sports
Vikings' Super Bowl hopes soar in landing Richardson after Cousins
Upgrading the defensive line was a priority after Minnesota's pass rush sputtered down the stretch, but Sheldon Richardson is more than a mere upgrade.
ESPN
Sheldon Richardson addition is making the Vikings everyone's Super Bowl favorite
Minnesota is loaded in a 'Dream Team' style offseason
CBS Sports
After winning the Super Bowl, where can the Eagles improve? There's one obvious answer | Mike Sielski
It's easy to forget that the Eagles' last great play of Super Bowl LII came on special teams, but the play was an outlier. The Eagles need to improve the unit, and they know it.
philly.com
Saints owner Tom Benson was a reflection of the city he loved | Editorial
From the 'Benson Boogie' to Super Bowl XLIV to his charitable giving, Tom Benson left a strong imprint on his hometown.
nola.com
Joe Flacco makes elite donation to University of Delaware
NEWARK, Del. (AP) — A popular internet meme asks if Super Bowl-winning Baltimore Ravens quarterback Joe Flacco is indeed elite. Regardless of that answer, the University of Delaware says his latest..
Seattle Times
Pro poker player charged in $6M Super Bowl, World Cup ticket scam
March 15 (UPI) — A professional poker player was indicted for wired fraud Thursday for allegedly bilking investors out of more than $6 million in a scheme involving Super Bowl and World Cup tickets...
Newsline