Adam Schlesinger
American musician (1967—2020)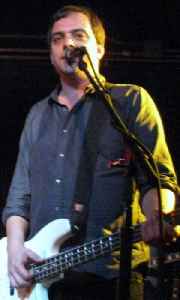 Adam Lyons Schlesinger was an American singer-songwriter, record producer, bassist, guitarist, keyboardist, and drummer. He won three Emmy Awards, a Grammy Award, and the ASCAP Pop Music Award, and was nominated for Academy, Tony, and Golden Globe Awards.


You Might Like
Adam Schlesinger tribute: Partner details final, heartbreaking moments of coronavirus battle
Musician Adam Schlesinger died April 1 of complications from the coronavirus. His partner, Alexis Morley, paid loving tribute on Instagram Sunday.
USATODAY.com - Published
ShowBiz Minute: Marsalis/Schlesinger, 'Minions,' Bloom
Musicians Ellis Marsalis Jr and Adam Schlesinger die; More movies postponed due to the coronavirus pandemic; Actress Rachel Bloom back home after giving birth to girl. (April 2)  
USATODAY.com - Published
Tom Hanks remembers 'That Thing You Do!' songwriter Adam Schlesinger: 'He was a One-der'
Tom Hanks is among those paying tribute to Adam Schlesinger, the songwriter who died Wednesday due to coronavirus complications.
USATODAY.com - Published
Emmy-winning songwriter Adam Schlesinger of Fountains of Wayne dies of coronavirus at 52
Singer, songwriter Adam Schlesinger of the band "Fountains of Wayne" and TV's "Crazy Ex Girlfriend" has died at 52 of coronavirus.
USATODAY.com - Published
Adam Schlesinger, Songwriter for Rock, Film and the Stage, Dies at 52
He made suburban characters shine in Fountains of Wayne songs and brought pop-rock perfection to the Tom Hanks film "That Thing You Do!"
NYTimes.com - Published
Adam Schlesinger, of 'Stacy's Mom' and 'That Thing You Do' fame, hospitalized with coronavirus
Adam Schlesinger, the Oscar- and Grammy-nominated member of alt-rock band Fountains of Wayne, has been hospitalized with coronavirus.
USATODAY.com - Published