Jerry Nadler
U.S. Representative from New York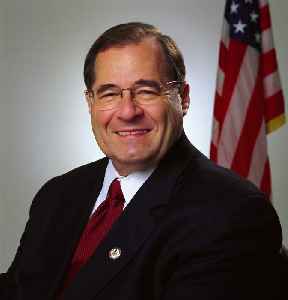 Jerrold Lewis Nadler is an American politician serving as the U.S. Representative for New York's 10th congressional district since 2013. A member of the Democratic Party, he is in his 15th term in Congress, having served since 1992. He was originally elected to represent the state's 17th congressional district (1992–1993) which was renumbered the 8th congressional district (1993–2013) and now is the 10th congressional district. Nadler has been Chairman of the House Judiciary Committee since 2019.


Barr 'abetted' Trump's 'worst failings': Nadler

House Judiciary Committee Chairman Jerrold Nadler chastised U.S. Attorney General William Barr at a congressional hearing on Tuesday saying Barr "aided and abetted the worst failings of the president."
Credit: Reuters Studio Duration: 01:25
Published
Nadler to Barr: 'Shame on you'

During U.S. Attorney General Barr's testimony to the House Judiciary, U.S. Representative Jerrold Nadler says "shame on you" for the use of force on protesters in Lafayette Square in Washington D.C...
Credit: Reuters Studio Duration: 00:59
Published
Ousted U.S. prosecutor says Barr pressed him to resign

[NFA] Geoffrey Berman, the top federal prosecutor in Manhattan who was ousted last month as his office led a probe into President Donald Trump's personal attorney Rudolph Giuliani, told lawmakers on..
Credit: Reuters - Politics Duration: 02:06
Published
Impeaching Barr a 'waste of time' -top Dem

U.S. Attorney General William Barr deserves to be impeached over the firing of a federal prosecutor whose office had been investigating President Donald Trump's personal lawyer but the effort would be..
Credit: Reuters - Politics Duration: 01:55
Published
You Might Like



Barr, Nadler clash on federal response to unrest

Attorney General William Barr clashed with the top Democrat on the House Judiciary Committee over the federal response to unrest in U.S. cities. (July 28)  




USATODAY.com - Published





Nadler to miss witness vote to be with his wife.

The wife of Representative Jerrold Nadler has pancreatic cancer.




NYTimes.com - Published





Nadler says House could subpoena Bolton if Senate doesn't: CNN

The head of the U.S. House Judiciary panel said it might be a good idea for the House of Representatives to subpoena President Donald Trump's former national security adviser John Bolton if the Senate..




Reuters - Published





Citing stonewalling of congressional subpoenas, Nadler calls Trump 'a dictator.'

Representative Jerrold Nadler of New York called Mr. Trump "the first and only president ever to declare himself unaccountable."




NYTimes.com - Published





Sen. Susan Collins wrote note to Chief Justice Roberts prior to his admonishing of Senators

Sen. Susan Collins, R-Maine, said she was "stunned" by remarks given by House Judiciary Chairman Jerry Nadler at the start of the trial




USATODAY.com - Published





Nadler gives a history lesson in arguing that no crime is needed for impeachment.

Representative Jerrold Nadler argued that the nation's founders envisioned that impeachment would be required for presidential abuses of power.




NYTimes.com - Published





Second day of arguments in Trump impeachment begins

House Democrats prosecuting President Donald Trump's impeachment are trying to win over senators and a deeply divided American public. Rep. Jerrold Nadler argued Thursday the president's conduct was..




USATODAY.com - Published





'Attack their own jury': GOP says Nadler may have alienated senators during impeachment trial

Republicans attacked Rep. Jerry Nadler on Wednesday, saying his remarks likely turned off key moderate Republicans.




USATODAY.com - Published





Trump leaves Davos after downplaying friction with Iraq, condemning impeachment

Before leaving the World Economic Forum in Davos, Switzerland, President Donald Trump went after impeachment managers Adam Schiff and Jerrold Nadler.




USATODAY.com - Published





Roberts admonishes Nadler and Cipollone.

The chief justice intervened after Representative Jerrold Nadler of New York, an impeachment manager, and Pat Cipollone, the White House counsel, traded insults in a particularly biting exchange.




NYTimes.com - Published





Debate between Nadler and Cipollone grows testy.

The two men hurled undisguised barbs at each other on the Senate floor.




NYTimes.com - Published





Who is Jerry Nadler? Co-Lead Impeachment Manager Will Tie Case to Constitution

Mr. Nadler, the chairman of the House Judiciary Committee, will be the constitutional expert of the team of impeachment managers.




NYTimes.com - Published





An abrupt ending that inspired GOP fury and other takeaways from Thursday's marathon impeachment debate

Ending grueling day of proceedings, Judiciary Chairman Jerry Nadler called a recess until 10 a.m. Friday.




USATODAY.com - Published





Protester interrupts impeachment hearing, chairman Nadler: Trump is innocent!

A protester was escorted out of the hearing even before Judiciary Chairman Jerry Nadler began his opening remarks in the House impeachment hearing.




USATODAY.com - Published





Nadler says vote 'possible' on Trump articles of impeachment this week

Jerrold Nadler, the Democratic chairman of the House Judiciary Committee, said on Sunday his panel could vote on articles of impeachment against President Donald Trump this week.




Reuters - Published





'Last and most extraordinary resort': House Democrats release report on legal basis for impeachment

"President Trump abused his power, betrayed our national security, and corrupted our elections, all for personal gain," said Chairman Nadler.




USATODAY.com - Published





Trump's decision not to take part in impeachment hearing 'unfortunate': chairman

The chairman of the U.S. House of Representatives Judiciary Committee, Jerrold Nadler, on Monday said President Donald Trump's decision not to take part in hearings that could lead to his impeachment..




Reuters - Published





White House says it won't participate in impeachment hearing

In the letter, the president's attorney accused Nadler of intentionally scheduling the hearing to interfere with Trump's trip to the NATO summit in London later this week.




CBS News - Published




House Judiciary Panel Asks Trump if He Will Present Impeachment Defense

Representative Jerrold Nadler, the chairman of the Judiciary Committee, gave the president until next Friday to say if he will present evidence or call witnesses.




NYTimes.com - Published





Trump faces next step in impeachment inquiry after Thanksgiving

The House Judiciary Committee is taking the next step in the impeachment inquiry with a hearing December 4. Chairman Jerry Nadler has invited President Trump and his lawyers to attend, but so far the..




CBS News - Published





11/27: CBSN AM

Representative Nadler: first judiciary hearing scheduled for next week; parents search for deals on toys




CBS News - Published





Jerry Nadler invites Trump to testify in the impeachment inquiry

A top Democrat is inviting President Trump to testify in the impeachment inquiry next week. Mr. Trump didn't answer, but he's repeatedly attacked the probe as unfair. Paula Reid reports.




CBS News - Published





House Judiciary Committee to start next phase of impeachment inquiry

The House Judiciary Committee is preparing to take over the impeachment inquiry next week. The panel will hold its first hearing on December 4. Chairman Jerry Nadler invited President Trump and asked..




CBS News - Published

Also reported by •USATODAY.com


Open: This is Face the Nation, April 7

This week on "Face the Nation," moderator Margaret Brennan talks to House Judiciary Committee Chairman Rep. Jerry Nadler, attorney to President Trump Rudy Giuliani, Democratic presidential candidate..




CBS News - Published





Nadler says Congress "entitled to see all" of Mueller report, vows court fight over grand jury testimony

House Judiciary Committee Chairman Rep. Jerry Nadler, D-New York, joins Margaret Brennan to discuss the release of the Mueller report.




CBS News - Published





House Judiciary to return from August recess to consider gun bills

"To keep our communities safe, we must act," said committee chair Jerry Nadler




CBS News - Published





Trump 'Richly Deserves' Impeachment, Chairman of House Judiciary Panel Says

The remarks by Representative Jerrold Nadler were the most forceful public comments yet from the leader of the panel that would open the proceedings to remove the president from office.




NYTimes.com - Published





House Judiciary Committee seeks more Mueller documents

House Judiciary Committee Chairman Jerry Nadler asked a court for more documents related to Robert Mueller's Russia investigation, saying they're necessary for a potential impeachment inquiry. Kevin..




CBS News - Published





Nadler makes moves toward impeachment proceedings

Democrats in the House are making their loudest overtures yet toward impeachment of President Trump. They've asked a court for documents from the Mueller investigation that House Judiciary Chairman..




CBS News - Published





House Democrats request Mueller investigation court documents

House Democrats asked a court for documents from the Mueller investigation. Judiciary Chairman Jerry Nadler says he needs them for an impeachment inquiry. Nancy Cordes reports.




CBS News - Published





Rep. Jerry Nadler talks next steps of "holding Trump accountable"

House Judiciary Committee Chairman Jerry Nadler says the committee will be seeking the grand jury material underlying former special counsel Robert Mueller's Russia report. Nadler also addressed..




CBS News - Published





House panel seeks grand jury evidence gathered by Mueller: chairman

U.S. House Judiciary Committee Chairman Jerrold Nadler said he would go to court on Friday to seek access to grand jury evidence compiled by former Special Counsel Robert Mueller's 22-month probe of..




Reuters - Published





Nadler speaks about next steps on McGahn subpoena -- live stream

The House Judiciary chairman is holding a news conference to talk about the next steps his committee will take to enforce its subpoena of former White House counsel Don McGahn




CBS News - Published





House panel chairman says Mueller court action imminent

U.S. House of Representatives Judiciary Committee Chairman Jerrold Nadler said on Friday that he will go to court on Friday to seek access to grand jury evidence compiled by former Special Counsel..




Reuters - Published





Nadler vows to enforce subpoena of former White House counsel

McGahn had previously defied a subpoena by the House panel after the White House blocked his testimony




CBS News - Published





Pelosi reacts to Mueller's testimony before Congress

Pelosi is holding a press conference with Jerry Nadler and Adam Schiff to discuss Mueller's testimony




CBS News - Published





Was Trump totally exonerated? "No" says Mueller

In response to a question from House Judiciary Committee Chairman Jerry Nadler, Robert Mueller said that in his findings he did not "totally exonerate" President Trump. That comes in contrast to the..




CBS News - Published





Opening statement by Rep. Jerry Nadler at Mueller hearing

House Judiciary Committee Chairman Jerry Nadler gave an opening statement ahead of Robert Mueller's testimony. Watch his remarks.




CBS News - Published





Mueller to publicly testify before House committees

U.S. Rep. Jerry Nadler said special counsel Robert Mueller will appear in an open session July 17




CBS News - Published





Jason Miller, Former Trump Aide, Loses Job After Nadler Tweetstorm

Mr. Miller called Representative Jerrold Nadler, the chairman of the House Judiciary Committee, "fat and nasty" for his treatment of Hope Hicks, the former White House communications director,..




NYTimes.com - Published





Nadler says DOJ to provide "key evidence" from Mueller report

The full House of Representatives still plans to vote Tuesday to authorize the Judiciary Committee to seek court approval to enforce Barr and McGahn subpoenas




CBS News - Published





House Judiciary to hold series of hearings on Mueller report

Committee chair Jerry Nadler said the first hearing will focus on President Trump's "most overt acts of obstruction"




CBS News - Published





Redacted Mueller Report Will Be 'Released Within a Week'

by Alice Monroe - Amid growing pressure to release the full report of special counsel Robert Mueller's investigation into President Trump's campaign allegedly colluding with Russia,..




One News Page Staff - Published