Tim Tebow
American football player and professional baseball player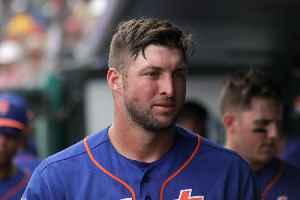 Timothy Richard Tebow is an American professional baseball player, former professional football quarterback, and broadcaster. He played college football for the University of Florida, winning the Heisman Trophy in 2007 and appearing on BCS National Championship-winning teams during the 2006 and 2008 seasons. In the National Football League, Tebow played for the Denver Broncos and the New York Jets. He is a minor league outfielder in the New York Mets organization. Tebow is known for his outspoken Christian faith as well as his athletic prowess; his practice of genuflecting in prayer on the football field has become known as "Tebowing".


Entering another spring training with Mets, Tim Tebow 'won't give up' on baseball dream
Preparing for spring training, Tim Tebow spoke to USA TODAY Sports about his dream of playing in the majors.
USATODAY.com - Published
ShowBiz Minute: Prince Harry, Tebow, Graham
UK's Prince Harry arrives in Canada; Former NFL quarterback Tim Tebow marries 2017 Miss Universe Demi-Leigh Nel-Peters; Ashley Graham welcomes baby boy. (Jan. 21)  
USATODAY.com - Published
Tim Tebow, Demi-Leigh Nel-Peters announce their marriage
Tim Tebow and 2017 Miss Universe winner Demi-Leigh Nel-Peters are married, as the couple shared photos on social media and details on day with People.
USATODAY.com - Published
Tim Tebow emotionally honors dog Bronco's death with heartfelt goodbye
A heartbroken Tim Tebow shared teary-eyed videos from Wednesday when he had to say goodbye to his dog, Bronco.
USATODAY.com - Published
Tim Tebow on No. 1 Alabama: 'I think they're being overlooked'
They've been one of the best dynasties in the history of college football, but Alabama in 2019 is being overlooked, according to Tim Tebow.
USATODAY.com - Published
Tim Tebow doesn't want college athletes to get paid: 'It's about your team'
Former Florida quarterback and New York Mets minor-leaguer Tim Tebow believes paying college athletes changes the meaning of college sports.
USATODAY.com - Published
Tim Tebow, BALCO chemist on witness list in banned drug case
The trainer for Tim Tebow and James Harrison has denied allegations of giving or injecting other athletes with banned performance-enhancing drugs.
USATODAY.com - Published
Trainer to NFL stars pleaded Fifth Amendment 46 times in drug lawsuit
Raiders lineman Corey Liuget is suing Ian Danney after violating the NFL's PED policy. Danney has also trained Tim Tebow, Demaryius Thomas, others.
USATODAY.com - Published
Tim Tebow's minor league season with the Mets is over due to injury
For the second consecutive season, Tim Tebow's minor league baseball career ends early because of an injury.
USATODAY.com - Published
Struggling in the minors, Tim Tebow still bringing the buzz to every stadium
Nothing against the Indianapolis Indians, but there isn't always this kind of buzz on game night.
USATODAY.com - Published
Next Tim Tebow? Florida Gators quarterback Feleipe Franks signed by Boston Red Sox
Despite not pitching since his junior year of high school, Franks received a $40,000 signing bonus from the Boston Red Sox.
USATODAY.com - Published
Tim Tebow meets with UNC-Charlotte shooting survivor before game
Before Wednesday's minor-league game, Tebow took the time to meet with Drew Pescaro, a survivor of the UNC-Charlotte shooting.
USATODAY.com - Published
You Might Like