Elvis Presley
American singer and actor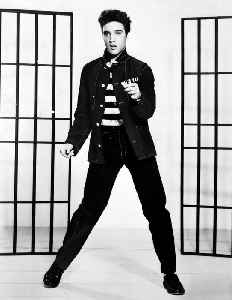 Elvis Aaron Presley, also known simply as Elvis, was an American singer and actor. He is regarded as one of the most significant cultural icons of the 20th century and is often referred to as the "King of Rock and Roll" or simply "the King". His energized interpretations of songs and sexually provocative performance style, combined with a singularly potent mix of influences across color lines during a transformative era in race relations, led him to great success—and initial controversy.


Benjamin Keough, Son Of Lisa Marie Presley Dies At 27

Elvis Presley's grandson Benjamin Keough has died. Keough is the son of Elvis's daughter, Lisa Marie Presley, and musician Danny Keough. According to CNN, the 27-year-old died in Calabasas, California...
Credit: Wochit News Duration: 00:32
Published
Lisa Maria Presley's son de*d from apparent su*cide

The grandson of Elvis Prestley was reportedly found de*d in California on Sunday from a self inflicted g*nshot wound.
Credit: Cover Video STUDIO Duration: 00:43
Published
You Might Like



Elvis Presley's famous 'Sun Sessions' guitar sells for $1.2M at auction to mystery buyer

The acoustic guitar that Elvis Presley played on the historic Memphis sessions that ignited the "big bang" of rock and roll has sold at auction.




USATODAY.com - Published





Elvis Presley-Owned Guitar Sells for Record $1.32 Million at Auction

One lucky, and very rich, Elvis Presley fan has the memorabilia world all shook up -- after snapping up one of The King's rare guitars for a record-setting 7-FIGURE price!!! That's right ... Elvis'..




TMZ.com - Published





Nick Cordero's son's first words are adorably about his late father

Despite not seeing his late father since March, Nick Cordero's son, Elvis, surely 'knows who Dada is.'




USATODAY.com - Published





A Florida python named Elvis is helping stop the spread of the state's most notorious pest

Over 85 pythons were removed during the 2019-20 breeding season, thanks to males implanted with radio transmitters that lead biologists to nests.




USATODAY.com - Published




ShowBiz Minute: Preston, Keough, Rivera

Kelly Preston, actor and wife of John Travolta, has died at the age of 57; Grandson of Elvis Presley has died at age 27, agent says; The search to find Naya Rivera resumed on Sunday and will now..




USATODAY.com - Published





Lisa Marie Presley's son Benjamin Keough, Elvis Presley's grandson, dies at 27

Benjamin Keough, the son of actress Lisa Marie Presley and the grandson of Elvis Presley, has died at 27.




USATODAY.com - Published





Today in History for July 5th

Highlights of this day in history: Elvis Presley holds his first major recording session; Birth of the bikini; Enron's Kenneth Lay dies; Arthur Ashe wins at Wimbledon; Larry Doby follows Jackie..




USATODAY.com - Published




Amanda Kloots celebrates her 'two Cordero men' as son Elvis turns 1 while Nick remains in hospital

Amanda Kloots is celebrating the first birthday of her and Nick Cordero's son, Elvis, while her husband remains in the hospital.




USATODAY.com - Published





Memorial Day 2020: Clint Eastwood, Elvis Presley, other stars who served in the military

Memorial Day is May 25, a chance to honor those who have served in America's armed forces. Lots of famous folks are veterans. Here are just some.




USATODAY.com - Published





Little Richard, outsized founding father of rock music, dies at 87

Little Richard Penniman, a founding father of rock music, died at 87. Before Elvis, the flamboyant singer wowed 1950s teens with his frantic sound.




USATODAY.com - Published





On This Day: 24 March 1958

In 1958, Elvis Presley was inducted into the U.S. Army, before being transferred to Fort Hood, Texas. (March 24)  




USATODAY.com - Published





What do Justin Bieber and Elvis Presley have in common?

Justin Bieber and Elvis Presley both broke this Billboard record.




USATODAY.com - Published





Bill Ray, Photographer of Indelible Moments, Dies at 83

He captured Marilyn Monroe singing "Happy birthday, Mr. President," Elvis Presley as an Army private, scenes of war and urban unrest, and much more.




NYTimes.com - Published





Overlooked No More: Earl Tucker, a Dancer Known as 'Snakehips'

Tucker was a name attraction in Harlem nightclubs in the 1920s, and his moves were echoed by Elvis Presley and Michael Jackson.




NYTimes.com - Published





Jason Momoa's scary-good Elvis chats with Ellen DeGeneres' Cardi E on Halloween show

The costume Jason Momoa wore on the Halloween episode of "The Ellen DeGeneres Show" may move people to say, 'Thank you, thank you very much."




USATODAY.com - Published





Dog records outsmarting his human with a GoPro

Elvis the Labrador recorded himself being chased by his owner from the GoPro camera that he stole.




USATODAY.com - Published





ShowBiz Minute: R. Kelly, Emmys, Elvis

R. Kelly is expected to appear in a Chicago federal courtroom Tuesday; Emmy nominations to be announced; Austin Butler to star as Elvis in Baz Luhrmann-helmed biopic. (July 16)  




USATODAY.com - Published





Austin Butler's casting as Elvis Presley makes girlfriend Vanessa Hudgens curse joyfully

Newbie Austin Butler will play Elvis Presley opposite Tom Hanks' Colonel Tom Parker in Baz Luhrmann's new movie about the king of rock 'n' roll.




USATODAY.com - Published





Austin Butler to play Elvis Presley in forthcoming biopic

Butler was one of five actors being considered for the iconic role




CBS News - Published





Five actors reportedly in the running to play Elvis

Who do you think is best to play the King of Rock and Roll?




CBS News - Published





Lisa Marie Presley's son looks just like Elvis' 'twin' in rare family photo, fans say

A picture of Lisa Marie Presley's son Benjamin Keough channeling her famous father, Elvis Presley, has the Internet all shook up.




USATODAY.com - Published