Broward County, Florida
County in Florida, United States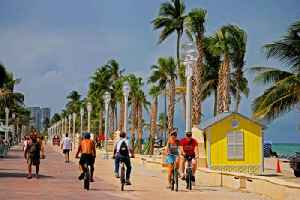 Broward County is a county in southeastern Florida, U.S.A. According to a 2017 census report, the county had a population of 1,935,878, making it the second-most populous county in the state of Florida and the 17th-most populous county in the United States. The county seat is Fort Lauderdale.


2 more Broward sheriff's deputies fired over Parkland shooting
Broward County Sheriff Gregory Tony said two additional deputies have been fired as a result of an internal affairs investigation into the agency's response to the shooting at Marjory Stoneman Douglas..
CBS News - Published
Deputy Who Stayed Outside Parkland School as Gunman Rampaged Inside Faces Criminal Charges
Scot Peterson, a former Broward County Sheriff's deputy, faces charges of neglect of a child, culpable negligence and perjury, the authorities said.
NYTimes.com - Published
Trump admin. may send migrants to Democratic strongholds in Florida
Hundreds of detained migrants along the U.S.-Mexico border may soon find themselves in South Florida. A Trump administration plan would move as many as 1,000 migrants per month to Broward and Palm..
CBS News - Published
Expected plan to move migrants to Florida an unwelcome surprise for local officials
The Trump administration is apparently planning to move hundreds of undocumented immigrants to south Florida. Local officials in Broward and Palm Beach Counties say they have been told to expect plane..
CBS News - Published
Homeland Security to release hundreds of migrants caught along southern border into S. Florida
Broward County Mayor Bogen called the plan "irresponsible" and warned that it would create a "homeless encampment" in his South Florida county.
USATODAY.com - Published
Ordeal of Woman Who Gave Birth in Florida Jail Cell Prompts Internal Investigation
Lawyers for the woman, Tammy Jackson, said she gave birth alone in a jail cell in Broward County after crying for help for hours.
NYTimes.com - Published
Families of Parkland school shooting victims file lawsuits charging negligence
Lawsuits filed by the families of Parkland school shooting victims allege that Broward County school board, sheriff's office and others were negligent.
USATODAY.com - Published
South Florida fire knocks out power to thousands
Authorities in Florida say a fire at a power utility substation left thousands of people in Broward County without power on Tuesday night. Local utility FPL's outage tracker shows up to 33,700 homes..
USATODAY.com - Published
You Might Like