Beijing
Capital of the People's Republic of China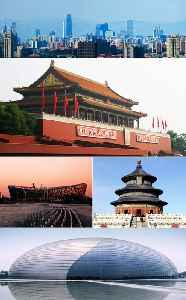 Beijing, alternatively romanized as Peking, is the capital of the People's Republic of China(alternatively shortened as China). It is the world's most populous capital city, with over 21 million residents within an administrative area of 16,410.5 km2. The city, located in North China, is governed as a municipality under the direct administration of the central government with 16 urban, suburban, and rural districts. Beijing is mostly surrounded by Hebei Province with the exception of neighboring Tianjin to the southeast; together, the three divisions form the Jingjinji megalopolis and the national capital region of China. Beijing is a global city, and one of the world's leading center for culture, diplomacy and politics, business and economy, education, language, and science and technology. A megacity, Beijing is the second-largest Chinese city by urban population after Shanghai and is the nation's cultural, educational, and political center. It is home to the headquarters of most of China's largest state-owned companies and houses the largest number of Fortune Global 500 companies in the world, as well as the world's four biggest financial institutions. Beijing has also been described as the "billionaire capital of the world" after overtaking New York City. It is also a major hub for the national highway, expressway, railway, and high-speed rail networks. The Beijing Capital International Airport has been the second busiest in the world by passenger traffic since 2010, and, as of 2016, the city's subway network is the busiest and longest in the world. The Beijing Daxing International Airport, a second international airport in Beijing, is the largest single-structure airport terminal in the world.


Xi touts China's sovereignty on war anniversary

Amid growing contention over the democratically-ruled island of Taiwan,Chinese President Xi Jinping said Friday China will never allow its sovereignty, security and development interests to be..
Credit: Reuters - Politics Duration: 01:27
Published
Trump vs Biden, who's better for India? The China, economy, climate factors

The second and final debate between US Presidential election candidates Donald Trump and Joe Biden saw better articulation of their views and policy visions, but one area which didn't see much..
Credit: HT Digital Content Duration: 09:57
Published
Sweden bans Huawei; Ericsson risks blowback

Sweden says it is banning Huawei from its 5G networks. If Beijing decides to retaliate, that could leave Swedish telecom gear maker Ericsson vulnerable. Julian Satterthwaite reports.
Credit: Reuters Studio Duration: 01:09
Published
Watch: Protest in Canada against China's atrocities on Ughyur Muslims

Hundreds of people participated in an anti-China protest in Canada's Vancouver over atrocities against Uyghurs. The protestors marched from Vancouver Art Gallery to the Chinese consulate office in..
Credit: HT Digital Content Duration: 02:09
Published
China denies report it may detain Americans

China reacted angrily on Monday to reports that Beijing had warned Washington that Americans may be detained in China due to U.S. prosecution of Chinese scholars. Joe Davies reports.
Credit: Reuters Studio Duration: 01:24
Published
Anti-China protests in Canada highlight brutal repression of ethnic Uyghurs

Demonstrations condemning Chinese atrocities on ethnic Uyghurs were held in Canadian city Vancouver. Shouting anti-China slogans, protesters carried a march till Chinese embassy. Seven human rights..
Credit: ANI Duration: 02:54
Published
'Something close' to genocide in China's Xinjiang: WH

Robert O'Brien, the U.S. national security adviser, on Friday during an online event said that China was perpetrating 'something close to' a genocide with its treatment of Muslims in its Xinjiang..
Credit: Reuters - Politics Duration: 01:49
Published
A rare glimpse inside Tibetan town built by China

China has accused the United States of attempting to destabilize Tibet, after Washington appointed a special coordinator for Tibetan issues. It comes a day after a Beijing organized media tour gave a..
Credit: Reuters Studio Duration: 01:30
Published
How can India counter China-Pakistan joint 'mission' amid Ladakh tension?

As tension between India and China along the Line of Actual Control in Ladakh persists, the former's defence minister Rajnath Singh said that Beijing and Islamabad are creating a border dispute 'under..
Credit: HT Digital Content Duration: 05:27
Published
Pompeo seeks to shore up support among Asian allies

U.S. Secretary of State Mike Pompeo on Tuesday visited Tokyo to meet with some of Washington's closest allies in Asia, Japan, Australia and India, to shore up support against what the United States..
Credit: Reuters - Politics Duration: 01:23
Published
Australia's winter Olympians make a splash with ski jump pool

Australia's sports organisers haven't let a a lack of snow in the country hamper preparations for Beijing 2022, after building a ski jump where freestyle skiers land in a swimming pool.
Credit: Reuters Studio Duration: 01:13
Published
China raises flag on National Day holiday

China held a national flag raising ceremony on today (October 1) to commemorate the 71st anniversary of the country's formation in Beijing.
Credit: Reuters Studio Duration: 01:29
Published
Vatican denies Pompeo audience with Pope

U.S. Secretary of State Mike Pompeo slammed what he called China's "repressive" regime on Wednesday, as Vatican officials accuse him of trying to drag the Catholic Church into the U.S. presidential..
Credit: Reuters - Politics Duration: 01:36
Published
China's Xi commemorates heroes for Martyrs' Day

China's top leaders attended an official ceremony marking Martyrs' Day on Wednesday (September 30) in Beijing, a day ahead of the 71th anniversary of the founding of the country, state media reported.
Credit: Reuters Studio Duration: 00:43
Published
Beijing auto show: China bounces back, EVs boom

Beijing car show is under way, with people actually allowed to attend, and a big rebound in Chinese car sales is adding to the upbeat mood. Julian Satterthwaite reports.
Credit: Reuters Studio Duration: 01:47
Published
At A Strained UN Security Council Meeting, China Ambassador Lets Fly At US

The United States appears to be getting on China's very last nerve. That is, if the remarks made by China's Ambassador to the United Nations on Thursday truly reflects Beijing's sentiments. According..
Credit: Wochit News Duration: 00:41
Published
Protest against China slave camps, 'genocide' of Uyghurs outside UN office

A protest was organised against China outside the United Nations office in Geneva, Switzerland. The 3-day long demonstration, consisting of a photo exhibition, was organised by a group called the World..
Credit: HT Digital Content Duration: 02:14
Published
You Might Like



China looks to grow political and economic influence across Africa

Over the last several decades, China has invested hundreds of billions of dollars in Africa. Many scholars believe Beijing is doing this to gain political leverage and influence in the region. Grant..




CBS News - Published





Life in China returns to normal with coronavirus pandemic seemingly under control

China says it hasn't had any new cases of community transmission of COVID-19 in over 45 days, while many European nations are facing second waves and new lockdowns. CBS News foreign correspondent Ramy..




CBS News - Published





The head of China's news agency chides Trump for not wearing a mask. A Republican blames Beijing.




NYTimes.com - Published





House Reports Push for More Focus on China by Intelligence Agencies

Separate studies by Democrats and Republicans reached a similar conclusion: More resources are needed to compete with Beijing.




NYTimes.com - Published





Trump has 'shady political motives' in blaming China for pandemic, Beijing official says

The attacks from China's foreign ministry come a day after Trump accused Beijing of allowing the virus to escape its borders and "infect the world."




USATODAY.com - Published





Facebook Takes Down Fake Pages Tied to Chinese Election Interference Efforts

The social media campaign was small but targeted all sides of the debate. Officials said Beijing had not decided whether to wade more directly in the American presidential race.




NYTimes.com - Published





2nd senior U.S. official visits Taiwan, irking Beijing even more

Months after HHS secretary visited the island claimed by China, another top official is there as the Trump admin seeks to "deepen this bilateral relationship."




CBS News - Published





Senate Democrats Present $350 Billion Strategy to Counter China

Democrats rolled out sprawling legislation that proposes substantial new funding over a decade in a bid to reinvest in the nation's economy and challenge Beijing.




NYTimes.com - Published





U.S. again warns against travel to China and Hong Kong

At a time of heightened tensions between Washington and Beijing, U.S. says its citizens face the risk of "arbitrary detention" and "arbitrary enforcement of local laws" there.




CBS News - Published





Russian Intelligence Hackers Are Back, Microsoft Warns, Aiming at Democrats and Republicans

China is also growing more adept at targeting campaign workers. But contrary to Trump administration warnings, Beijing is mostly aiming at Biden campaign officials.




NYTimes.com - Published




China says it will join Russian war games with Iran and Belarus

Beijing says "Caucasus 2020" exercises come at an "important moment," citing the pandemic - no mention of soaring tensions with the U.S.




CBS News - Published





Human rights groups urge IOC to move Olympics from China

Beijing to host 2022 Winter Olympics, but with scant evidence of humanitarian advances since it ran 2008 Games, there are calls for a change.




CBS News - Published





Ex-C.I.A. Officer Is Accused of Spying for China

The arrest of a 67-year-old Hawaii resident is the latest case involving former intelligence officers charged with providing classified documents to Beijing.




NYTimes.com - Published





China's super smog: Gov't official calls Beijing pollution "unbearable"

Beijing is suffering through a week of dangerous air pollution levels. One man is taking the Chinese government to court because of all the smog. Seth Doane reports on the nation's pollution problems.




CBS News - Published





Scope of Typhoon Haiyan destruction still unclear

CBS News' Seth Doane reports from Beijing on the varying reports of destruction from the deadly typhoon that struck southeast Asia.




CBS News - Published





The Fast Draw: A Tale of Two Cities

At first glance, many cities appear to be big, sprawling, spread-out affairs that take on lives of their own. But one scientist believes that, while urban areas might be chaotic, they are controlled..




CBS News - Published





"Fight on!": Pro-democracy media mogul released in Hong Kong

Jimmy Lai implored staffers of his Apple Daily newspaper to keep publishing the kinds of stories that infuriate Beijing – and that led to his arrest.




CBS News - Published





Hong Kong tycoon and activist Jimmy Lai arrested

Hong Kong police arrested media tycoon Jimmy Lai and raided the publisher's headquarters Monday in the highest-profile use yet of a new national security law Beijing imposed on the city in June. (Aug...




USATODAY.com - Published





U.S. intelligence says Russia seeking to boost Trump's re-election bid

The U.S. intelligence community has assessed that Russia is actively seeking to boost President Trump's candidacy ahead of the 2020 presidential election. In an unprecedented statement outlining the..




CBS News - Published





Honk Hong fires back at "shameless" U.S. sanctions

China slammed the United States for imposing "barbarous" sanctions in response to Beijing's crackdown in Hong Kong.




CBS News - Published





U.S. imposes sanctions on Hong Kong chief executive Carrie Lam

The Trump administration is imposing a new round of sanctions on top officials in Hong Kong, including leader Carrie Lam. The move is in response to Lam implementing Beijing's new national security..




CBS News - Published





Russia Continues Interfering in Election to Help Trump, U.S. Intelligence Says

But a new assessment says China would prefer to see the president defeated, though it is less clear how much Beijing is doing to meddle in the 2020 campaign to help Joseph R. Biden Jr.




NYTimes.com - Published





China orders US to close consulate in Chengdu in retaliation for Houston outpost closure

The move was a response to the Trump administration's order this week for Beijing to close its consulate in Houston.




USATODAY.com - Published

Also reported by •NYTimes.com


FBI believes Chinese researcher with links to Beijing's military in hiding in consulate in San Francisco

The FBI believes that a Chinese scientist with links to Beijing's military is hiding out in China's consulate in San Francisco to evade arrest.




USATODAY.com - Published





Popular Chinese-Made Drone Is Found to Have Security Weakness

Researchers found a potential vulnerability in an app that helps power the drones, highlighting U.S. officials' concerns that Beijing could get access to information about Americans.




NYTimes.com - Published





AG Barr suggests China is 'stealing the future' as he pushes Trump administration's attacks on Beijing

Attorney General William Barr: China employing 'unlawful tactics' in pursuit of global supremacy




USATODAY.com - Published





Trump administration rejects nearly all Beijing's claims in South China Sea, a move likely to inflame tensions

The shift in US policy is likely to further inflame US-China tensions and could provoke fresh retaliatory steps from Beijing.




USATODAY.com - Published





With Beijing's Military Nearby, U.S. Sends 2 Aircraft Carriers to South China Sea

The deployment of an American aircraft carrier and its strike force is often used as a signal to deter adversaries. Deploying two at once is recognized as a significant show of force.




NYTimes.com - Published





New Trump Appointee Puts Global Internet Freedom at Risk, Critics Say

A battle involving Michael Pack and a U.S.-funded tech group revolves around software from Falun Gong, the secretive, anti-Beijing spiritual movement with pro-Trump elements.




NYTimes.com - Published





A New Superpower Competition Between Beijing and Washington: China's Nuclear Buildup

The Trump administration is portraying the small but increasingly potent Chinese arsenal — still only one-fifth the size of the United States' or Russia's — as the big new threat.




NYTimes.com - Published





Coronavirus Live Updates: Latest News and Analysis

China says it has largely contained a recent outbreak in Beijing. The pandemic is a stark test for Obamacare as health and economic crises converge.




NYTimes.com - Published





W.H.O. Warns of 'Dangerous Phase' of Pandemic as Outbreaks Widen

Beijing and Seoul have had a recent surge in coronavirus cases, and businesses are recoiling in America as infections sharply increase in Southern and Western states.




NYTimes.com - Published





AP Top Stories June 19 P

Here's the latest for Friday June 19th: Americans mark the Juneteenth holiday; Officer involved in fatal shooting of Breonna Taylor to be fired; WHO finds European links to new virus outbreak in..




USATODAY.com - Published




The Biggest Obstacle to China Policy: President Trump

Overseeing chaotic actions is a president whose goal with Beijing has been to secure a trade deal that would help him get re-elected.




NYTimes.com - Published





Covid Cases Rise as Trump Says Virus Is 'Fading': Live Updates

Oklahoma, where President Trump plans a rally this weekend, is among the states reporting a record number of new cases. An outbreak in Beijing prompted a backlash against salmon. Arizona and Texas will..




NYTimes.com - Published





China finds heavy coronavirus traces in seafood, meat sections of Beijing food market

China has found the trading sections for meat and seafood in Beijing's wholesale food market to be severely contaminated with the new coronavirus and suspects the area's low temperature and high..




Reuters - Published





Taiwan to set up office to help people fleeing Hong Kong

Taiwan said on Thursday it will set up a dedicated office to help those thinking of fleeing Chinese-ruled Hong Kong as Beijing tightens its grip on the former British colony.




Reuters - Published





Beijing's coronavirus outbreak under control, Chinese expert says

Beijing has brought its latest coronavirus outbreak under control, a Chinese medical expert said on Thursday, although the capital can still expect sporadic new cases.




Reuters - Published





Beijing residents rush coronavirus test clinics as emergency rules expand

China's capital has mandated coronavirus tests for hundreds of thousands of people as it widens measures against a new outbreak of the disease that has sent anxious residents flooding to clinics for..




Reuters - Published





Hong Kong security law draft to be put before China's top parliament body

The top decision-making body of China's parliament will review a draft of national security legislation for Hong Kong during a session in Beijing that began on Thursday, the official Xinhua news agency..




Reuters - Published





UK says China and Russia trying to exploit coronavirus crisis

The United Kingdom said on Thursday that China, Russia and Iran were looking to exploit weaknesses shown by the coronavirus outbreak, amid suggestions Beijing had used the crisis to push through new..




Reuters - Published





Top China parliament body to review Hong Kong security legislation

The top decisionmaking body of the Chinese parliament will review a draft Hong Kong national security legislation during its session in Beijing that began on Thursday, the official Xinhua news agency..




Reuters - Published





Top U.S, China diplomats hold 'constructive' meeting amid strains

U.S. Secretary of State Mike Pompeo met China's top diplomat, Yang Jiechi, in Hawaii on Wednesday in what Beijing described as a "constructive dialogue," amid a deep deterioration of ties between..




Reuters - Published





China tells U.S. to stop interfering in its affairs, work to repair relations

China's top diplomat told his U.S. counterpart that Washington needed to respect Beijing's positions on key issues, halt its interference in issues such as Hong Kong, Taiwan and Xinjiang and work to..




Reuters - Published





China says it must improve hygiene in markets after Beijing outbreak

Low standards of hygiene in China's wholesale food markets and vulnerabilities in its food supply chain need to be urgently addressed after a new coronavirus outbreak in Beijing, a leading body of the..




Reuters - Published





China reports 28 new coronavirus cases in mainland

China reported 28 new coronavirus cases in the mainland as of end-June 17, 21 of which were in the capital of Beijing, the country's health commission said on Thursday.




Reuters - Published





Beijing reports 21 new COVID-19 cases in city as of June 17

Beijing confirmed 21 new COVID-19 cases as of June 17, China's health authority said on Thursday, down from 31 a day earlier.




Reuters - Published





Norway says its salmon did not cause virus at Beijing market

Chinese and Norwegian authorities have concluded salmon from Norway was not the source of the coronavirus found on cutting boards at a Beijing wholesale food market, Norway's fisheries and seafood..




Reuters - Published





China steps up emergency footing as coronavirus flares up again in Beijing

China intensifies efforts to stem a resurgence of coronavirus cases in Beijing after a period of almost two months without a single new infection.




USATODAY.com - Published





Beijing says COVID-19 cases could stay at current levels for some time

Beijing cannot rule out the possibility that the number of COVID-19 cases in the city will stay at current levels for some time, a city official said on Wednesday.




Reuters - Published