New Hampshire
State of the United States of America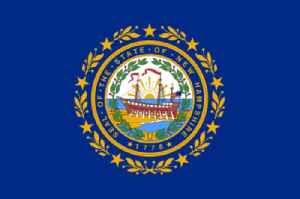 New Hampshire is a state in the New England region of the northeastern United States. It is bordered by Massachusetts to the south, Vermont to the west, Maine and the Atlantic Ocean to the east, and the Canadian province of Quebec to the north. New Hampshire is the 5th smallest by area and the 10th least populous of the 50 states. Concord is the state capital, while Manchester is the largest city in the state. It has no general sales tax, nor is personal income taxed at either the state or local level. The New Hampshire primary is the first primary in the U.S. presidential election cycle. Its license plates carry the state motto, "Live Free or Die". The state's nickname, "The Granite State", refers to its extensive granite formations and quarries.


In New Hampshire, Jeff Flake talks about Kavanaugh, laments "sickness" in political system
Sen. Flake, R-Arizona, was greeted by protesters outside of the Capitol, in Boston and Manchester
CBS News - Published
Joe Biden, Campaigning in New Hampshire, Straddles Past and Present
Mr. Biden's warm, unhurried, feel-your-pain approach to campaigning frequently delighted potential voters. But his style and remarks also ran the risk of appearing dated.
NYTimes.com - Published
Andrew Yang's Presidential Rally
According to Business Insider, Andrew Yang, the upstart Democratic presidential candidate without a background in politics, held a rally Monday at the Lincoln Memorial and drew a large and diverse..
Credit: Wochit News Duration: 00:36Published
In Four Months We've Already Passed The Total Number of Measles Cases In 2018
April 1 (UPI) -- More cases of measles have been reported four months into 2019 than were reported in all of 2018, the Centers for Disease Control and Prevention reported Monday. So far, 387 cases have..
Credit: Wochit News Duration: 00:47Published
Pete Buttigieg Has Raised $7 Million
Democratic 2020 U.S. presidential candidate and South Bend Mayor Pete Buttigieg greets voters during a campaign stop at Portsmouth Gas Light in Portsmouth, New Hampshire, U.S., March 8, 2019...
Credit: Wochit News Duration: 00:44Published
6 States Recall Avocados
Henry Avocado Corporation has issued a recall for whole avocados over listeria concerns. The recall impacts avocados shipped to Arizona, California, Florida, New Hampshire, North Carolina, and..
Credit: Wochit News Duration: 00:35Published
Kirsten Gillibrand To Give Speech Outside Trump Hotel
(Reuters) - Democratic U.S. Senator Kirsten Gillibrand will deliver a fiery first speech as an official presidential candidate in New York City on Sunday, calling U.S. President Donald Trump a..
Credit: Wochit News Duration: 00:53Published
Biden open to breaking up Facebook
On the campaign trail in New Hampshire, Joe Biden said he would be open to breaking up Facebook. The former vice president said that dismantling large technology companies is something the government..
USATODAY.com - Published
Biden visits New Hampshire for first time as 2020 candidate
"I think New Hampshire will vote for someone they like and trust. That's Joe Biden," says former Gov. John Lynch
CBS News - Published
Search this site and the web:
You Might Like