New Hampshire
State of the United States of America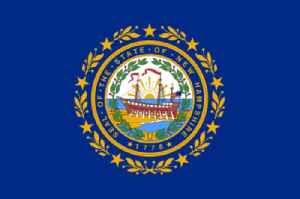 New Hampshire is a state in the New England region of the northeastern United States. It is bordered by Massachusetts to the south, Vermont to the west, Maine and the Atlantic Ocean to the east, and the Canadian province of Quebec to the north. New Hampshire is the 5th smallest by area and the 10th least populous of the 50 states. Concord is the state capital, while Manchester is the largest city in the state. It has no general sales tax, nor is personal income taxed at either the state or local level. The New Hampshire primary is the first primary in the U.S. presidential election cycle. Its license plates carry the state motto, "Live Free or Die". The state's nickname, "The Granite State", refers to its extensive granite formations and quarries.


One family's adventure with $1,000 a month in universal basic income
No-strings-attached cash stipends being tested as way to help low-income families, including the Fassis in New Hampshire
CBS News - Published
N.H. Dems scope out 2020 hopefuls during busy campaign weekend
CBS News spoke with dozens of Democratic voters across 13 campaign events and heard voters overwhelmingly call for seismic change in both candidates and vision
CBS News - Published
Maryland Gov Rips RNC For Coddling Trump In Primary Season
Maryland Gov. Larry Hogan said Thursday he expects to make a springtime trip to New Hampshire. According to Politico, Hogan is considering a 2020 challenge to President Donald Trump. Hogan has accused..
Credit: Wochit News Duration: 00:54Published
Sen. Amy Klobuchar Doesn't Support Free 4-Year College Tuition
Sen. Amy Klobuchar said she doesn't support calls for providing free four-year college during a New Hampshire town hall Monday night. Business Insider reports the 2020 Democratic presidential candidate..
Credit: Wochit News Duration: 00:45Published
Gillibrand Making 2020 Moves
Kirsten Gillibrand has hired five additional senior staffers to her presidential campaign, including a state director in New Hampshire just before her second trip there, Gillibrand's campaign told..
Credit: Wochit News Duration: 00:35Published
Julian Edelman Surprises Young Girl With Super Bowl Tickets
New Hampshire native Dejah Rondeau is one of three girls playing youth football in her area. The quarterback for her school's football team, Rondeau is a major fan of the New England Patriots and wide..
Credit: Wochit News Duration: 00:32Published
Senator Booker launches 2020 bid
U.S. Senator Cory Booker, who gained national prominence in the fight over Supreme Court Justice Brett Kavanaugh, announced on Friday that he would seek the Democratic Party's nomination for the 2020..
Credit: Reuters Studio Duration: 01:41Published
Los Angeles Mayor Garcetti decides against 2020 run
Los Angeles Mayor Eric Garcetti says he will not join what is likely to be a crowded field of candidates vying for the 2020 Democratic presidential nomination. Rough cut (no reporter narration).
Credit: Reuters Studio Duration: 00:58Published
Warren Picks Top Notch People For Her Campaign Team
Politico reports Elizabeth Warren is officially building her 2020 campaign team! This includes 2 Democratic National Committee officials who were pivotal in the 2018 midterms... ...and a high-ranking..
Credit: Wochit News Duration: 00:32Published
Julian Castro Makes Presidential Campaign Stop In Puerto Rico
Only two days after announcing his candidacy for the Democratic presidential nomination, Julián Castro has already made his first campaign stop in Puerto Rico. According to Business Insider, Castro..
Credit: Wochit News Duration: 00:32Published
Warren Heads To New Hampshire
Politico reports that Elizabeth Warren is headed to campaign in New Hampshire. Warren is a senator from Massachusetts. She begins with a built-in advantage in New Hampshire. But her proximity to the..
Credit: Wochit News Duration: 00:39Published
A Tesla Model X Split In Two And Caught On Fire After Hitting A Tree In New Hampshire
Three teenagers were injured after driving a 2017 Tesla Model X off the road and into a tree in southern New Hampshire on Wednesday, according to state police. Speed was likely a factor, according to..
Credit: Wochit News Duration: 00:36Published
Prep School Grad Begins Jail Time for Sex Assault After Judge Refused to Shorten Sentence
New Hampshire prep school graduate Owen Labrie has started serving his 10-month jail sentence.
Credit: Time Duration: 00:39Published
Some Democrats lukewarm on Sanders' second run
Sanders, who won the New Hampshire primary by 23 points in 2016, is so far getting a lackluster response to his second bid for the presidency
CBS News - Published
Sen. Booker makes first visit to New Hampshire
Sen. Cory Booker kicked off his first visit to New Hampshire as a Democratic presidential candidate Saturday, urging voters to reject the "powers that are ripping us apart." (Feb.16)
USATODAY.com - Published
Garcia leads Stony Brook over New Hampshire 66-64
Andrew Garcia posts 15 points and 10 rebounds off the bench to lead Stony Brook to a 66-64 win over New Hampshire
USATODAY.com - Published
Sen. Kirsten Gillibrand backs third gender classification at federal level
Gillibrand is on a campaign swing through New Hampshire this weekend
CBS News - Published
Lamb scores 20 to lift Vermont past New Hampshire 73-44
Anthony Lamb scores 20 points as Vermont easily beats New Hampshire, 73-44
USATODAY.com - Published
NYC Mayor Bill de Blasio visits New Hampshire, sparking 2020 speculation
New York City Mayor Bill de Blasio is visiting New Hampshire this week, sparking speculation that he may run for president. Another former New York mayor, Michael Bloomberg, is also weighing a run...
CBS News - Published
You Might Like