New Hampshire
State of the United States of America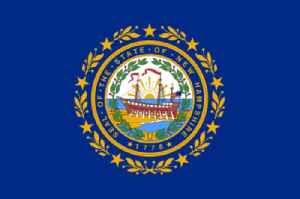 New Hampshire is a state in the New England region of the northeastern United States. It is bordered by Massachusetts to the south, Vermont to the west, Maine and the Atlantic Ocean to the east, and the Canadian province of Quebec to the north. New Hampshire is the 5th smallest by area and the 10th least populous of the 50 states. Concord is the state capital, while Manchester is the largest city in the state. It has no general sales tax, nor is personal income taxed at either the state or local level. The New Hampshire primary is the first primary in the U.S. presidential election cycle. Its license plates carry the state motto, "Live Free or Die". The state's nickname, "The Granite State", refers to its extensive granite formations and quarries.


Deadly N.H. motorcycle crash leads Mass. governor to push tougher driver's license regulations
Drivers who have been suspended at any point over the past three years wouldn't be eligible to receive a commercial driver's license in Massachusetts.
USATODAY.com - Published
Owning slaves doesn't make person racist, says New Hampshire lawmaker
Renewed discussions of racism in America have emerged in light of the president's recent tweets and North Carolina rally, where Trump supporters chanted, "Send her home" about Democratic Rep. Ilhan..
CBS News - Published
Tardy Employee's Faked Excuse Could Lead To Doing Hard Time
A man who allegedly forged a police report to back up his fake excuse to his boss is facing real charges in New Hampshire. Newser reports that 51-year-old Paul Neilson was charged last week with..
Credit: Wochit News Duration: 00:47Published
Survivor Of Truck Crash That Killed Seven Motorcyclists: 'It Was All Just Fire'
A group of motorcyclists was struck by a pickup truck on Route 2 in Randolph, New Hampshire, on Saturday. According to Business Insider, the crash left seven dead and three injured. Witnesses described..
Credit: Wochit News Duration: 00:44Published
7 Bikers Dead, 3 Injured By Pickup Truck Going Wrong Way
CNN reports seven motorcyclists were killed and three others injured when they collided with a pickup truck going the opposite direction in New Hampshire. Police said the pickup truck was traveling..
Credit: Wochit News Duration: 00:31Published
Is Joe Biden Against The Death Penalty?
Joe Biden said in a 1992 speech that criminal justice legislation he was pushing was so strict that "we do everything but hang people for jaywalking." Two years later, his signature crime bill made..
Credit: Wochit News Duration: 01:08Published
Why Many 2020 Dems Are Campaigning In Late-Primary States
Many Democratic presidential candidates are focusing their attention on early primary states, like Iowa and New Hampshire. Candidates are also beginning to expand their primary maps, sometimes to the..
Credit: Wochit News Duration: 00:42Published
NH Biden Supporters Talk About What Issues Matter To Them
Business Insider reports that many New Hampshire voters aren't convinced they need a woman or a person of color on the 2020 presidential ticket. A number of attendees at New Hampshire campaign events..
Credit: Wochit News Duration: 00:42Published
Biden's Strategy Fo Winning The Primary
Former Vice President Joe Biden's early campaign strategy is focusing on selling his personality and experience over policy. Business Insider reports that Biden promised a return to normalcy. That's a..
Credit: Wochit News Duration: 00:34Published
Biden Jokes About History With Women
Earlier this year former VP Joe Biden was accused of inappropriately touching multiple women without their consent. He was also accused of invading their personal space. On Tuesday, Former Vice..
Credit: Wochit News Duration: 00:52Published
Why Is Kirsten Gillibrand Struggling?
HAMPTON, New Hampshire—Kirsten Gillibrand is only asking for a dollar. It's not that she couldn't use more money. In the first quarter of 2019, the junior senator from New York raised just $3..
Credit: Wochit News Duration: 01:07Published
New Hampshire Becomes 21st U.S. State to Repeal Death Penalty
According to Reuters, New Hampshire abolished the death penalty on Thursday, becoming the 21st U.S. state to do so. Before the vote, New Hampshire was the last state in New England that allowed the..
Credit: Wochit News Duration: 00:38Published
Biden Dominates In New Early Polls
According to new polls former Vice President Joe Biden is dominating the entire field of Democratic opponents in two key early states. Politico reports that in two polls of likely Democratic primary..
Credit: Wochit News Duration: 00:39Published
New Hampshire lawmaker Werner Horn backtracks after Facebook post: 'Owning slaves doesn't make you racist'
A New Hampshire lawmaker came under fire this week for claiming American slavery was based on economics, not racism.
USATODAY.com - Published
2020 Daily Trail Markers: The next debate lineup is now set
The lineup for the second set of primary debates at the end of the month has been announced by CNN; Harris announces an Iowa bus tour; Klobuchar picks up NH endorsements, and candidates share their..
CBS News - Published
New Hampshire passes bill to provide free tampons, other menstrual products in public schools
New Hampshire middle and high schools must now provide free menstrual products, including tampons, to students under a bill signed Wednesday.  
USATODAY.com - Published
On the road with Cory Booker in New Hampshire
Mired low in the polls, Booker tours the Granite State to argue that beating Trump shouldn't be enough for Democrats
CBS News - Published
Joe Biden Decides He Doesn't Need to Stay Above the Fray After All
In New Hampshire, the former vice president went after some of his rivals, with criticism that Bernie Sanders called "totally absurd."
NYTimes.com - Published
You Might Like