New Hampshire
State in the northeastern United States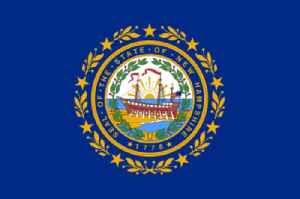 New Hampshire is a state in the New England region of the northeastern United States. It is bordered by Massachusetts to the south, Vermont to the west, Maine and the Atlantic Ocean to the east, and the Canadian province of Quebec to the north. New Hampshire is the 5th smallest by area and the 10th least populous U.S. state.


Trailing Biden, Trump ramps up rallies

[NFA] U.S. President Donald Trump is taking his campaign on the offense, holding a rally in New Hampshire on Sunday despite polls showing the state leaning significantly toward Democratic candidate Joe..
Credit: Reuters - Politics Duration: 02:08
Published
U.S. states see record rises in COVID-19 cases

Nine U.S. states have reported record increases in COVID-19 cases over the last seven days, as colder weather arrives. This report produced by Chris Dignam.
Credit: Reuters - Politics Duration: 01:46
Published
You Might Like



Are 'ballot selfies' legal? Depends where you are voting, it's punishable in some states

California, Colorado and New Hampshire are among more than 20 states where it's legal to take a ballot selfie.




USATODAY.com - Published





Voting across the US live updates: Joe Biden leads Donald Trump in Texas poll; New Hampshire can't ban armed voters; Facebook threat

The latest in voting news, including Joe Biden leading Donald Trump in a new Texas poll and New Hampshire saying it can't keep armed voters away.




USATODAY.com - Published




Trump insists US 'rounding the turn' on virus

President Donald Trump is asserting that even without a virus vaccine, "we're rounding the turn," he said at a rally in New Hampshire on Sunday. But data shows new COVID-19 cases are at an all-time..




USATODAY.com - Published





Pence touts reelection bid at New Hampshire rally

Vice President Mike Pence campaigns in New Hampshire and touts a bid to reelect President Donald Trump at a 'Make America Great Again!' event at Port City Air in Portsmouth. (Oct. 21)  




USATODAY.com - Published





Trump and Harris head to North Carolina today, and Pence speaks in New Hampshire and Ohio.




NYTimes.com - Published





In New Hampshire, Biden has a polling lead, but voters aren't sure it's real.




NYTimes.com - Published




Former New Hampshire GOP chair: My fellow Republicans, Trump does not deserve your loyalty

Where is the responsible governance, the individual liberty, equal justice and opportunity for all? I ask my Republican friends: Is this your party?




USATODAY.com - Published





Pence plane hits bird, returns to New Hampshire airport

He was at start of flight home from campaign event. Plane returned to airport and he flew home on cargo aircraft Secret Service uses.




CBS News - Published





VP Pence's plane makes emergency landing in NH

Vice President Mike Pence's airplane struck a bird upon take-off from a New Hampshire airport, causing the pilot to return to the airport out of caution, The White House said on Tuesday. (Sept. 22)  




USATODAY.com - Published





Trump will go to Pittsburgh and Pence to New Hampshire as Harris visits Flint and Detroit.




NYTimes.com - Published





102-year-old New Hampshire woman survives both COVID-19 and the 1918 Spanish flu

The 102-year-old was infected with the Spanish flu in 1918 in Worcester and she tested positive last May for COVID-19 but overcame both illnesses.




USATODAY.com - Published




3 Takeaways From the New York Times/Siena College Poll

President Trump and Joe Biden can both point to advantages in our new poll of Minnesota, Nevada, New Hampshire and Wisconsin.




NYTimes.com - Published





New Hampshire woman votes topless after anti-Trump shirt disallowed

"She took it off so fast, no one had time to react so the whole place just went, 'Woah,' and she walked away, and I let her vote," Paul Scafidi said.




USATODAY.com - Published





A New Hampshire lawmaker, Dan Feltes, beat a Sanders-backed candidate in the Democratic primary for governor.

The victories by Gov. Chris Sununu, a Republican, and Senator Jeanne Shaheen, a Democrat, reinforced the state's battleground status. Corky Messner, who was endorsed by President Trump, won his..




NYTimes.com - Published





In a closely watched New Hampshire primary, Democrats will pick a challenger to Governor Sununu.

the




NYTimes.com - Published





New Hampshire Gov. Chris Sununu faces a GOP challenger and other things to watch in Tuesday's primaries

New Hampshire and Rhode Island are holding state primaries Tuesday.




USATODAY.com - Published





President Trump returns to campaign trail in New Hampshire

President Trump travels to a gulf coast today that is reeling from Hurricane Laura. The visits come after his acceptance speech of the Republican Nomination on the White House Lawn. But the president's..




CBS News - Published




Trump to visit Texas and Louisiana to view Hurricane Laura damage

President Trump will go to both Louisiana and Texas on Saturday to get a first hand look at the damage wrought by Hurricane Laura. The president is campaigning in New Hampshire on Friday, trying to..




CBS News - Published





Trump to hold rally in New Hampshire after wrapping up RNC

President Trump is holding a campaign rally in New Hampshire Friday evening, just a day after giving his big speech at the Republican National Convention. CBS News White House correspondent Paula Reid..




CBS News - Published




Teen who bonded with Biden over stutter delivers DNC speech

"About a few months ago, I met him in New Hampshire and he told me we are members of the same club. We stutter," Brayden said.




CBS News - Published





Vanity plate dispute heads to N.H. Supreme Court

A man's desire to have a vanity license plate that some may find offensive has taken his case to the Supreme Court of New Hampshire. Carl Stevens reports.




CBS News - Published





New Hampshire braces for bike rally after "warning sign" in Sturgis

"I don't think anyone saw the photos out of Sturgis and thought, 'That looks safe,'" Gov. Chris Sununu said.




CBS News - Published





A New Hampshire Poet Laureate Lifts Her City's Covid-19 Advisories

Tammi Truax, the Portsmouth poet laureate, writes a weekly poem for the city's coronavirus newsletter, breaking up grim statistics with verse.




NYTimes.com - Published





Why Trump's Republican Senate enablers must be ousted this fall: Former NH GOP chair

The Lincoln Project is dedicated to the electoral defeat of Trump and Trumpism. Susan Collins won't be the only Senate Republican in our ads.




USATODAY.com - Published





6 out of 10 New Hampshire residents disapprove of Trump, according to new poll

According the poll, 60% of New Hampshire residents disapprove of Trump's work as president.




USATODAY.com - Published





AP Top Stories July 10 5P

Here are the top stories for Friday, July 10th: Trump and Biden trade jabs on virus and economy; Trump cancels N.H. rally; Attorneys seek home confinement for Epstein associate; Hagia Sophia reverting..




USATODAY.com - Published





Trump Rally Postponed, Campaign Says, Citing Weather

The event was set to be held in Portsmouth, N.H., on Saturday. The campaign delayed it amid ongoing concerns about President Trump attracting only small crowds at his events.




NYTimes.com - Published





Trump postpones New Hampshire campaign rally, citing Tropical Storm Fay

White House press secretary Kayleigh McEnany confirmed the postponement of the New Hampshire rally on Friday, citing the "big storm."




USATODAY.com - Published





'Make-or-break moment': Trump heads to New Hampshire for campaign rally amid sagging polls, coronavirus fears

The New Hampshire rally comes as Donald Trump tries to recharge his campaign amid sagging polls and a spike in coronavirus cases across the country.




USATODAY.com - Published





What Will Trump's Rally in New Hampshire Be Like? It's Anyone's Guess

The governor, a Republican, isn't attending. It isn't clear how many other G.O.P. elected officials will come. The turnout could be low, or expansive. And fears of the virus hang over the event.




NYTimes.com - Published





What doctors are saying about coronavirus risks at Trump's New Hampshire rally

President Donald Trump's planned rally in Portsmouth, New Hampshire, has raised virus concerns among area medical experts.




USATODAY.com - Published





Trump to hold campaign rally in Portsmouth, N.H., as several states report jump in coronavirus cases

Donald Trump's outdoor campaign rally in New Hampshire comes as several states across the country have reported a spike in coronavirus cases.




USATODAY.com - Published





'Jack you rock': New Hampshire 4-year-old gets a parade of 100 cars after beating cancer

Since she couldn't throw a big party due to the state's coronavirus stay-at-home order, a New Hampshire mom called on her neighbors for help.




USATODAY.com - Published




'This Is Going to Kill Small-Town America'

Once the coronavirus reached rural Bristol, N.H., the effect on the local economy was devastating.




NYTimes.com - Published





How the Virus Crisis Could Help a Red-State Democrat Stay in Office

In North Carolina, where the governor's race is tight, and New Hampshire, where a Republican seeks re-election in a blue-trending state, incumbents could benefit from newfound star power.




NYTimes.com - Published





'Old School' Technique Helps Identify Victim in 50-Year-Old Killing

A longtime criminalist in New Hampshire manually plotted the details of one of the victim's fingers to find a match.




NYTimes.com - Published





How 'Never Bernie' Voters Threw In With Biden and Changed the Primary

After Bernie Sanders won New Hampshire and Nevada, his campaign hit a roadblock: a wide range of Democrats who would do anything to stop him. Joe Biden became their vehicle.




NYTimes.com - Published





Surprise for 6-year-old girl during virus shutdown

A 6-year-old New Hampshire girl whose party dreams were dashed by the coronavirus shutdown has had a surprise on her driveway when relatives, friends and neighbors drove by in a convoy of SUVs,..




USATODAY.com - Published





U.S. group bombards doctors with coronavirus petition to cut 'red tape'

Dr. Eric Anderson had just finished vacuuming his New Hampshire home early on Wednesday when the phone in his pocket buzzed with an unusual text message.




Reuters - Published





New Hampshire governor says plastic bag resurgence could help curb coronavirus

New Hampshire Governor Christopher Sununu on Saturday urged shoppers in the state to leave their reusable bags at home, saying he would soon order stores to use only new plastic and paper bags to help..




Reuters - Published





Festive lights invoke cheer amid coronavirus fears

A town in New Hampshire is lighting its festive lights for real in the spring as the world grapples with the unsettling reality of the escalating coronavirus pandemic. (March 20)  




USATODAY.com - Published





Ice Fishing Is Fun!

No, really. A trip with a New Hampshire guide reveals how much the sport has evolved, while keeping the eternal battle of angler and fish at its heart.




NYTimes.com - Published





Amy Klobuchar Drops Out of Presidential Race and Plans to Endorse Biden

Ms. Klobuchar made her decision hours before Super Tuesday. She shocked the primary field with a third-place finish in New Hampshire, but ultimately could not compete with better-funded rivals.




NYTimes.com - Published





Klobuchar's Challenge: Recreating a New Hampshire Surge in 14 States

Amy Klobuchar is blitzing Super Tuesday contests across the country, targeting moderates, independents and Republicans in a bid to stay alive in the 2020 race.




NYTimes.com - Published





New Hampshire man catches 37-pound lake trout, the largest ever caught in the state

At over 40 inches in length, it's also the largest lake trout caught in all of New England. It overtakes the last record by nearly 10 pounds.




USATODAY.com - Published




Biden dominates, Sanders slips to second and other takeaways from the South Carolina primary

After nearly a month of underperforming in Iowa and New Hampshire, and finishing in a distant second in Nevada, Biden sealed a definitive win Saturday.




USATODAY.com - Published





African American voters undecided in S. Carolina

After poor showings in Iowa and New Hampshire, Joe Biden is hoping minority voters will vote for him in South Carolina. But less than a week away from the primary and African American voters are still..




USATODAY.com - Published





Live updates: Democratic primary moves west for the Nevada caucuses

Saturday will test whether Vermont Sen. Bernie Sanders can hold his frontrunner status, after winning New Hampshire and placing in the top two in Iowa.




USATODAY.com - Published