New York City Police Department
Municipal police force in the United States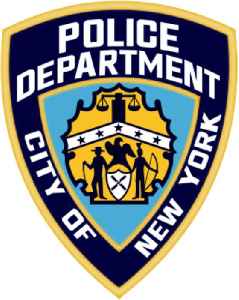 The New York City Police Department (NYPD), officially the City of New York Police Department, is the primary law enforcement agency within the City of New York. Established on May 23, 1845, the NYPD is one of the oldest police departments in the United States, and is the largest police force in the United States. The NYPD headquarters is at 1 Police Plaza, located on Park Row in Lower Manhattan near City Hall. The NYPD's regulations are compiled in title 38 of the New York City Rules. The NYC Transit Police and NYC Housing Authority Police Department were fully integrated into the NYPD in 1995. The NYPD services include the Emergency Service Unit, K9, harbor patrol, air support, bomb squad, counter-terrorism, criminal intelligence, anti-organized crime, narcotics, public transportation, and public housing.


HCSO deputy reflects on working at Ground Zero on 9/11, as an NYPD officer

As we mark the 19th anniversary of the deadly terror attacks on 9/11/2001, our country once again unites to honor the heroes who risked, and even lost their lives. Some of those heroes now live right..
Credit: ABC Action News Duration: 01:46
Published
Car drives through protesters in New York

The New York City Police Department said it is trying to locate the driver ofa car that drove through a group of protesters blocking a street in TimesSquare. A video posted Thursday on social media..
Credit: PA - Press Association STUDIO Duration: 00:37
Published
You Might Like



Meet the NYPD's only female counter-sniper

Tina Guerrero, a mother of three, is a 25-year veteran of the force who joined the police department's elite Emergency Service Unit




CBS News - Published





Human Rights Watch accuses NYPD of planning assault on protesters in the Bronx

A new Human Rights Watch report claims New York City police officers deliberately assaulted protesters in the Bronx earlier this summer. Human Rights Watch acting director of crisis and conflict Ida..




CBS News - Published





NYPD officer accused of spying for Chinese government

An NYPD officer faces a variety of charges for allegedly acting as an agent of the Chinese government. Prosecutors say Baimadajie Angwang was in regular contact with a member of the Chinese consulate..




CBS News - Published




Former NYPD officer during 9/11: "We need to remember we are Americans first"

A responding NYPD missing persons detective sergeant during the September 11th attacks is sharing his story. Keith Taylor spoke on CBSN with what he remembers from the day, and his message to Americans..




CBS News - Published





Car drives through Times Square protesters

A car drove through a group of Black Lives Matter protesters, who were demonstrating in New York City's Times Square over the death of a Black man, Daniel Prude, following an encounter with police in..




CBS News - Published





New York City sees 166% increase in shootings last month

NYPD's chief of crime control strategies says the agency is coping with the lowest number of cops on the street in six years.




CBS News - Published





12/30: CBSN AM

Two people killed after gunman open fires during Sunday service; NYPD commissioner praises special victims division




CBS News - Published





Can you train bias out of police departments?

Can you train bias out of our police departments? Brooklyn Borough President Eric Adams and Terence Monahan, Chief of Department of the NYPD, discuss how to stop police brutality against black people...




CBS News - Published





NYPD creates Asian Hate Crimes Task Force after spike in verbal, physical assaults amid pandemic

There have been 21 reported anti-Asian hate crimes since March, due to racist rhetoric about coronavirus, Chief of Detectives Rodney Harrison said




USATODAY.com - Published




Charges announced against 2 men in 2002 killing of hip-hop artist Jam Master Jay

Two suspects have been indicted in the 2002 killing of hip-hop artist Jam Master Jay, of Run DMC, which until now had been one of New York City's most notorious unsolved killings. Acting U.S. Attorney..




CBS News - Published





Trump gets endorsement of NYC police union

President Donald Trump on Friday told hundreds of New York Police Department officers that "no one will be safe in Biden's America" if the former Democratic vice president defeats him in November...




USATODAY.com - Published





Bratton and Miller team up again in law enforcement

When Bill Bratton was the New York Police Department Commissioner in the 1990's, John Miller was his chief spokesman. Now that Bratton is returning to his old job, Miller will also return, but this..




CBS News - Published





NYPD is "not willing to address" gender bias, former chief says

Lori Pollock filed a lawsuit against the NYPD citing conditions that prevent women from advancing.




CBS News - Published





Ex-NYPD chief files lawsuit claiming gender discrimination against females

The New York City Police Department is being sued by a former police chief over allegations she was discriminated against because she's a woman. Lori Pollock sits down with Michelle Miller to talk..




CBS News - Published





NYPD accused of creating "glass ceiling" for women in force

Lori Pollock has suffered mental anguish, extreme stress, humiliation and damage to her reputation, the lawsuit says.




CBS News - Published





Report reveals allegations of police abuses in New York City

New York City Mayor Bill de Blasio signed a measure allowing the disciplinary records of NYPD officers accused of abuses to be made public. Greg B. Smith, of the nonprofit news outlet The City,..




CBS News - Published





Video shows New York police officers putting protester into unmarked vehicle

The NYPD says its Warrant Squad uses unmarked vehicles to "effectively locate wanted suspects."




USATODAY.com - Published




NYPD breaks up occupy city hall encampment

Police in riot gear have cleared a month-long encampment of protesters and homeless people from a park near New York's City Hall. The "Occupy City Hall" protest was part of a national "defund the..




USATODAY.com - Published





NYPD chief, cops hurt in Brooklyn Bridge clash

Several New York City police officers were attacked and injured when pro-police and anti-police protesters clashed Wednesday, following a march in support of police across the Brooklyn Bridge. The..




USATODAY.com - Published





AP Top Stories July 1 A

Here's the latest for Wednesday July 1st: NYC Council votes to shift funds from NYPD; Hickenlooper wins Colorado Democratic Senate primary; Wildfire in southern Arizona; Mississippi Governor signs bill..




USATODAY.com - Published




NYPD officer arrested for apparent chokehold

NYPD officer arrested for apparent chokehold  




USATODAY.com - Published





NYPD officer suspended without pay after an 'apparent chokehold incident' in Queens

A New York police officer has been suspended without pay after an "apparent chokehold incident" at a beach in Queens.  




USATODAY.com - Published





NYPD suspended after 'apparent chokehold'

A New York City police officer was suspended without pay Sunday after he was recorded putting his arm around a man's neck in what the police commissioner called an "apparent chokehold."(June 22)  




USATODAY.com - Published





NY protesters recount harrowing showdown with NYPD

Protesters recount stories of conflict with the NYPD during recent protests against systemic discrimination. The testimony was part of an ongoing investigations into allegations that officers used..




USATODAY.com - Published





NYC mayor announces police disciplinary reforms

New York City's mayor announced Wednesday major reforms involving disciplinary actions taken within the NYPD involving 'any case where there's substantial injury to a civilian." (June 17)  




USATODAY.com - Published





De Blasio on new NYPD reforms, body-cam footage

De Blasio on new NYPD reforms, body-cam footage  




USATODAY.com - Published





NYPD rules out criminality by Shake Shack after officers fall ill

New York's police department said on Tuesday it found no criminal behavior by staff of burger chain Shake Shack, after three officers complained of feeling ill and their union said their shakes may..




Reuters - Published





Protest live updates: Seattle bans police from using tear gas, pepper spray; Donald Trump to sign order limiting use of deadly force

Seattle bans tear gas, pepper spray; 3 NYPD 'poisoned' at Shake Shack. 19 Atlanta police officers quit. Latest protest news.




USATODAY.com - Published




NYPD investigating after 3 officers were 'intentionally poisoned' at Shake Shack in Manhattan

The New York Police Department is investigating whether three officers were poisoned on Monday night at a Shake Shack restaurant in Manhattan.




USATODAY.com - Published




New York City police disband rough street unit amid pressure for reform

The New York Police Department is disbanding its aggressive anti-crime unit, a move aimed at turning alienated residents into crime-stopping allies, part of a nationwide push for policing reforms..




Reuters - Published





NYPD closes anti-crime unit in nod to reform

New York City's police department is disbanding the controversial unit involved in Eric Garner's 2014 chokehold death, Commissioner Dermot Shea said Monday amid a nationwide reckoning for policing in..




USATODAY.com - Published





New York City police reassigning 600 anti-crime unit officers to other duties

The New York Police Department will immediately reassign some 600 plainclothes officers in its anti-crime unit to other duties, including its detective bureau and community policing, Commissioner..




Reuters - Published





Families of people killed by police hold newser on police reforms.

Families of victims of police brutality and their supporters held a protest rally in New York City on Tuesday. Hundreds of people joined a more than a dozen families to demand the immediate defunding..




USATODAY.com - Published





NYC Police Union Head: Floyd's killing was murder

The head of the New York City police union is calling the death of George Floyd in Minneapolis a "murder." Patrick Lynch also said there has been a rush to judgment on an NYPD cop who is being charged..




USATODAY.com - Published





Video shows NYPD beating cyclist

Footage captured late Wednesday shows New York City police repeatedly striking a cyclist in an intersection with batons. (June 4)  




USATODAY.com - Published





One NYPD officer stabbed in neck, two shot

A New York City police officer on an anti-looting patrol was ambushed Wednesday in Brooklyn by a man who walked up behind him and stabbed him in the neck. The alleged assailant was shot, and two other..




USATODAY.com - Published





One New York police officer shot, one slashed in Brooklyn, unclear if protest related: NYPD

One New York police officer was shot shortly before midnight Wednesday and another officer was slashed in Brooklyn, police said, but it was unclear if the attack was related to ongoing protests.




Reuters - Published





NYPD enforce strict curfew with several arrests

NYPD enforce strict curfew with several arrests  




USATODAY.com - Published





Gov. Cuomo apologizes to NYPD brass after critical 'do your job' comments, chief says

New York Gov. Andrew Cuomo apologized privately to top New York City Police administrators after ripping their response to rioters as a "disgrace."




USATODAY.com - Published




NYPD confronts media as curfew takes effect

Members of the New York Police Department engaged in an angry confrontation Tuesday with journalists covering protests. At one point an Associated Press TV crew were shoved and forced to abadon their..




USATODAY.com - Published




NYPD officer seen pointing gun at crowd

New York City Police Commissioner Dermot Shea says about six incidents were being investigated by the department's internal affairs bureau, including one where an officer pointed a gun at protesters...




USATODAY.com - Published





NYC Mayor Bill de Blasio's daughter Chiara de Blasio arrested during George Floyd protest

Chiara de Blasio was arrested Saturday, according to the NYPD. She is one of thousands arrested during protests over the death of George Floyd.  




USATODAY.com - Published





NYPD officers kneel alongside protesters peacefully during George Floyd protest

NYPD officers took a knee alongside protesters in Times Square for a brief respite from the violent protests following the death of George Floyd.




USATODAY.com - Published





Video shows NYPD SUVs ram into crowd protesting George Floyd killing; mayor's comments criticized

Two NYPD vehicles plowed into protesters Saturday as the crowd pushed a barricade against one of them and pelted it with objects.




USATODAY.com - Published




NYPD arrests hundreds after violent Floyd protest

New York City Mayor Bill de Blasio says protesters and police officers will be held accountable for acts of violence at a demonstration in Brooklyn that left people bloodied and vehicles burned. (May..




USATODAY.com - Published