Milwaukee Bucks
American professional basketball team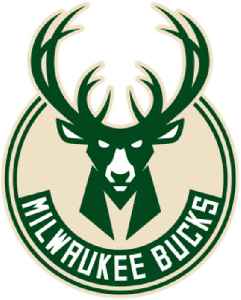 The Milwaukee Bucks are an American professional basketball team based in Milwaukee. The Bucks compete in the National Basketball Association (NBA) as a member of the league's Eastern Conference Central Division. The team was founded in 1968 as an expansion team, and play at the Fiserv Forum. Former U.S. Senator Herb Kohl was the long-time owner of the team, but on April 16, 2014, a group led by billionaire hedge fund managers Wes Edens and Marc Lasry agreed to purchase a majority interest in the team from Kohl, a sale which was approved by the owners of the NBA and its Board of Governors one month later on May 16. The team is managed by Jon Horst, the team's former director of basketball operations, who took over from John Hammond in May 2017.


'Life is not about ratings,' Bucks player says to Trump

Members of the Milwaukee Bucks responded to President Trump's criticism of the league and their social justice campaign on Tuesday.
Credit: Reuters Studio Duration: 01:28
Published
NBA players decide to continue season after boycott

[NFA] National Basketball Association players agreed on Thursday not to boycott the rest of the season after forcing the postponement of a slate of playoff games in a protest against racial injustice..
Credit: Reuters - Politics Duration: 01:49
Published
Milwaukee Bucks read statement on "racial injustices" to explain boycott

The Milwaukee Bucks go before cameras to read a team statement explaining their decision to boycott their playoff game against the Orlando Magic do to "racial injustices."
Credit: Reuters - Sports Duration: 01:33
Published
NBA postpones Wednesday games after boycott

[NFA] The U.S. National Basketball Association has postponed three playoff games scheduled for Wednesday after the Milwaukee Bucks boycotted Game 5 of their playoff series against Orlando Magic in..
Credit: Reuters - Politics Duration: 02:48
Published
You Might Like



Bucks' Giannis Antetokounmpo is NBA Most Valuable Player for second straight season

Giannis Antetokounmpo's two MVP awards make him the 14th player in NBA history to earn the league's top individual regular-season honor multiple times




USATODAY.com - Published




Green-haired doctor goes wild at virtual NBA game

At Children's Wisconsin, Dr. David Margolis' patients dye his hair green before Milwaukee Bucks games. That tradition hasn't stopped even when in-person attendance has.




USATODAY.com - Published





Miami Heat take down top seed Milwaukee Bucks to advance to NBA Eastern Conference final

The Miami Heat eliminated the Bucks with a 103-94 victory in Game 5 on Tuesday, as Milwaukee played without star Giannis Antetokounmpo.




USATODAY.com - Published





After Giannis Antetokounmpo leaves with ankle injury, Bucks hold off Heat to avoid sweep

Khris Middleton and the Bucks pulled out a gutsy overtime win after Giannis Antetokounmpo left early in the second quarter with an ankle injury.




USATODAY.com - Published





Bucks star Giannis Antetokounmpo leaves Game 4 vs. Heat after reinjuring ankle

Giannis Antetokounmpo was ruled out of the rest of Game 4 vs. Miami after the Milwaukee star landed awkwardly on his right foot in the second quarter.




USATODAY.com - Published





Heat shock top-seeded Bucks once again in Game 3 to take commanding 3-0 series lead

The Heat are on the verge of an historic upset after outscoring the Bucks 40-13 in a huge fourth quarter to take Game 3.




USATODAY.com - Published





Jimmy Butler scores playoff career-high 40 points as Heat lights up Bucks in Game 1

For the second consecutive series, the Bucks dropped Game 1. But the stakes are higher now. Miami is better than Orlando, the Bucks' first-round foe.




USATODAY.com - Published





Bucks return to floor after protest to close out Magic in Game 5

Three days after sparking a league-wide protest against police brutality, the Bucks returned and closed out the Magic with a 118-104 win in Game 5.




USATODAY.com - Published





MLB protests continue: A's-Rangers, Phillies-Nationals, Twins-Tigers, Red Sox-Blue Jays games won't be played

It was the Brewers – based about 40 miles from Kenosha, and following the lead of the Milwaukee Bucks – who first decided to sit out on Wednesday.




USATODAY.com - Published





Bucks boycott to protest Wisconsin shooting

Milwaukee Bucks players protested the police shooting of Jacob Blake, a Black man, in Kenosha, Wisconsin, by boycotting their NBA playoff game. (Aug. 27)  




USATODAY.com - Published





Colts, Jets, Washington cancel practice to focus on social justice issues

After the Lions opted not to practice Tuesday and the Bucks didn't take the court Wednesday, several NFL teams aren't taking the field Thursday.




USATODAY.com - Published





Barack Obama Praises NBA Player Boycott, You're Great Role Models!

Barack Obama says he "commends" the NBA players who participated in Wednesday's "boycott" -- saying they're setting a great example for the rest of the country. "I commend the players on the [Milwaukee..




TMZ.com - Published





Inside look at Milwaukee Bucks' decision to boycott game vs Magic

By boycotting their playoff game, the Milwaukee Bucks set off a chain of events that has people wondering when the next NBA game will take place.




USATODAY.com - Published





Olympic icon John Carlos proud of NBA boycotts: 'I hope it goes beyond just basketball'

John Carlos, who took a stand against racism at the 1968 Olympics, watched the Milwaukee Bucks on Wednesday with a deep sense of pride.




USATODAY.com - Published





Bucks show what it means to use platform for change

What I'm Hearing: USA TODAY Sports' Mark Medina was on site when the Milwaukee Bucks made the decision to boycott their Game 5 matchup against the Magic and details the experience.




USATODAY.com - Published





Bucks players explain their decision not to play: 'Our focus today cannot be on basketball'

In a statement addressing their boycott of Wednesday's NBA playoff game, Bucks players call for lawmakers, police to enact immediate reforms.




USATODAY.com - Published





NBA postpones playoff games after Milwaukee Bucks boycott

The NBA postponed three playoff games after the Milwaukee Bucks players did not take the court in response to the shooting of Jacob Blake in Kenosha, Wisconsin. NBA analyst Bill Reiter joins CBSN to..




CBS News - Published




'WE DEMAND CHANGE': NBA players including LeBron James, Donovan Mitchell demand justice on social media

Many NBA players, including LeBron James, went online to support Bucks' protest against racial injustice and league's decision to postpone games.




USATODAY.com - Published





NBA postpones all three of Wednesday's playoff games after Bucks protest Jacob Blake shooting

The NBA and the Players Association reached a joint agreement to call off the entire day's schedule after the Bucks' protest of Jacob Blake shooting.




USATODAY.com - Published





Milwaukee Bucks Boycott Playoff Game Against Magic Over Jacob Blake Shooting

The Milwaukee Bucks are boycotting their playoff game against the Orlando Magic Wednesday ... electing to not take the court in protest after the Jacob Blake shooting. Giannis Antetokounmpo and his..




TMZ.com - Published





Upset at Jacob Blake shooting, Bucks' George Hill questions playing in NBA bubble

Bucks guard George Hill called the video of the Jacob Blake shooting "sickening" and questioned the NBA even being in the bubble.




USATODAY.com - Published





Milwaukee Bucks guard Eric Bledsoe has tested positive for COVID-19

Milwaukee Bucks guard Eric Bledsoe has tested positive for COVID-19 and hasn't joined the team in the NBA's Orlando bubble.




USATODAY.com - Published





Milwaukee Bucks close their practice facility after receiving results of Friday's coronavirus tests

The Milwaukee Bucks shut down their practice facility Sunday after receiving the results of Friday's coronavirus testing.




USATODAY.com - Published





Giannis Antetokounmpo, Bucks march with Milwaukee protesters: 'We want change. We want justice'

The reigning NBA MVP told the crowd: "I want my kid to grow up here in Milwaukee, and not to be scared to walk in the streets."




USATODAY.com - Published





'Wild, wild West': Wisconsin reopens for business

As a handful of patrons sat at the bar nursing beers and watching a rerun of a Milwaukee Bucks basketball game on a cloudy Thursday afternoon, Junior Useling prepared for what he hoped would be another..




Reuters - Published





Milwaukee Bucks star Giannis Antetokounmpo apologizes after apparent Twitter hack

After numerous racist posts appeared, the Bucks star's girlfriend and brother claimed his social media, phone, email and bank accounts were hacked.




USATODAY.com - Published





Toronto Raptors superfan Drake is back trolling the Milwaukee Bucks

Drake, the Canadian rapper and Raptors superfan, was back in the Milwaukee Bucks' orbit Tuesday with a clever piece of trolling.




USATODAY.com - Published





Milwaukee Bucks become earliest team to clinch playoff spot in NBA history

The Milwaukee Bucks are officially in the postseason, and Feb. 23 is the earliest date on the calendar that a team has clinched in NBA history.




USATODAY.com - Published





Sixers bounce Bucks with barrage of three-pointers, grab big Christmas win

Philadelphia torched Milwaukee's defense with 21 three-pointers – the team's season-high – as the Sixers slammed the Bucks 121-109 on Christmas Day.




USATODAY.com - Published





Giannis Antetokounmpo unleashes 3-pointer to lead Bucks past Lakers in showdown of NBA's best

Giannis antetokounmpo had 34 points and hit a career-high five 3s to lead the Bucks to a 111-104 win over LeBron James, Anthony Davis and the Lakers.




USATODAY.com - Published





Bucks or Lakers? Who has the best chance at 70 wins, winning Finals matchup?

In this week's hot topics discussion, we address the Bucks and Lakers and their quest for 70-win seasons and the MVP candidates on both teams.




USATODAY.com - Published





Humble beginnings for the 'Greek Freak'

Milwaukee Bucks superstar Giannis Antetokounmpo tells 60 Minutes about selling trinkets on Athens streets to help his family and how that persistence has propelled him in the NBA




CBS News - Published





Giannis Antetokounmpo, the Milwaukee Bucks' 'Greek Freak'

Most people can't pronounce his name, but he's one of the best players in the NBA. And he has quite the story about how he got there. Steve Kroft reports.




CBS News - Published





Giannis Antetokounmpo: Decision to stay becomes 'a lot more difficult' if Bucks underperform

Giannis Antetokounmpo won't discuss his contract during the season, but talked to a Harvard researcher in the spring about the Bucks' performance.




USATODAY.com - Published





NBA MVP Antetokounmpo sues artist over alleged 'Greek Freak' knockoffs

Milwaukee Bucks forward Giannis Antetokounmpo, the 2019 National Basketball Association most valuable player, sued a Pennsylvania man on Monday for allegedly selling "Greek Freak" t-shirts and other..




Reuters - Published





Pacers acquire Malcolm Brogdon in sign-and-trade with Bucks

The Pacers added size and shooting to their backcourt by acquiring Malcolm Brogdon from the Bucks and agreeing on a four-year, $85 million contract.




USATODAY.com - Published





Bucks' Horst wins Executive of the Year, heads back to work

Milwaukee Bucks general manager Jon Horst took a break from his busy schedule Monday night to collect the 2018-19 NBA Executive of the Year Award




USATODAY.com - Published





Teary-eyed Antetokounmpo wins NBA MVP honors

The Milwaukee Bucks fell two games short of the NBA Finals. Their star Giannis Antetokounmpo earned MVP honors at the NBA Awards.




USATODAY.com - Published





Bucks prepare for free agency after dealing sole draft pick

The NBA draft came and went without the Milwaukee Bucks adding a player to its roster




USATODAY.com - Published





Kabul under siege, Feeding Puerto Rico, 'The Greek Freak'

Kabul under siege while America's longest war rages on; then, José Andrés feeds the people of Puerto Rico; and, Giannis Antetokounmpo, the Milwaukee Bucks' 'Greek Freak'




CBS News - Published





The Stormy Daniels 60 Minutes interview, 'The Greek Freak'

Stormy Daniels describes her alleged affair with Donald Trump; and, Giannis Antetokounmpo, the Milwaukee Bucks' 'Greek Freak'




CBS News - Published