Hillary Clinton
67th U.S. Secretary of State, former New York senator and First Lady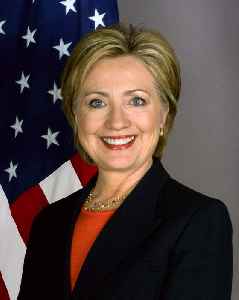 Hillary Diane Rodham Clinton is an American politician, diplomat, lawyer, writer, and public speaker. She served as the 67th United States Secretary of State from 2009 to 2013, as United States senator from New York from 2001 to 2009, and as First Lady of the United States from 1993 to 2001. Clinton became the first woman to be nominated for president of the United States by a major political party when she won the Democratic Party nomination in 2016. She was the first woman to win the popular vote in an American presidential election, which she lost to Donald Trump.


Hillary Clinton Insists She Would Have Handled Corornavirus Better

Hillary Clinton insists she would have handled coronavirus better than Donald Trump. In a chat with the THR podcast Clinton speculates that had she been President her administration could have saved..
Credit: Wochit News Duration: 00:35
Published
Biden Better Liked Than Clinton

Joe Biden as one major advantage in the 2020 election: he's not Hillary Clinton. The LA Times reports that Clinton was widely and viscerally disliked. Trump won in 2016 by convincing people he was more..
Credit: Wochit News Duration: 00:37
Published
Biden Supporter Says Biden Should Stay In The Basement

Terry McAuliffe is a prominent Democrat and Joe Biden supporter. He told a meeting of Virginia Democrats that Biden should remain in his Delaware home's basement for the duration of the 2020..
Credit: Wochit News Duration: 00:32
Published
Bernie: Better Relationship With Joe Than With Hillary

Sen. Bernie Sanders said he has "a better relationship" with Joe Biden than he had with Hillary Clinton. Sanders was the No. 2 contender in each of the last two Democratic presidential primaries...
Credit: Wochit News Duration: 00:35
Published
Trump Criticizes Warren Buffet's Airline Sales

President Donald Trump criticized Warren Buffet for getting rid of his airline investments. While Trump said he had "a lot of respect for him," he said even people like Buffet "make mistakes."..
Credit: Wochit News Duration: 00:32
Published
Biden Hits New Milestone

Joe Biden just hit a new milestone that Hillary Clinton never did: scoring 50% in a presidential poll. According to CNN Biden eclipsed 50% (51%) in live interview polls. Biden reached at least 50% in..
Credit: Wochit News Duration: 00:31
Published
Biden Slams 10-15% Of The Country

On Thursday, Joe Biden told a Thursday online town hall that 10 to 15% of Americans are "just not very good people." Business Insider days Biden's comments echoed Hillary Clinton's "basket of..
Credit: Wochit News Duration: 00:32
Published
Paul Feig believes anti-Hillary Clinton movement harmed all-female Ghostbusters

Paul Feig believes the reaction to Hillary Clinton's bid for U.S. presidency harmed his female-fronted Ghostbusters movie.
Credit: Cover Video STUDIO Duration: 00:44
Published
Disparate death rates may fuel U.S. divide over COVID-19

A Reuters analysis of demographic and public health data found that death rates in Democratic parts of the U.S. are triple those in Republican ones. This report produced by Zachary Goelman.
Credit: Reuters Studio Duration: 02:16
Published
Supreme Court justices worry about 'chaos' in electors dispute

U.S. Supreme Court justices on Wednesday indicated skepticism toward whether "electors" in the Electoral College system may disregard laws directing them to back the candidate who prevails in their..
Credit: Reuters Studio Duration: 02:36
Published
You Might Like



'Grim resolve': With Biden up big and the Senate in sight, Democrats still haunted by fear of letdown

Joe Biden has a larger lead over Donald Trump than Hillary Clinton did at this point in 2016. But Democrats have seen a lead slip away before.




USATODAY.com - Published





Hillary Clinton Backs Eliot Engel, in Her First House Primary Endorsement of 2020

Mr. Engel, a longtime New York representative, is trying to fend off a serious challenge from his left by Jamaal Bowman, who has been endorsed by Bernie Sanders and Alexandria Ocasio-Cortez.




NYTimes.com - Published





Biden says 10-15% of Americans are 'not very good people,' draws comparisons to Clinton 'deplorables' remark

Joe Biden's remarks drew comparisons to comments by Hillary Clinton 2016 that half of Trump's supporters were part of a "basket of deplorables."




USATODAY.com - Published





Tulsi Gabbard withdraws defamation suit against Hillary Clinton

The suit alleged Clinton had defamed Gabbard during the Democratic presidential primary for appearing to call Gabbard a "favorite of the Russians."




USATODAY.com - Published

Also reported by •Reuters


Joe Biden vowed to pick a woman VP. Some Democrats say she must be a woman of color

If Joe Biden doesn't pick a woman of color as a running mate, black and Latino leaders warn, Democrats could repeat the mistakes of Hillary Clinton.




USATODAY.com - Published





5 books not to miss: 'Hunger Games' prequel 'Ballad of Songbirds and Snakes,' 'Rodham'

Coriolanus Snow gets backstory in "Hunger Games" prequel "The Ballad of Songbirds and Snakes," while "Rodham asks what if Hillary hadn't married Bill?




USATODAY.com - Published





Hillary Clinton endorses Joe Biden for president

Hillary Clinton, the first woman to become a major party's presidential nominee, endorsed Joe Biden's White House bid on Tuesday, continuing Democrats' efforts to coalesce around the former vice..




USATODAY.com - Published

Also reported by •NYTimes.com


Biden Leads Trump in Key States. But Hillary Clinton Led by More.

While polling shows Joe Biden narrowly ahead in states like Michigan, things looked considerably rosier for Hillary Clinton in many swing states at this point in 2016.




NYTimes.com - Published





Biden leads Trump in Florida, Michigan, Pennsylvania and Wisconsin, according to recent polls

Florida, Michigan, Pennsylvania and Wisconsin were critical to President Donald Trump's 2016 win over former Secretary of State Hillary Clinton.




USATODAY.com - Published





Vote for Biden? Sanders Supporters Say It's 'Up in the Air'

In interviews, some of Bernie Sanders's primary voters saw Joe Biden as a weaker candidate than Hillary Clinton. Others didn't think he could win. Nearly all were unenthusiastic.




NYTimes.com - Published





Richard Hanna, Republican Who Opposed Trump, Dies at 69

A New York Congressman, he broke with his party in 2016 and endorsed Hillary Clinton for president, saying Trump was "unfit" for office.




NYTimes.com - Published





Bernie Sanders Made a Big Concession Speech. Just Not the Usual Kind.

In a stark moment of political de-escalation, Mr. Sanders signaled that he wants to press Joe Biden on issues but may not want to fight to the bitter end like he did against Hillary Clinton in 2016.




NYTimes.com - Published





After U.S., Taliban deal, Clinton warns Afghan peace push must include government, women

Former U.S. Secretary of State Hillary Clinton warned on Tuesday that a U.S.-led push to end the 18-year war in Afghanistan needed to include the country's government and women if it is to succeed..




Reuters - Published





Bernie Sanders Is Counting on Michigan's Blue-Collar Voters

White working-class voters lifted Bernie Sanders to victory over Hillary Clinton in Michigan four years ago, but Joe Biden won that demographic on Super Tuesday, as well as African-Americans.




NYTimes.com - Published





Bernie Sanders Won Michigan in 2016. Tuesday's Primary Looks Much Tougher.

Four years ago, Mr. Sanders drew support from some voters who didn't like Hillary Clinton. Joe Biden is poised to do well with black Democrats and college-educated white voters.




NYTimes.com - Published





Hillary Clinton calls out Trump's coronavirus response, 'nastiness' of Bernie supporters

Two-time presidential hopeful Hillary Clinton weighs in on 2020 election, coronavirus and "shocking" online harassment by Bernie Sanders supporters.




USATODAY.com - Published





Bill Clinton Explains Monica Lewinsky Affair as 'Managing My Anxieties'

Mr. Clinton was asked about the scandal for the Hulu documentary series "Hillary."




NYTimes.com - Published




Will a 'Hillary' documentary change hearts and minds? Maybe not, but it will enlighten

Hulu's new docu-series all about Hillary Clinton probably won't win her new fans, but it might make some question who they think she is at all.




USATODAY.com - Published





Trump visits Tennessee, Hillary Clinton docuseries, SpaceX launch: 5 things to know this Friday

Trump to visit Tennessee in wake of deadly tornadoes, SpaceX to launch resupply mission to space station and more things to start your Friday right.




USATODAY.com - Published





'Element of misogyny': Pelosi, others, lament that Warren exit leaves presidential race to men

Four years after Hillary Clinton's loss, the exits of Elizabeth Warren and other female candidates ensures it will at least four more years until a woman can win the White House.




USATODAY.com - Published





Hillary Clinton on Hulu documentary, email controversy: 'How many times do I have to be cleared?'

Hillary Clinton opens up to USA TODAY about her Hulu docuseries "Hillary," streaming Friday, and the most valuable criticism she's received.




USATODAY.com - Published





Clinton will be 'supporting the (Democratic) nominee'

At the New York premiere of documentary mini-series "Hillary," former US Secretary of State Hillary Clinton says she has no interest in being a running mate and will support whoever wins the Democratic..




USATODAY.com - Published





Super Tuesday reveals Joe Biden, hiding in plain sight

For voters desperate to beat President Donald Trump, 2020 candidate Joe Biden showed he can do better than 2016 candidate Hillary Clinton: Our view




USATODAY.com - Published





UK court told Assange tried to call White House, Hillary Clinton over data dump

Julian Assange tried to contact Hillary Clinton and the White House when he realised that unredacted U.S. diplomatic cables given to WikiLeaks were about to be dumped on the internet, his lawyer told..




Reuters - Published




On debate night, Ruth Bader Ginsburg honored at DVF Awards; Hillary Clinton, more attend

What Democratic Debate? Supreme Court Justice Ruth Bader Ginsburg was honored Wednesday night at the DVF Awards and Hillary Clinton and more attended.




USATODAY.com - Published





Today in History for February 6th

Highlights of this day in history: President Ronald Reagan born; Hillary Clinton runs for the U.S. Senate; Britain's King George VI dies; baseball legend Babe Ruth and reggae superstar Bob Marley born...




USATODAY.com - Published





Why Did Iowa Make the Caucuses So Complicated?

It has to do with the 2016 presidential contest between Hillary Clinton and Bernie Sanders, and Democrats' concerns about transparency.




NYTimes.com - Published





Yang has a prediction on the scrapped Register poll.

He also recalled an argument Hillary Clinton made in 2016 that didn't work out.




NYTimes.com - Published





Rashida Tlaib apologizes for booing Clinton at Sanders rally.

"I allowed my disappointment with Secretary Clinton's latest comments about Senator Sanders and his supporters to get the best of me," said Ms. Tlaib.




NYTimes.com - Published





Rep. Rashida Tlaib boos Hillary Clinton at a Bernie Sanders event in Iowa over 'nobody likes him' comment

Rep. Rashida Tlaib, who booed Hillary Clinton at a Bernie Sanders event Friday, said she let her frustration and disappointment "get the best of me."




USATODAY.com - Published





Hillary Clinton Slams Bernie Sanders for Not Working to Unite Democrats in 2016

In a podcast interview on Friday, Mrs. Clinton also described the caucuses in Iowa, where Mr. Sanders leads in some polls, as "undemocratic."




NYTimes.com - Published





Bernie Sanders's Surge Owes a Lot to Voters of Color

In 2016, the Vermont senator failed to overcome Hillary Clinton's wide lead among African-American and Latino voters. This time, things are shaping up differently.




NYTimes.com - Published





Clinton bemoans lack of Republican voices in new doc about her

Hillary Clinton's four-part docuseries "Hillary" premieres at Sundance with the show's director Nanette Burstein and Clinton herself explaining the lack of Republican voices in the programme. (Jan...




USATODAY.com - Published





Trends and tactics that propelled Donald Trump to his 2016 win could reelect him in 2020

Trump is still an outsider and voters are still fed up — good 2020 omens for him. But his opponent might not have Hillary Clinton's vulnerabilities.




USATODAY.com - Published





Tulsi Gabbard sues Hillary Clinton over Russia comment

Tulsi Gabbard claims Hillary Clinton's Russia comments were "retribution" for her endorsing Bernie Sanders over Clinton in the 2016 election.




USATODAY.com - Published





'Nobody likes him' - Hillary Clinton bashes Bernie Sanders

Hillary Clinton criticized the campaign of her former Democratic presidential rival Bernie Sanders in a new documentary in which she says he was an ineffective U.S. senator who accomplished little..




Reuters - Published





Hillary Clinton on Bernie Sanders: 'Nobody Likes Him'

Mrs. Clinton also dodged a question about whether she'd endorse and campaign for Mr. Sanders if he were to win the Democratic nomination.




NYTimes.com - Published

Also reported by •USATODAY.com


Hillary Clinton: 'Lord knows what will happen if we don't retire' Trump

Hulu released a trailer for its documentary on Hillary Clinton, who advised Democratic primary voters to pick who they think can beat President Trump.




USATODAY.com - Published





Chelsea Clinton responds to Republican congressman's Christmas tweet about her parents

Chelsea Clinton responded to a video Republican Congressman Paul Gosar tweeted of her parents, former President Bill Clinton and Hillary Clinton.




USATODAY.com - Published





As House votes to impeach Donald Trump, Hillary Clinton pledges to help Democrats 'retire the incumbent'

Hillary and Chelsea Clinton were at Pace University Wednesday to talk about their new book, the day the House voted to impeach President Trump.




USATODAY.com - Published




Hillary Clinton talks Trump, Graham, Sanders and sexuality in new Howard Stern interview

Hillary Clinton also discussed the 2016 election, President Trump's inauguration day and Lindsey Graham during a widespread Howard Stern interview.




USATODAY.com - Published





'Why are you parroting Russian propaganda?': Hillary Clinton slams Sen. Kennedy for Ukraine claim

Chuck Todd asked Sen. John Kennedy if the Senator was concerned that he had been "duped."




USATODAY.com - Published





Did New Hampshire Fall Out of Love With Bernie Sanders?

New Hampshire is as close to a must-win state as Mr. Sanders has, and, despite his overwhelming victory against Hillary Clinton in 2016, winning is far from a sure thing right now.




NYTimes.com - Published





DOJ Official: 2016 Russian election hack looked to hurt Clinton

U.S. Assistant Attorney General John Demers tells 60 Minutes that 2016 Russian election hack was "certainly looking to hurt Hilary Clinton." See the full 60 Minutes report on the Russian government's..




CBS News - Published





60 Minutes Extra: Department of Justice senior official on 2016 Russian election hack effort

The United States Department of Justice tells 60 Minutes that 2016 Russian election hack was "certainly looking to hurt Hilary Clinton"




CBS News - Published





Democratic debate highlights: Freeloading billionaires and Clinton's legacy

The fifth presidential debate featured sharp exchanges on Wednesday over U.S. Senator Elizabeth Warren's proposed wealth tax, how to expand healthcare coverage and which of the Democratic contenders is..




Reuters - Published





2020 debate: Tulsi Gabbard prompts a brawl with Kamala Harris over dig at Democratic Party

When asked about controversial comments by Hillary Clinton, Tulsi Gabbard took a stab at the Democratic Party, prompting response from Kamala Harris.




USATODAY.com - Published





An American Airlines plane had a mechanical issue, and Hillary Clinton was onboard

An American Airlines flight, which had Hillary Clinton aboard, needed to return to its gate at LGA following a mechanical issue on Sunday.




USATODAY.com - Published